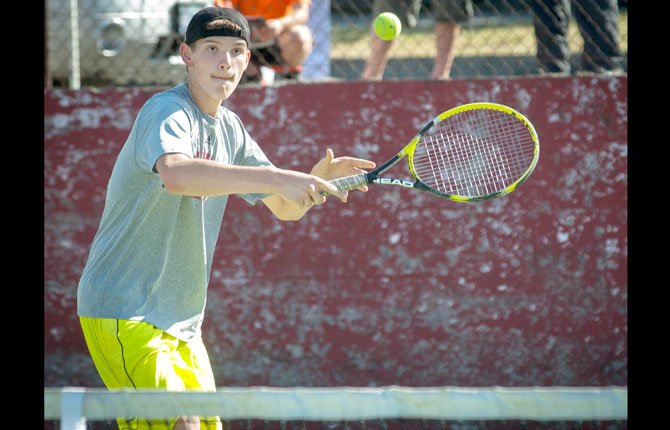 It was the type of finishing flurry The Dalles coach Andrew Hughes wanted for his varsity boy's tennis team.
Cole McDowell kept his winning streak going and the newly formed No. 1 doubles team of Griffin Martin and Christian Munoz added a dominant performance to lead the Eagle Indians to a resounding 9-0 victory Wednesday in league tennis action in Pendleton.
"I think they realized that this was the last match before districts and they wanted to end on a good note," Hughes said. "It was just a great way to end the season."
McDowell, who was penciled in at No. 1 singles, had his racket working wonders in his match against Evan O'Grady as he posted scores of 6-0 and 6-2 for the straight-sets winner.
Hughes likes the current plane McDowell is on at this point in the season, so there is optimism that districts could be a successful trip.
"Cole has been playing well the whole season and he continues to be playing at a high level," Hughes said. "You can see that his hard work is starting to pay off. He has been a consistent performer for this team."
With the final regular season match, Hughes and his players hatched a plan to change the lineup a bit ahead of tournament action next weekend.
The coach liked what he saw, so there could be additional changes coming soon.
"We tried some different things with mixing up our lineup a little bit," the Eagle Indian coach said. "The boys played very well. There were some really solid performances."
One of those changes came at No. 2 singles where William Coy had no issues at all in dispatching Henry Holzman by marks of 6-3 and 6-1.
Daniel Spurr added to the winning trend at No. 3 singles, with an impressive tally versus Peter Wallace for a two-set winner with scores of 6-1 and 6-3 deciding matters.
All season long, Tribe players Griffin Martin and Christian Munoz had wanted to join forces in doubles play, and Wednesday they got their chance with solid results.
While battling against Gareth Haug and Joey Cochrane, Martin and Munoz flipped the switch using serves and a stout net attack to demolish the Buckaroo tandem by scores of 6-2 and 6-1.
"Christian and Griffin were paired at No. 1 doubles and they did a great job," Hughes said. "They have wanted to play together, so we matched them up. You could tell they had good chemistry on the court."
At No. 2 doubles, the duo of Ethan Semlor and Jeff Singhurst hit the court for their first pairing and dropped Joey Bliss and Lincoln Johnson by close tallies of 6-3 and 6-4.
Daniel Santillan and Luis Diaz fought through the toughest match of the day against Danny Medina and Dan Skeen in a three-set marathon.
Santillan and Diaz struck first in the opening frame with a 6-1 marker to go up 1-0. The Pendleton team answered the call in the second set with a 6-3 output to send this showdown to a decisive third set.
Neither group wanted to go down without a fight, however, as the match ended up tied at 6-apiece, until Santillan and Diaz notched the final two points for an 8-6 winner.
With a golden opportunity to complete the nine-match whitewash, the No. 4 duo of Cody McClintock and Jesus Barajas did not disappoint.
They hardly broke a sweat in their matchup opposite Pendleton's Nick Jennings and Henry Scanlon, scoring at will in a 6-0, 6-1 decision.
With seven calendar days between district matches next Friday in Hermiston, Hughes said he will weigh his options of lineup changes based off of what he saw in Pendleton.
"There are a couple of question marks in doubles," he said. "We will determine the different combinations in the next couple of days. No matter what we do, we know that it is going to be a hard battle against some really good teams at districts."
Action starts at 9 a.m. next Friday at Hermiston High School.