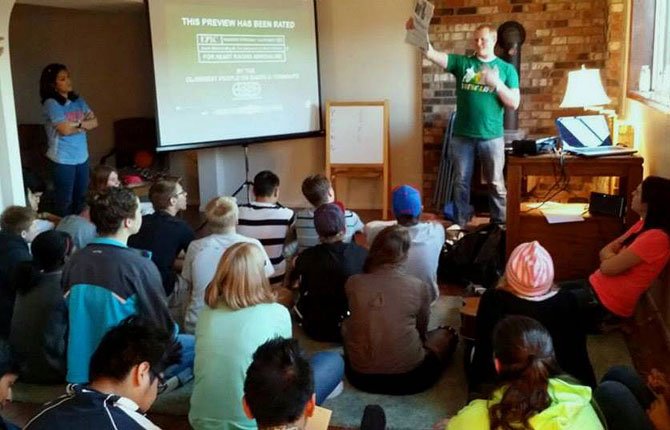 Young Life just started a club in The Dalles, and it is already proving popular, with 20 students attending the first few meetings on Mondays in a family home on Lewis Street.
Elizabeth Traub, a Portland transplant who moved here in September, has been involved with Young Life for 30 years and helped found this club.
She was sporting a Young Life T-shirt one day when she was talking to her friend, Naomi Grimsley, and she was telling Grimsley how she couldn't believe there wasn't a Young Life club here, especially given that a Young Life camp that draws attendance from far and wide is just down the road in Antelope, at the former Rajneeshpuram.
While she and Grimsley were "planting the seed" to found a club here, "unrelated to us the regional area [staff of Young Life] had been praying and hoping that somehow something would get started" in The Dalles, Traub said.
"It was independently two different groups were figuring out what we could do to bring" Young Life here, she said. "If you're a Bible believing person, that's called divine intervention."
Young Life is a nondenominational outreach to youth. It's "all about building relationships with kids and meeting kids right where they're at," Traub said. "Jesus didn't go meet people in church, he showed up and met people right where they were at.
"The founder of Young Life, Jim Rayburn, lived across from a high school in Texas and started reaching out to kids and opening up his home and just showing up. And it didn't matter where they came from, what they believe, he just showed up where they were at."
Young Life will meet May 12 and 19 from 7 to 8 p.m. at 2009 Lewis St., for "music, skits, prizes and fun," and then will go on summer hiatus, though a few summer events are planned.
The meetings are advertised as "the best night of your week." The Dalles Young Life is on Facebook at The Dalles YoungLife and on twitter @thedallesYL. Their email is thedallesyounglife@gmail.com and a phone contact is 541-705-7305.
Traub said she feels that the affiliation for the Rajneesh property, which Young Life acquired about 15 years ago, "still probably carried a bad feeling with anyone having to do with that property. I grew up in Salem when all that was going on and that's how I heard of The Dalles the first time.
"Young Life has built this amazing camp that's literally an hour and a half away. And it's called Washington Ranch now."
She was on the steering committee that helped build the camp 14 years ago.
"I walked on that property before it was Young Life and we walked and looked at the technology and looked how well built the buildings were and the water lines and the electricity and said, 'We've got to get this handed over to Young Life to make it an amazing youth camp.'" The property was donated to Young Life by Dennis Washington.
Traub, who has five kids, ages 8, 10, 12, 24 and 26, said she's learned that The Dalles is "really a rich community for the youth in the churches, there's a lot of great programs, but what about these kids that never stepped foot in a church?
"That's where Young Life is really effective for kids, although it's totally open for kids who attend church."
Traub is nothing if not outgoing, and she's now known as the "crazy lady in the blue van" because, driving by the high school one day, she yelled an invitation to a girl to come to Young Life. Well, the girl not only came, but she brought a friend, Traub is happy to report.
The Young Life program here has a deep stable of trained adult leaders who have been thoroughly background checked and are eager to engage kids and meet them "where they're at," Traub said.
Young Life leaders are: Michael Calquhoun, Ashley Beard, Lynae Calquhoun, Nina Cummins, Garth Miller, Emily Otteson, Marco Zetino and Pamela Jensen.
She said she "has a heart for high school kids" and when she learned about the high dropout rate in The Dalles, and that not a lot of kids were college-bound, "I just sat there going, `whoa.'"
She said, in high school, "Kids are meeting kids and their friends are having a rough time. Either your kids are going to come up and over it or they're going to absorb it," she said.
She said she grew up in a stable home with good, loving parents, but even she felt she couldn't talk to her parents, and she felt Young Life helped bring her "out of some deep, dark times."
"My Young Life leader, she just let me be me," she said.
"My parents are good parents, but you can't talk to your parents. No matter how good a parent you are, your kids don't really feel like you're there. Now, take kids who don't have good parents," she said. That would simply amplify those feelings for kids.
Traub said she was never interested in the business side of Young Life, but once she came to The Dalles and began working to form a club here, she said she felt that's where she was being called to serve.