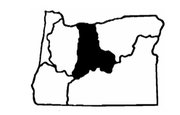 Spring turkey hunting open April 15-May 31
Tips for beginners and field reports/forecasts from ODFW district wildlife biologists are available at the spring turkey hunting forecast. This NW Sportsman Magazine article has some good tips on late season turkey hunting.
CENTRAL ZONE HUNTING
OPEN: COUGAR, SPRING TURKEY (April 15-May 31) CONTROLLED SPRING BEAR
Wolves and coyotes can look alike
Most wolves in the state today are in northeast Oregon but a few have dispersed further west and south. Wolves are protected by state and/or federal law and it is unlawful to shoot them. Coyote hunters need to take extra care to identify their target as wolves can look like coyotes, especially wolf pups in the mid-summer and fall. ODFW appreciates hunters' assistance to establish wolves' presence in Oregon; please report any wolf sightings or wolf sign to ODFW using the online reporting system.
Use the Oregon Hunting Map to see where to hunt.
PRINEVILLE/OCHOCO WILDLIFE DISTRICT
Mule Deer bucks have shed their antlers while most bull Elk have just started to shed over the last few weeks. Due to extremely variable road conditions and the effect of increased harassment on mule deer survival, shed hunters are urged to keep ATV's on existing roads or trails and minimize disturbance to wintering big game herds. Remember to respect private lands and always ask permission before entering.
Turkey season opens April 15 and hunters should have better than average opportunities to find birds in the Ochoco and Grizzly units. Spring is earlier than normal, and green up well advanced so hunters should scout higher elevation areas on BLM and Ochoco National Forest lands. The Trout and Bear Creek drainages in the Grizzly unit and along the southern boundaries of the Lookout Mountain and Paulina Ranger Districts in the Ochoco unit would be good areas to check and scout for birds. The South Boundary Cooperative Travel Management Area (TMA) does have motorized vehicle restrictions in effect. The Prineville BLM and Ochoco National Forest offices should be checked for maps and other motorized access restrictions that could be in effect.
Cougar are present throughout the Maury, Ochoco, and Grizzly units. The Maury and Ochoco units are recommended because of their greater amounts of public lands and better accessibility. Remember cougars must be checked in at an ODFW office within 10 days of harvest. Please consult the synopsis for all required parts and be sure to call first to make an appointment.
Coyotes offer an exciting challenge and will be closely associated with deer and antelope. Both the Maury and Ochoco have sizeable areas of public lands that provide hunting opportunities. Hunters should use caution, be properly equipped and prepared for whatever the weather might bring.
Ground Squirrels are becoming more active as spring progresses and temperatures increase. Be sure to obtain permission before entering private lands.
THE DALLES DISTRICT
Spring Bear – Controlled Spring Bear Open April 1st – May 31st. Spring weather arrived early this year, allowing bears to come out of hibernation early and in good shape. Hunters should focus on clear-cuts, meadows and grassy slopes where bears are feeding on fresh tender shoots of grasses and forbs. Bears often follow the receding snow line in search of the most recent growth. Good optics and patience glassing these areas are key to a successful hunt.
White River Unit- Bear numbers are good in the White River unit. Despite healthy bear numbers, success rates have been fairly low in the spring and hunters tend to have a tough time finding bears for this hunt. The edges of the major drainages, such as the White River, Badger and Tygh Creeks, should be good places to find bears in the eastern edge of the unit. Areas south of Mosier provide plenty of open areas in the northwestern portion of the unit.
Hood Unit- Bear densities are good in the Hood Unit. Focus on higher elevation areas with grassy slopes and good vantage points.
Turkey- General Spring Turkey Open April 15th- May 31st. Turkeys can be found throughout the White River Unit with many public land hunting opportunities. The dispersed turkeys can be difficult to locate during the season especially after pressured by other hunters. The key to a successful turkey hunt is good preseason scouting. Identify where they roost, travel and feed and you will be more likely to bag one of these wary birds. Harvest in the White River Unit has continued to increase likely due to an increase in hunters. Be aware of other hunters in the area and take necessary safety precautions.
Cougar - Hunters wishing to pursue cougar will find best success near areas of deer and elk concentrations. Some hunters have found success tracking cougars in fresh snow and predator calling. Hunters are required to check-in the unfrozen hide and skull, with proof of sex attached to an ODFW office within 10 days. Hunters are also required to provide the reproductive tract of harvested female cougars. See pg. 42 of the regulations for details.
Coyote: Recent reports have indicated high numbers of coyotes in Wasco and Hood River Counties. Those wishing to pursue will find the best success near agricultural lands. Be sure to ask permission to hunt private lands. Limited opportunities may also be found at White River Wildlife area, and on lower elevation forest service lands.
WHITE RIVER WILDLIFE AREA
Vehicle Access: Last year, new rules took effect that prohibit all recreational ATV use on the Wildlife Area, also camping is only allowed in designated camping areas. A parking permit is now required to use/park on the White River Wildlife Area along with other ODFW wildlife areas.
Bear – Controlled Spring Black Bear Season opens on April 1 and runs through May 31. Black bear can be found throughout WRWA but are very elusive and hard to find. Search for tracks on dirt or muddy roads to find areas that they are using. Look for food sources. Bears spend much of their time filling up on grasses, acorns, and other food to fatten up after their winter slumber. Remember to check in any harvested bear skulls at an ODFW office. It is best to make an appointment before you take it in.
Turkey – Spring Turkey Season opens on April 15 and runs through May 31. Turkeys inhabit most of WRWA lands. Preseason scouting can be very helpful in locating the elusive spring gobbler. Use locating calls to find birds roosting in your area. Turkeys can often be found along ridge tops or foraging for food in meadows or oak groves. Be careful and aware that other hunters could possibly be hunting the same turkey that you are after.
Cougar - Open all year or until zone mortality quotas have been met. Cougar can be found on White River Wildlife Area but are seldom seen. The annual migration of deer from higher in the Cascades will entice cougars to follow. Use weather to your advantage; look for tracks in snow, mud, and dirt. Tracking a cat in the snow will help increase the odds of spotting one.
Coyote - There are many coyotes prowling about this year. Try calling for them from open fields, meadows, and pastures. The best areas to find them will be near farm grounds on the eastern boundary.