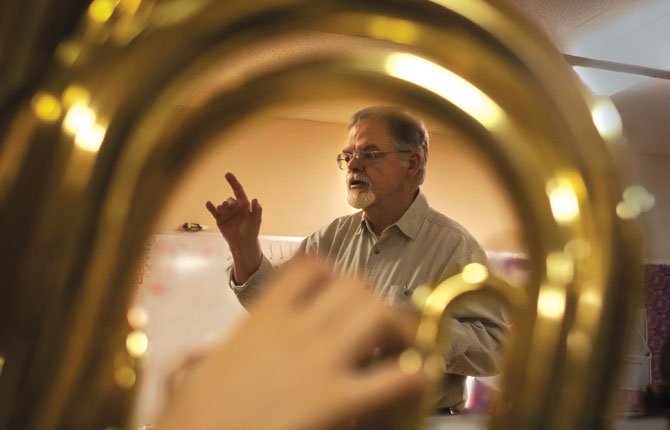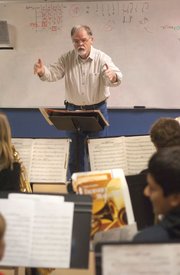 It was a classic Mr. Weast moment. Greg Weast, volunteer band director at St. Mary's Academy, stepped onto a bus full of middle schoolers last Tuesday and barked, "Which one of you morons took my coat?"
Parent chaperones burst into unbelieving laughter. After a generation of teaching band, the blunt band director with the high standards has become an institution.
But that bus trip — to a juried band festival in Newberg where St. Mary's finished just out of the running for a trip to state — was his last. He is hanging up his conductor's baton after 26 years of volunteering four mornings each week to teach band to fifth, sixth, seventh and eighth graders.
His last concert with the band is Thursday, May 15, at 7 p.m. at the St. Mary's gym. The public is encouraged to attend.
"It's going to be a cry-fest," he said. "I'm going to have a real hard time with it."
A dessert reception will follow at Sunshine Mill Winery.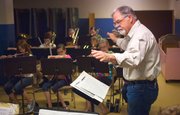 As for his blunt manner, on display at the bus trip, Weast explained, "Moron is a term of endearment, and the kids understand that. I realize I'm treading on thin ice because some people who don't see the overall picture could be offended by that."
And the overall picture is that, "I can honestly say I love those kids, every one of them. They can be frustrating sometimes, but they are kids and they have to be allowed to be kids," he said.
And that's why, after the Newberg festival, the kids headed to Bullwinkle's. Some asked parents, though, when they'd get back their mouthpieces, which Weast had confiscated for earlier musical misbehavior. (They got them back the next day at band practice.)
After earning bachelor's and master's degrees in music education, Weast headed to public schools to teach music. He soon realized it wasn't for him.
He began working at a music store in The Dalles, taking it over in 1986 and renaming it Columbia River Music. Two years later he started volunteering at St. Mary's.
"Little did I think I would stick to it this long," he said. He purposely refused pay so he'd be independent and could leave if he ever lost his passion for it.
While his passion is still intact, he said, "At 66, I have to understand that I have limitations that are creeping up with age that are making it harder for me to be as effective as I was. And I never wanted to retire from a position that I was just coasting through."
And so he's retiring from his volunteer job to focus more on his paid job — but still with a focus on kids. His decades of volunteering an hour and 15 minutes every weekday morning cost him business, he knows, and he plans to make the rounds at area schools to bump up instrument sales.
St. Mary's Principal Kim Koch said Weast has "profoundly" touched many students' lives.
"We appreciate the many years Greg has dedicated to our students and staff here at St. Mary's. He will truly be missed."
The school will hire a paid band director to take over next year, and that person has some big — daresay, scary — shoes to fill.
Weast is old school, and the fear factor with him is the stuff of legend.
St. Mary's alum Sol Ontiveros, now in college, recounted being "so scared" of Weast as a fourth grader that the idea of starting band in fifth grade "petrified me. But it was that or study hall, so I went, and quickly he became an inspiration for me."
Ontiveros credits Weast with helping make music "one of the most important parts of my life."
Weast is comfortable with the fact he makes kids tremble. He sees that pressure as merely a mechanism that elicits the best in them.
"If you looked at that band when they performed on the stage at George Fox University (in Newberg last Tuesday), they weren't young kids, they were young adults, young responsible adults and I'm so proud of them."
Weast's demanding nature is a good fit for St. Mary's, he said. "The kids we have at St. Mary's generally have higher expectations vertically: from their parents, from the school, and from the church. And generally with kids if you have expectations, they will match them. If you have a low set of expectations, guess what's going to happen?"
"But all of this high expectation has to be moderated by understanding that these kids are kids."
A good example of that was at least year's trip to a band festival at the University of Idaho. He watched the kids go through the "pressure cooker" of being in clinics taught by college professors, and "come out of it OK, and go to a park and just watch them be children, just children. It was wonderful."
Teaching music to kids who have never picked up an instrument is stressful, he said. He's not only teaching the notes, but precisely how long to play them. Further complicating it, each section plays different notes for different lengths of time, and all of it has to come together "to make this thing we call music."
Former band teacher Merv Cutright has known Weast for decades.
"He's got a gruff exterior," Cutright said, but his strictness is for the betterment of the students. "He and I follow the same thing: you're nice until it's time to be not nice.
"It's all about the music and it's all about the kids," Cutright said.
Weast says he does it for the gratification of the occasional email from former students, thanking him. They say, "'I finally get it, I understand,' and I've had several of those over the years."
Kevin Wence was one of Weast's public school students. He planned to quit middle school band when he heard Weast wouldn't be returning, but, in a familiar theme from students, Wence says, "he put the fear of God in me." Wence kept it up, and in fact went on to win competitions.
"If it hadn't been for Greg pushing me, I would have missed out on a lot of good memories and experiences."
St. Mary's parent Tina Ontiveros said Weast is "an amazing teacher… Time and again, he shows middle schoolers that they are capable of doing really hard things. I am so thankful my kids have had the benefit of his instruction. He is a great gift to these kids and to this community."