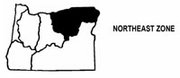 NORTHEAST ZONE HUNTING
Spring turkey hunting open April 15-May 31
Tips for beginners and field reports/forecasts from ODFW district wildlife biologists are available at the spring turkey hunting forecast. This NW Sportsman Magazine article has some good tips on late season turkey hunting.
NORTHEAST ZONE HUNTING
OPEN: COUGAR, COYOTE, SPRING TURKEY (April 15-May 31), CONTROLLED SPRING BEAR (opens April 15)
Wolves in Northeast Oregon
Wolves are protected by state law and it is unlawful to shoot them. Coyote hunters in northeastern Oregon need to take extra care to identify their target as wolves can look like coyotes, especially wolf pups in the mid-summer and fall. ODFW needs hunters' assistance to establish wolves' presence in Oregon; please report any wolf sightings or wolf sign to La Grande office (541) 963-2138 or online.
Use the Oregon Hunting Map to see where to hunt.
BAKER COUNTY
Wallowa Mountain Loop Road (FS Road 39) closures
Turkey season opens on April 15. Hunters should concentrate their efforts around lower elevation levels where there has been more early spring green up. You can expect to find heavy snows in the higher elevations. Public land hunting opportunities exist on the BLM and the Wallowa-Whitman National Forest as well as the ODFW managed Elkhorn Wildlife Area. Remember to ask permission before hunting on private property.
SPRING BEAR season opens April 15. See the hunting forecast for what to expect. Successful hunters, remember check-in of bear skull is mandatory; see the regulations for details. Biologists recommend propping the bear's mouth open with a stick after harvest; it makes for easier tooth collection and measuring. Hunters should look for open slopes with lots of green up and plan on spending some time glassing to locate bears. Bears will become more active as the season progresses.

Cougars can be found throughout Baker County but hunters should target areas with high concentrations of deer and elk. Setting up on a fresh kill or using distress calls can all be productive techniques. Hunters are required to check in the hide of any cougar taken, with skull and proof of sex attached.
Coyote numbers are good throughout the district. Try calling in early morning and late afternoon. Remember to ask for permission before hunting on private properties.
GRANT COUNTY
Turkey season opens April 15. The turkeys should start moving onto Forest Service lands as snow recedes. Early in the season, some turkeys are on private property and permission is needed to hunt. Hunters have been successful in finding birds in the Middle Fork John Day River, Murderers Creek, and North Fork John Day River.
Cougar hunting remains open. Successful hunters should remember that check-in of the hide with skull and proof of sex attached is mandatory; see the regulations for details.
Coyote numbers are good in most of the district. Coyotes may respond to distress calls. Try calling in the early morning and late evening.
MORROW, GILLIAM AND WHEELER COUNTIES
Turkey season opens Tuesday April 15th. The Districts turkey population is low but rebuilding. The warmer weather and little snow in the District have turkeys well distributed across the forest. Hunters should focus their efforts in areas with good spring green-up. There is snow in the higher portions of the forest but hunters should be able to access most of the forest.
Cougar hunting is open. Cougar are well distributed in our forested areas. Calling with distress calls or cougar vocalizations can be effective. Locating a fresh, naturally made kill has the best chance of success. Looking for tracks after a fresh snow can be effective for locating cougars.
The Coyote population is healthy with good numbers of coyotes available for those who wish to pursue them. Watch wind direction to help prevent giving away your location. Calling with game distress calls can be very successful.
UMATILLA COUNTY
Bears will be distributed in forested stringer areas throughout the County. Foraging bears will be out in open areas and available for glassing throughout the spring. Their numbers should increase as the last week in April begins. This should persist until the end of the season.
Turkey are distributing out from wintering flocks and gobbling in forested areas. Hunters will have best luck in low elevation forest areas throughout the season.
Cougar are well distributed in forested areas of the Walla Walla, Mt. Emily, and Ukiah units. Hunters will have best success by finding a fresh naturally made kill and sitting on it, or by using predator calls. Some success has come from following tracks until the cougar is located.
Coyote are numerous throughout the District and hunters should have good success calling. Remember to ask permission before hunting on private lands.
UNION COUNTY
Spring Bear opens on April 15. Bears are starting to show up on open slopes in Union County. Scouting will pay off but expect snow to block roads higher than 5000 foot elevation.
Turkey season opens April 15. Turkeys have started to move off winter range and should be showing up in the upper foothill around Union county soon. The snow is melting fast and hunters wishing to do some preseason scouting should consider walking prevent damage to forest roads.
Cougars are common in Union County. Focus on game rich areas with long ridgelines or saddles that cats typically travel. Setting up downwind of a deer or elk killed by a cougar can be productive. Nonresident hunters can include a cougar tag with others tags for only $14.50. All cougars taken must be checked in within 10 days of harvest; call for an appointment before check in.
Coyote numbers are good throughout the district. Try calling in early morning and late afternoon. Remember to ask for permission before hunting on private properties.
Ladd Marsh Wildlife Area
Hunting seasons now closed.
Note: all visitors including hunters must have in their possession a free daily permit to access the wildlife area. Permits will be available at several self-check-in stations at entry points and parking lots beginning in late September. Wildlife hunters, viewers and anglers also need a parking permit to park on the wildlife area. Hunters receive a free parking permit with their hunting license. The $7 daily or $22 annual permit can be purchased online or at an ODFW office that sells licenses or at a license sales agent. Learn more about ODFW's Wildlife Area Parking Permit Program. Parking permits are to be displayed on the vehicle dash.
WALLOWA COUNTY
BLACK BEAR: Spring bear season starts in 3 weeks, and a good density of black bears exists throughout the district. Snow is melting off of the lower areas of the district and many bears will begin waking up and making forays away from their dens in search of early season foods, such as green grass, ground squirrels, and roots and tubers. In spring, black bears are fair weather fellows and really only venture out of their dens on warm, sunny days. The best strategy for finding them this time of year is to sit on a spot with a good view of open canyon sides and use binoculars or a spotting scope to locate them. The animals feed off and on during all daylight hours and patience is the order of the day when spotting spring bears.
TURKEY: Spring turkey season also starts in 3 weeks, and while turkey numbers are only moderate in the district there are good places to find them. Snow is melting off of the lower areas of the district, as well as on south slopes and around trees in the moderate elevations. Turkeys are beginning to move from their wintering areas up into nesting areas at this time. The best strategy for finding them this time of year is to travel the forest roads or hike into areas where turkeys might be and call for them or just listen for their calls early in the morning.
COYOTE: Good numbers of coyotes can be found throughout Wallowa County. Calling coyotes with rabbit distress type calls has been effective for hunters. It is important to choose areas with abundant coyote sign and little human activity.
COUGAR: Cougar numbers are strong throughout Wallowa County. Most lions are taken incidental to other hunting; however, calling with fawn bleat, or locating a cougar kill and waiting for a cat to return are often successful techniques.