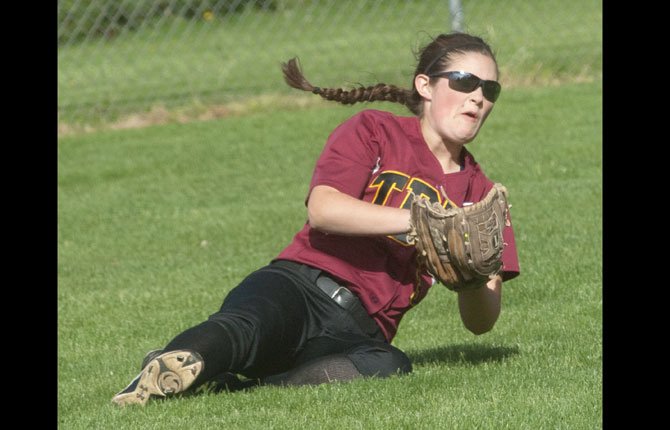 When the Eagle Indians needed a hero, sophomore slugger 'Babe' Ruthie Ford hopped in the phone booth and emerged donned in full cape and uniform, ready to come through for her mates.
It was not the 'Called Shot,' but the Tribe's Sultaness of Swat delivered a walk-off, three-run home run over the left field fence to give The Dalles a 9-6 victory over Hermiston Friday in Columbia River Conference softball play at 16th Street Ballpark.
"She is leading the club in hitting right now and we are happy about that," said The Dalles head coach Steve Garrett. "It was nice to see her enjoy success."
With the score knotted at 6-all in the bottom of the seventh inning, the Eagle Indians had the most dangerous part of the lineup headed to the plate.
Lori Cimmiyotti led off with a walk, and then Hannah Harris hit a comebacker to Hermiston reliever Emily Sexton.
Sexton committed a throwing error and Harris was safe at first and courtesy runner Kailin Hoylman hustled over to third base to set the stage for Ford.
On the first offering from Sexton, Ford hammered a deep fly ball well over the 200-foot sign in left field for the game-winning round tripper.
It was a common theme of the night for TD. There were several situations during the game where hitters came through in critical moments with run-scoring hits.
Morgan Goslin had one of those RBIs, Maddy Bradford chased home a run, Timarra Roth had a big hit, Morgan Triperinas added a three-run double and Ford drove in four runs on her own.
"The key to this win was timely hitting. We got that timely hit when we needed it," Garrett said. "We had several girls help this team with clutch hits today. That is what we had been lacking in just about every situation this season, but the girls found a way to come through in the clutch."
In all, the Eagle Indians rattled off six hits and received six walks. Ford went 2 for 3 with two walks, two runs and four RBIs to move her team-high batting average to over .400 on the year.
Bradford ended her day with a 2 for 3 effort with a walk, a run and an RBI, Goslin went 1 for 3 with a walk and an RBI and Triperinas finished with her bases-clearing double in the fourth frame as part of a five-run outburst.
In the circle, Triperinas tossed two innings of one-hit ball with two strikeouts and a walk to earn the relief win.
"We played good defense and our pitchers did a good job of keeping the ball in the ballpark," Garrett added. "When we have all those things working in our favor, we can be a very tough team to beat."
Even though his varsity squad had been mired in a dubious streak of 13 losses in their last 14 contests, Garrett has not wavered one bit in his belief that this team is on the cusp of stardom.
It all comes down to eliminating mistakes, playing with confidence and swagger and gelling as a cohesive unit.
Ford's heroics may be the galvanizing force that flips the proverbial switch.
"They are a better ball club than what they have shown," Garrett said. "We should be winning ballgames, not being chased off the field in five innings. Tonight, they believed in themselves and did it. If they can overcome some of their mistakes and start thinking of themselves as being as good as they really are, there is no telling what we can do."
With the win, TD (8-15 overall, 2-8 league) holds onto the No. 20 ranking. At 4:30 p.m. Tuesday, the Tribe heads to Pendleton for a grudge match with the Lady Bucks (17-6, 8-2).