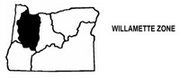 WILLAMETTE ZONE HUNTING
WILLAMETTE ZONE HUNTING
OPEN: COUGAR, CONTROLLED SPRING BEAR, SPRING TURKEY
BE PREPARED
Hunters are reminded to prepare for cold temperatures: dress appropriately and keep survival equipment such as food, water, sleeping bags with you and in your vehicle during the winter months. Let someone know where you will be and when you expect to return just in case your vehicle becomes stuck.
Spring Turkey season is open April 15-May 31. Turkeys are abundant in the foothills of the southern Willamette Valley. Turkeys prefer habitat with a mix of open meadow or grass land and oak forest. Unfortunately for hunters, this habitat is almost exclusively privately owned in the foothills of the Willamette Valley. Hunters will struggle to find turkeys on public property but good hunting opportunities exist for hunters that have access to private property. Hunters wishing to hunt in the Willamette Valley are encouraged to seek out landowners and ask for permission to hunt.
For those turkey hunters who haven't harvested their bird, turkey hunting experts recommend staying on stand a little longer, using different calls to change-up your calling pattern and practice judging distances so you don't miss your opportunity when it comes strutting along.
Western Oregon controlled black bear seasons opened April 1. As expected, few hunters had success the first week. Hunting in the coastal units usually improves in mid to late April and hunting in the Cascade units is best in late May. With early spring green-up this year hunters may have more early success than usual. The key to early success is to target days with some sun and mild weather. Hunters will want to look for areas with abundant green grass or skunk cabbage. Freshly torn up stumps also indicates a bear is in the area. Remember skull of any bears taken must be checked in within 10 days; see the regs for details.
Cougar season is open in all zones beginning on January 1, 2014. Hunters will need to purchase a 2014 hunting license and a 2014 cougar tag to hunt cougars in the new year. A lack of snow in the Cascade Mountain has made it easier to travel but it is also difficult for hunters wanting to track cougars in the snow. Cougar hunters should follow the weather forecast and head to the field following a fresh snow.
Cougars are challenging to hunt due to their secretive nature, penchant for traveling great distances, and characteristic low population density, but can bring large rewards for successful hunters. Some hunters have had luck calling cougars to them with predator calls that mimic a deer fawn or elk calf. The key to successful calling is to get within hearing range of a cougar, which will require that hunters be familiar with the local landscape characteristics, be aware of deer and elk patterns in the area, and understand cougar habits. Hunting with a partner is recommended for those hunters attempting to call cougars, since these animals can be difficult to see and hear as they approach. Calling for at least an hour from each calling location is important. Using a tree stand or sitting back-to-back is a good technique to cover all potential entry points.
Successful cougar hunters will need to check-in any cougar taken at an ODFW office within 10 days of the kill. Hunters are reminded that biologists located in field offices may be out in the field handling other issues so call ahead to make arrangements to have your cougar checked-in. The hide and skull must be unfrozen and the skull and proof of sex must be attached to the hide. Hunters are required to submit the reproductive tract of any female cougar taken. Please review the 2014 regulations.
Pick up the Big Game Hunting Regulations before your hunting trip to ensure that you are familiar with all of the requirements.
Coyote - Paired coyotes are very territorial during the February breeding season and hunters should typically see more than one coyote respond to their calling. Hunters should start experimenting with coyote vocalization sounds such as challenge and interrogation howls to have the best chance of success.