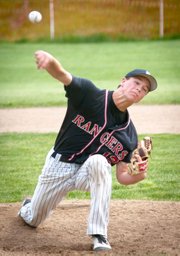 All the dominoes seem to be falling in place for the No. 3-ranked Dufur Rangers.
This group is riding a historic 19-game winning streak and has already shattered a program record with 20 home runs, the most in more than two decades.
Friday, Trever Tibbets added another feather in the cap with a perfect game performance on the mound in the opening tilt of a two-game doubleheader sweep over Condon-Wheeler.
The right-hander faced 15 batters, struck out 10 and lowered his earned run average to 2.26, chalking up his team-high seventh win of the season in the Rangers' 10-0 mercy-rule triumph.
Dufur head coach C.S. Little had a feeling Tibbets had his ace stuff working. Of his 11 pitches to start the game, the junior threw 10 for strikes.
"Trever pitched a heck of a game for us. I am proud of him for that," Little said. "He had a real good balance point and moved the ball around the plate. He found that equilibrium and I think that is the reason why he threw the ball so well."
The Rangers provided all the firework with two big innings, breaking open a 1-0 lead with three runs in the second frame.
Dufur would then tack on a five-spot in the fourth and a single run in the fifth to invoke the mercy rule.
Cole Parke maintained his torrid hitting string with a 3 for 4 effort.
He smacked a double, scored twice and drove in two runs.
Bryson Caldwell posted two hits, two runs and three RBIs, and Nathan Duling added another extra base hit to total Dufur's 10 for the game.
Still pumped up from the Tibbets gem, Dufur added a cherry on top with 11 hits, 18 walks and four hit-by-pitches to demolish the Knights 21-3 for the sweep.
Staked to a 2-0 lead in the top of the second inning, the Rangers sent 15 batters to the plate and used three hits, five walks and three hit batters to reel off 10 runs.
This game-changing outburst was capped by a two-run home run off the bat of Tibbets, his sixth of the season to tie Parke for the team lead, to move the cushion out to a healthy 12-0 mark.
They tacked on three more in the third and finished the deal with six runs in the fourth frame.
Parke went 2 for 3 with two runs and three RBIs, Jake Kortge picked up two hits and four RBIs and Josh Keyser ended up at 2 for 3 with a run and an RBI.
Brandon Broeckel notched two hits, scored two runs and drove in two more, and Rashed Jordan was issued a walk and scored.
"We had a good performance at the plate," the Ranger coach said. "This team is at its best when they are pounding the ball to all fields."
Parke picked up his sixth win on the hill, as he lasted three innings, allowed one hit and struck out five.
With so much trending upwards for the Rangers, coach Little adds a little perspective on what it means to be on a solid plane at the money part of the season.
"Right now, we are not thinking about how many games we have won in a row. Far from it," Little said. "Sometimes you think that a loss is good, but you know what? This is the time of the season where we can't really afford to start losing ground. We are close to the playoffs now, so we don't want to get that losing mentality. We are focused on one game at a time and try to do our best in the process."
Dufur (20-2 overall, 11-0 league) heads to Hood River for a 4:30 p.m. league tussle versus No. 35 Horizon Christian (6-8, 2-5).