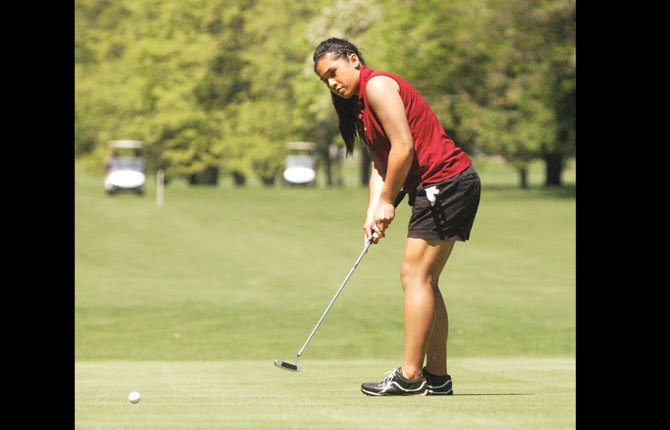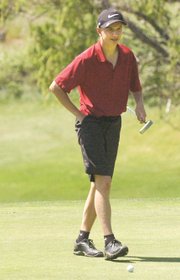 Through 18 holes at The Dalles country Club, Eagle Indian golfer Chase Snodgrass had a career-best 79 to post himself atop the individual leaderboard in the opening round of the Columbia River Conference golf tournament Monday afternoon at The Dalles Country Club.
Staked by the efforts of Snodgrass, the Tribe put forth a solid effort on the links with a 337 for third place on the team front, 10 strokes off the pace set by Pendleton (327) and eight behind Hermiston (329). Hood River Valley brought up fourth in the team markers with a 423.
If the Eagle Indians can make up those numbers set by Hermiston and Pendleton, they can sneak in for state action as a team.

"I think we can improve a lot more Tuesday. They played well," said TD coach Kent Smith. "As long as we continue to do well on our short game and hit our putts, we can get our scores even lower."
Nick Glesener followed up Snodgrass' marks with an 84 and Mark Felderman turned in a scorecard reading 85.
Bailey Ortega penciled in an 89 and Coby Conlee rounded out the group with his 92.
In a span of two months, Smith said this team shaved 33 strokes from their opening tournament tally of 370 set at the Eagle Indian Invitational.
"It is nice to see these boys improve to such a level," Smith said. "I am very happy with what I saw from this team. Chase had a great day, probably one of his best ever. I hope that we can keep it up tomorrow."
On the individual side, Pendleton's Dylan George ended his day of golfing with an 80.
Keegan Crafton placed third with an 81 and his Hermiston teammate Paden Lacoursiere ended up in a fourth place tie along with Pendleton's Brayden Tulver and Nathan Som with 82 on their scoresheet.
"There is a lot of good competition here. A lot of these golfers had good scores," Smith said. "I expect it to continue tomorrow (Tuesday)."

All four schools were on the course today for the final day of play at TDCC.
Telles has state trip within reach
With blue skies serving as a backdrop to the scene at The Dalles Country Club Monday, four teams representing the Columbia River Conference rattled off solid counts through one day of district action.
The Dalles freshman Iliana Telles led the Tribe with an 89 and has a state berth within reach if she can end her second day in fifth place or better.
She currently stands behind the Pendleton duo of Hailey and Shelby Greb, who finished 1-2, respectively.
Hailey Greb rattled off a 79 to lead the pack, and Shelby Greb was one shot back after her 80.
Telles secured third place, 10 strokes behind Hailey Greb and Hermiston's Madison Welch tallied fourth place on the individual side with a 93. Rachel Phinney, out of Pendleton, had a 94 for fifth place.
With the markers put out by the Greb sisters and Phinney, the Lady Buckaroos are far ahead in the team standings with a 364, 66 better than Hermiston (430).
The Dalles has its work cut out for it with 508, 78 strokes behind Hermiston for second place and the team state bid.
With the stakes raised due to district play, TD head coach Dan Telles said the players were tense.
Aside from Iliana Telles, the rest of the Tribe golfers could not establish momentum on the course with all four posting numbers larger than 100.
Elizabeth Peters reeled off a 109 and Jennifer Bonham was 40 strokes off the pace after her 149.
Olivia Starks followed with a 161 and freshman teammate Rebecca Stiles ended her opening round at 167.
With the warmer weather, Coach Telles said the greens were running slow, which caused several players difficulties with three putts raising the marks.
"Some of the players, unfortunately, were in unfamiliar situations where they took huge numbers on certain holes," the Eagle Indian coach said. "The great thing is they never quit. They sucked it up, played on and finished the round."
Regardless of the outcome, coach Telles expressed admiration for his team, especially given the pressurized circumstances.
"We are very proud of them," he said. "They have another round tomorrow; it'll be a new day."

In order to put on a seamless event, Telles said it is a collaborative effort with community members and volunteers putting in the extra time for the teams.
The volunteers mentioned were Bob Brockman and Pam Larson, who serviced the lunch shack for the players and others. In addition, Tyler Austin, Rules Official, and the patient scorekeepers, Bev Tuttle, Laura Hess, Darlene and Pete Barber, and Gladys and Bill Caddy were valuable to the cause on many fronts.

"We would like to thank The Dalles Country Club, Head Pro Bob Sproule and the fantastic volunteers for their help in making the district championships run smoothly," coach Telles said.