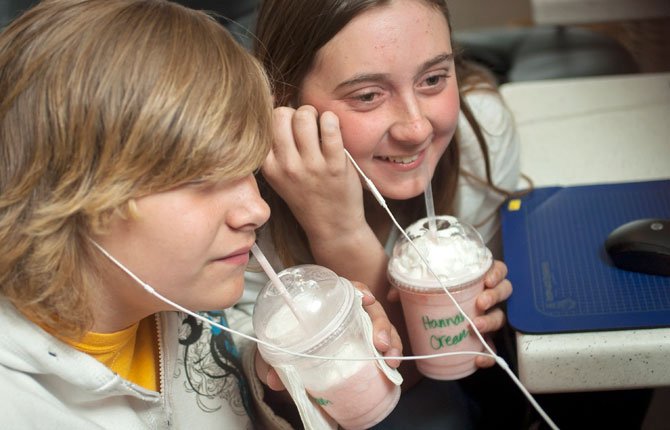 After arriving home from school, how many afternoons and evenings does the typical student spend alone at home while parents or guardians are away at work?
Too many, according to RaeAnne Edmisten, Youth Director at Salvation Army's Loft, a wide-open gathering place for students to study, socialize, relax and have fun.
"It's really wonderful to see some of the students that originally were pretty shy or didn't want to mix start to come out of their shells and go crazy dancing and playing pool with everyone else," Edmisten said.
You heard right — dancing.
"Homework time usually goes from about 3:30 to 5 p.m. depending on how much work students have on a given day," Edmisten said, "But after that, they just get to be teenagers."
After homework, students can choose from a variety of activities to share with their friends, like dancing along to the Wii's popular Just Dance game, trying their hands at foosball or pool, or kicking back on the couch with a board or video game.
The Loft has been known to have pool, Halo and Just Dance tournaments in which students compete against each other for different prizes as well as special "themed" days for holidays like Halloween.
"No matter what, though," Edmisten said, "everyone gets their own coffee drink or Italian soda — any flavor they want."
There's also free pizza for any hungry student that walks in the door, courtesy of Pizza Hut's Harvest program.
"You know we're kids at heart, too," Major Tammy Ray, Salvation Army Corps Officer of four years, said "If we're not having fun, we're not doing it right."
"What we really want to do," she said, "is help kids feel empowered in their own lives. Teachers and schools carry such a gigantic responsibility that we've made it our mission to support them and all the working parents out there by having a safe, fun place for students to go when the schoolday is done and there's no one at home."
Asked if she had ever run into any major problems while supervising the program, Edmisten said, "You really can't get mucn past a bunch of moms."
"That's pretty much our role for these kids — to provide support, but also to keep them accountable. Just because a kid struggles in school, it doesn't mean they are not also completely incredible."
"Not even close to 75 percent of our students are graduating from the high school these days," Major Ray said. "And as moms, we just think that's awful, and we want to help improve upon that in our community by providing the kind of support kids need when class is not in session."
Edmisten, who's professional experience as a teacher Major Ray says has been invaluable to the program, said she keeps track of students' GPAs the minute they enroll so she can chart their progress towards their academic goals, whether it be a high school diploma, GED, or otherwise.
The Loft program, Major Ray said, is funded entirely through local sources, primarily the Salvation Army's thrift store or community donations.
"All of the purchases made at the store go right back into our programs," she said. "We are a non-profit and we do need their support."
"Our teens are our future," Edmisten said, "so I think it's really necessary we make an effort to invest in them and make sure we're doing all we can to encourage them when it comes to their education and beyond."
For more information about the Loft, contact Edmisten at 541-296-6417.