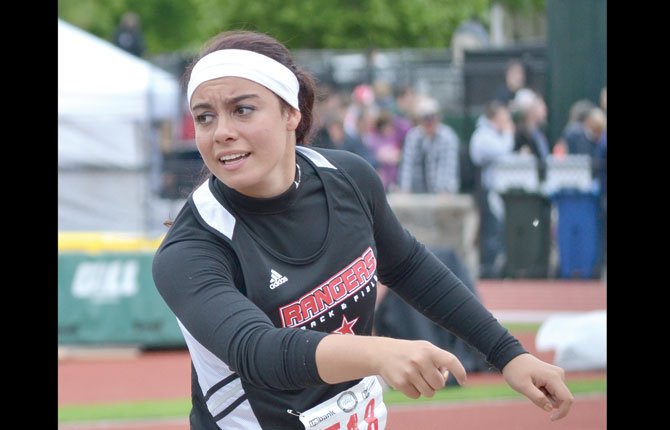 Dufur High School junior Taylor Darden set a new meet and school record of 120-feet in the discus event this past weekend at the 1A PLS Track Classic in Portland.
Her record toss was nearly five feet better than her previous record of 115-3.
"She did an amazing job," said Dufur coach Connie Harvey. "We were all so happy to see her set a new school record. Her hard work is paying off."
In addition to Darden's exploits, Ranger senior Austin Olson wrapped up his day with first-place outputs in the shotput and discus.
He had a shotput distance of 43-2.25, and he added a toss of 118-7 for tops in the discus.
Jake Little, who set a personal record in the javelin at the Arlington meet on May 3, was right on cue Saturday for second place with a marker of 151-2.
Wendell Jim had a top-5 placing at 300-meter hurdles with a final time of 49.52 seconds for a personal record.
The quartet of Jim, Travis Lucas, Jon Buntin and Little had a four-second improvement in the 4x400-meter relay with a time of 4:07.96
Teneille McDonald and Kristen Sorenson finished in a tie for third place with a height of 4-8.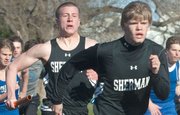 Sherman boys, girls take first
The Sherman Huskies appear to be in prime position for something special after the boys and girls racked up 28 personal records to score first place in track and field action Saturday at the PLS Track Classic in Portland.
Brett Evans grabbed top honors in the 800-meters with a time of two minutes and 6.77 seconds.
Isaiah Coles added to his trophy case with three wins in 110-meter and 300-meter hurdles and the long jump. He had a time of 17.19 in the 110 and the freshman standout kicked it in high gear for the 300-meters with a marker of 44.69. Coles added a long jump height of 19-7.
Coles nearly notched another winning performance in the triple jump, where he was second in a distance of 40-10.
The 4x100 relay team of Maverick Winslow, Nick Coleman, Blake and Brett Evans put up a personal best time of 46.43 to tally 97 points for first place in the team standings.
The girls had 82 points on the day as Meagan McKinney had a win in the 100-meters with a time of 13.66, and a gold medal in the triple jump with a distance of 32-6.75.
The 4x100-meter relay team of Andie Harrison, Sabrina Green-Hite, Brittney Orendorff and McKinney knocked it out of the park with a time of 54.37, a season-best.
Harrison tallied second place in the javelin (122-4) and the 400-meters (1:05.41) and Orendorff added a height of 6-6 in her try at the pole vault.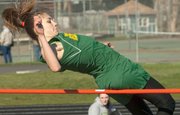 Redsides drop 11 first-place marks
The South Wasco County Redsides followed through on a successful season with another top effort Friday for the Pirate Invitational in Bickleton with 11 first-place medals while facing nine other schools in a final prep before the Big Sky Conference championships.
The girl's posted eight first-place trophies, led by the senior trio of Zoe Morelli, Katherine Popchock and Joy Kelly.
Morelli jumped up the charts in the 200-meters in a solid time of 28.35 seconds and she tacked on a time of one minute and 3.10 seconds for first in the 400-meters.
Popchock stood alone in the triple jump with a distance of 30-6 and she notched a height of 8-0 in the pole vault.
Tatum Han had a time of 2:47.18 in the 800-meters, Kelly surged forward in 14:35.00 in the 3,200-meters and the two relay squads kept pace in first place.
Morelli, Kelly, Hahn and Ally Muhleman joined forces in the 4x100-meter relay with a final run of 56.25, just a shade off their personal record.
Muhleman, Hahn, Morelli and Popchock crossed the tape in 4:55.52 to grab top honors.
On the boy's side, Loreto Morelli never relinquished control in the 100-and-200-meters, as he had a mark of 24.21 in the 200 and went for 52.49 for his efforts at 400 meters.
Travis Hayes had a time of 12.06 for first place in the 100-meters, and the 4x100-meter relay team of Morelli, Hayes, Brody Myers and Ellis Rager came in third place with a time of 4:03.03.
Rager placed fifth in the shotput with a toss of 37-4.5 and the sophomore went for second place in his discus attempts with a throw of 111-10, a personal record.
The teams start district action at 10:45 a.m. Saturday in Moro.