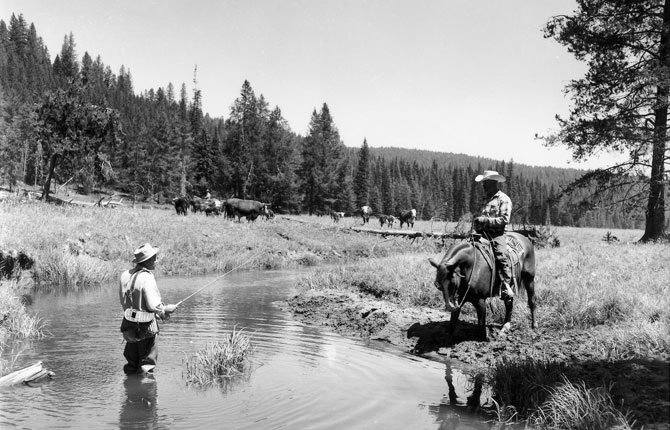 European immigrants brought cattle to the first colonies in America around 1611 and domestic herds grew rapidly with plenty of forage available across the vast landscape.
By the mid-1800s, a steady stream of pioneers was traveling west to establish homesteads. Extensive grazing occurred along the Oregon Trail and other travel routes.
One of these routes was the Barlow Road through the Pacific Northwest, where sheep grazed the higher elevations of Mount Hood and cattle foraged low- and middle-elevation lands.
At one point around the turn of the 20th century, surveyors of the newly established Cascade Range Forest Reserve noted as many as 700 head of livestock north of the Barlow Road and west of the current eastern forest boundary, an area that had been restricted.
A growing need
The need for grazing regulation and oversight led the federal government to establish the U.S. Forest Service in 1906. At that time, there were 2,633 cattle recorded in the Mount Hood area and 2,068 sheep.
The forest service was tasked not only with managing forage, but timber and water resources.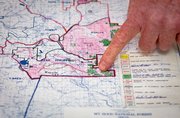 By 1922, the number of livestock on the flanks of Mount Hood had peaked to 21,200 sheep and 4,390 cattle. By 1941, the numbers were down to 1,912 cattle and 12,575 sheep and had dropped to 100 sheep and 1,326 cattle by 1955.
The Bureau of Land Management's roots go back to the Land Ordinance of 1785 and the Northwest Ordinance of 1787. These laws provided for the survey and settlement of lands that the original 13 colonies ceded to the federal government after the American Revolution.
In 1812, Congress established the U.S. General Land Office to oversee the disposition of these federal lands.
Looming problems
A severe drought and overgrazing problems led to the passage of the Taylor Grazing Act in 1934 that was named after U.S. Rep. Edward Taylor of Colorado. By that time, policies set to promote homesteading in the west and a general lack of knowledge about arid ecosystems had contributed to the degradation of soil, plants and waterways.
Federal officials set up permitted grazing areas under the Taylor Act that were called allotments and administered by the U.S. Grazing Service.
In 1946, the land office and grazing service merged to become the Bureau of Land Management within the Department of the Interior.

Tighter oversight
The oversight of the forest service and bureau has expanded in modern times to include management of recreational interests and protection of wildlife habitat.
Under the Taylor Act, preference for permits is given to ranchers who have a history of grazing in an area where a public parcel exists and own at least 40 acres of private property. Permits are tied to these properties and pass from owner to owner with a 10-year renewal cycle.
A permit can be revoked because of severe droughts or other natural disasters that put resources at risk. A thorough environmental assessment at the time of permit renewal determines where livestock can graze and how many can forage.
The fee attached to a permit is adjusted annually and calculated by using a formula set by Congress in the Public Rangelands Improvement Act of 1978. Grazing fees are factored on private land lease rates, beef prices and costs of production.
A presidential executive order in 1986 set a baseline fee of $1.23 per month for each cow-calf pair, the current charge is $1.35. The fee rises, falls or stays the same based on market conditions and cannot exceed 25 percent of the previous year's level.
Livestock are allowed on public lands for grazing primarily from May through September and fencing is often provided by the agency but may also be paid for by the rancher, who is responsible for maintenance and must cover the cost of corrals, watering stations and both moving and rounding up cattle.
A Rancher's Life is a year-long series by reporter RaeLynn Ricarte and photographer Mark B. Gibson of The Dalles Chronicle. Here are the stories so far:
A Rancher's Life and A 'big picture' outlook started the series January 25, 2014.
All in a Day's Work and Moving cows is just the beginning were published February 12, with Weathering the storms. An audio slideshow, Working cows, was also published in February.
March started with a look at wolves in two parts, Wolf trouble and Wolves on the move. It continues with Springs promise, a look at calves and spring on the ranch.
An editorial, "More defenses needed," wrapped up coverage on this issue.
May started with the story exploring the trouble faced by one ranch, whose story is told in new feature-length movie screened locally in Hood River. One family member currently lives in The Dalles, and in "A Place to call Home" she tells her story.
May also featured multiple stories addressing the issue of public grazing, an issue researched by reporter RaeLynn Ricarte for over four months. The issue is first explored in"Battle rages over grazing rights." Much of this battle has been fought in court, and "Taxpayers foot the bill of resource lawsuits" explores one aspect of this battle. Additional stories followed: Seeking balance on our public lands, A place for cattle, Activist disputes accusation of fee gouging, An embattled system,and Walden: Scrutiny need on species regulation.
The May presentation ended with an editorial expressing the need for public grazing in the western states, Resources to Thrive.
A special section, Farm and Ranch, further broadened and expanded the series in June. it is available as a .pdf document: Farm and Ranch.
As July brings hot dry weather, it's a great time to explore the impact water, and a lack of water, has on the ranch community. Water is a precious commodity in Eastern Oregon. Ditch walker Sam Cobb is in charge of how the water in water stored in Rock Creek Reservoir is distributed in the article "Ditch Walker: Water is gold, here"
In August, the second edition of Farm and Ranch explored the stories and people behind some of the brands in the region.
Water issues were further explored in August, with three-part presentation:
State and federal rules water rules impact ranchers throughout the region. Water dispute boils explores state regulations and how they impact ranch operations. A related story looks at a study launched by ranchers working with OSU to study water issues in arid and semi-arid lands.
Federal proposals to change or clarify what waters are under federal jurisdiction has many agriculturalists worried, and represents yet another clash over water.
Locally, efforts are being made to work collaboratively to improve water quality on 15-mile creek for both fish and farmers. The creek is used for irrigation.