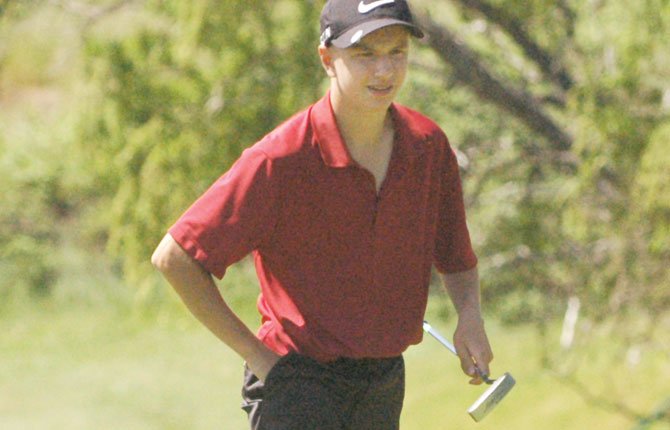 From the opening tournament of the 2014 season, The Dalles golfer Chase Snodgrass has been on a crash course through a tough Columbia River Conference looking for a chance to earn a state berth.
On March 21 in The Dalles, he carded an 85 in the Eagle Indian Invitational, and on his home course Monday and Tuesday under the pressure of district action, Snodgrass pulled through for an even better performance with a two-day total of 159 to secure second place in the individual standings and a state qualification at the CRC District Tournament at The Dalles Country Club.
"It is great. I am so proud of him," said TD head coach Kent Smith. "He has been very consistent for us this season. He is not long, but he is accurate. His course management is pretty darn good. He knows when not to pull the driver out, he knows when to use a particular club and he doesn't get into too much trouble. That has helped him keep his scores down."
After posting an 82 in round 1 Monday, Pendleton's Brayden Pulver shot a 72 for his 154 to claim his first district crown by five stroke over Snodgrass.
Nathan Som, of Hermiston, scored a 78 Tuesday and tallied a 160 to grab third place, and the trio of Pendleton's Dillon George and Keegan Crafton, along with Hood River Valley's Dan Kuechmann reeled off markers of 163 to end up in a fourth-place deadlock.
With the outputs of Pulver, George and Crafton, the Buckaroos (614) claimed a team title by 18 strokes over Hermiston (659).
Those two schools and all of their golfers are continuing their season next Monday and Tuesday at Quail Valley Golf Course in Banks.
In addition to Snodgrass, Kuechmann chalked up the other individual state entry.
For The Dalles, Mark Felderman ended his run just seven strokes off the pace from making it to state with back-to-back 85s to total 170.
Bailey Ortega showed a four-stroke improvement on the second day, by scoring an 85 for his 174 for the third-best tally for the Tribe team.
Senior Nick Glesener had a little more difficulty on the second day of play, as he added six shots to his 84 for a 90 and a 174.
Rounding out the Tribe, junior Coby Conlee went for an 84 and 90 in two afternoons of work for a 181.
With all but Glesener set to return for the 2015 campaign, Smith sees a team that is willing to put some extra work in during the offseason to make sure they can make it to state.

"Looking at the scores, as the season has progressed, they have gone down," Smith said. "As far as looking ahead to the future, the thing that has me more excited is the fact that just about every one of these kids coming back, Ortega, Conlee, Snodgrass and Felderman will be playing in the Junior Oregon program this summer. They will keep the game going a little bit."
The OSAA/U.S. Bank/Les Schwab Tires 6A/5A state championships start Monday at 9 a.m. in Banks.