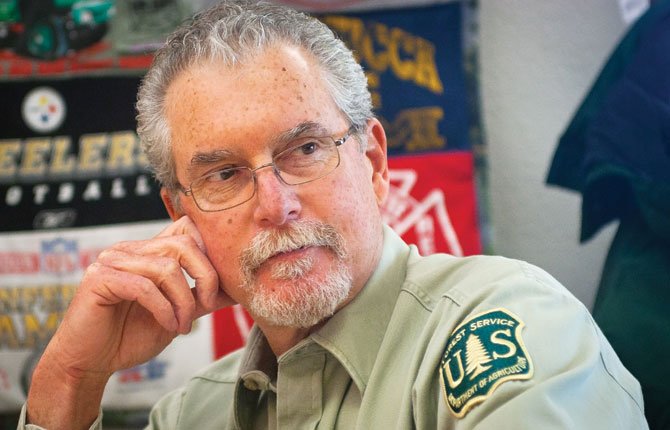 Mount Hood's five million visitors a year engage in a broad range of activities including scenic drives, hiking, camping, grazing, mushroom and berry picking, wood cutting and skiing, according to Dan Fissell, range conservationist for the Barlow Ranger District of the U.S. Forest Service.
"This is an urban forest," he said. While recreational opportunities abound on the 1.8 million acres of Mount Hood, ranchers have lost access to all but the southeastern corner, and are allowed to graze a maximum of 430 cows and their calves.
"Ranchers [across the west] are in a little bit of a fight for their lives right now," said Mike Freese, director of regulatory affairs for the Oregon Farm Bureau.
Dufur rancher Mike Filbin agrees and said the future of small beef producers is at risk from a growing number of regulations and laws eliminating grazing opportunities.
"I think federal agencies have forgotten that they work for the taxpayer," he said. "It's not that we mind taking care of things, we make our living from the land, so we don't want to mess things up, but something has to change here."
Laura Pramuk, public affairs officer for the forest service, said the agency is mandated by federal law to manage lands not only for utilities, grazing and recreation, but protection of waterways and endangered plants and animals.
"Our mission is to try to allow all of these uses and do it in a way that protects the land for future generations — and it can sometimes be hard to find that perfect balance," she said.
She said management practices evolve as science learns more about species' needs and how everything in the ecosystem is interconnected.
"In a lot of ways, the forest service and grazing community have more in common than not," said Primus. "Anyone whose livelihood comes from the land understands that we have to keep the land healthy to sustain production."
In a recent interview, officials from the forest service and Bureau of Land Management addressed the complexities involved in rangeland use.
"There's a lot of competing interests that have to be considered," said Jeff Clark, public affairs officer for the bureau. "Everything we do is based on laws passed by Congress and whatever administration is in power decides what our focuses are."
His agency and the forest service oversee grazing activities on public lands.
"We're mandated to look at rangeland health and if conditions aren't where they should be, permits are adjusted," said Charles Fifield, who heads the bureau's range program in Oregon and Washington.
Every 10 years when the permit comes up for renewal, the forest service and bureau are required to undertake a comprehensive environmental assessment.
In addition to that analysis, there must be an annual inspection of an allotment to determine its overall health, and these can take place more often if conditions change. The inspection sets out conditions a rancher must meet to run cattle that season.
"When we decide on use there's a bit of relationship building that needs to be done," said Kameron Sam, district ranger for the Barlow district, headquartered in Dufur. "Our job is to interpret policy to make sense on the ground."
Fissell said it typically takes about two years for the comprehensive ecosystem study due, in part, to the reduction of employee numbers from 718 a couple of decades ago to the current 134.
One employee from the bureau is assigned to the Prineville District, which encompasses Wasco County and 12 others.
Filbin contends that a large part of the problem is that many agents of the bureau and forest service are also environmentalists who want to get cattle off public lands.
"Just because a hiker from Portland doesn't want to come across a cow during his or her wilderness 'experience' doesn't mean that it shouldn't be there," he said.
He believes activist agents are interpreting federal rules in the most restrictive sense possible and often their decisions are not based on sound science. In addition to paying a monthly grazing fee and cost of infrastructure improvements, he said livestock owners are now called on to shoulder more of the work for resource protection.
"I feel that if environmentalists had to do this work themselves, it wouldn't get done — it's too easy for them this way. Let's quit doing everything for them and see what they do," said Filbin. "They know if they create enough work and make you spend a lot more money that you are going to have to call it quits."
For that reason, he no longer runs cattle on Mount Hood.
Filbin said a handshake with an official from either agency used to seal a deal about how things would be done. That's part of the cowboy code. But that day has come and gone and he now insists that all agreements be documented.
"I have learned from my own dealings with government agents to get everything someone says in writing because, as it goes down the line, it all changes and nobody seems to know anything about what you've been told before," he said.
That point was brought home last week in the testimony of Dave Markham, president and chief executive officer of Central Electric Cooperative, Inc., before the House Committee on Natural Resources.
He told federal officials that 56 percent of the company's service territory was federally managed. The process of renewing right-of-way permits with the bureau for power lines that have been in place for 50 years has been underway for more than four years.
He said a high employee turnover rate and inconsistent requirements due to new personnel interpretations had contributed to delay of environmental assessment completion.
According to Markham's written remarks, the cooperative, because of expiration dates, was forced to submit 32 permits for renewal, each requiring a $45,000 processing fee.

He said the forest service would not give the cooperative approval to relocate a power pole a distance of 6 feet without an archeologist inspecting the site and performing shovel probes. And a 30-day public comment period is now required before routine maintenance can be performed.
"It is beyond the time that our federal land managers work collaboratively with electric co-ops to develop common sense reform to their current practices," wrote Markham in his May 7 position paper.
Katie Fast, vice-president of public policy for the farm bureau, said it can be difficult for bureaucrats to understand the needs of farmers and ranchers. But they should be given more priority in decision making because, even with only one-quarter of one percent of Oregon's population involved in agriculture, $25 billion in revenue is generated each year.
"Every farmer feeds 155 people," said Dave Dillon, executive vice-president of the farm bureau. "When you put people at risk who really depend on agriculture for their livelihood, the impact is really so much more."