By three methods we may learn wisdom: First, by reflection, which is noblest; Second, by imitation, which is easiest; and third by experience, which is the bitterest.
— Confucius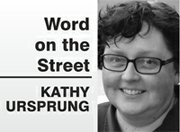 Green in Mosier: It's fitting that Gorge Green Drinks comes to Mosier for National Bike Month. Situated squarely between the Mosier Twin Tunnels Trail and arguably the most scenic stretch of the Historic Columbia River Highway, it's a resting spot for cyclists who may have started their journey in Hood River and are about ready to roll through the hills and dales of Mosier orchard country and the Rowena Loops on their way to The Dalles. Or vice versa.
Tonight's program, from 5:30 to 7 p.m., hosted by Gorge Owned (GO!), will be at The Dwelling Station in Mosier. Nibbles will be provided by Cicci Gelato and Manny's Mexican Food Cart. Shannon Tortolano will serve her home-brewed kombucha.
All attendees will receive a vegetable start from Mosier Grows Farmstand. Anyone who bikes to the event will be be entered into a raffle to win a special prize. GO! members get in free.
Know your legal p's and q's: Are popular misconceptions about legal documents keeping you from protecting your legacy? If you think legal documents are only for the super wealthy, think again.
Legal Documents 101, a monthly coaching webinar through Von Borstel & Associates, will present Jason Corey, attorney with Dick, Dick & Corey, LLP, talking about common misconceptions about legal documents, medical directives and powers of attorney, advantages and wills and trusts and examples of usage.
The webinar will take place Thursday, May 15, from 6:30 to 7:30 p.m.
Register online at http://bit.ly/1or5Ec5.
A donation with your groceries: The Dalles Main Street has received a donation of more than $200 from the Fred Meyer Community Rewards Program. When shoppers link their rewards card to community organizations, Fred Meyer will make donations on their behalf.
Main Street is only one of the local groups that benefit. Find out more online at:
www.fredmeyer.com/community rewards.