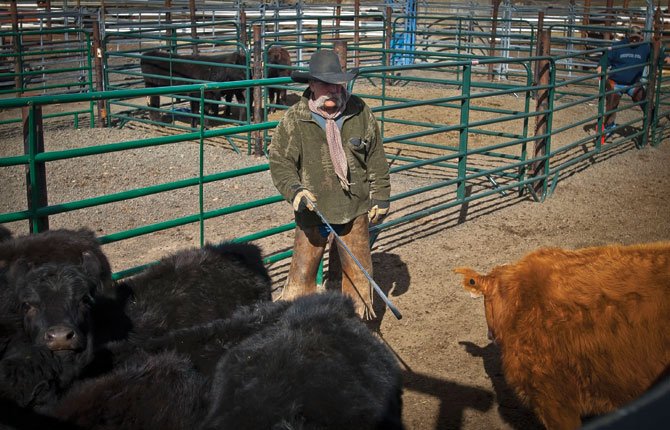 The Center for Biological Diversity and other environmental organizations want to see grazing fees on public lands raised enough to at least cover the management costs of agencies.
"I can't feed my cat for $1.35 per month so taxpayers are hugely subsidizing grazing," said Randi Spivak, public lands director for the center.
Ranchers currently pay a monthly fee of $1.35 for each pair (cow and calf) on Bureau of Land Management and U.S. Forest Service lands. In addition, they bear the cost of infrastructure improvements, such as corrals and sometimes fencing, to accommodate cattle spending May through September on remote federal properties.
Spivak thinks the fee should be at least ten times the current amount. She said taxpayers should not have to foot the bill for repairs to riparian and wildlife habitat caused by cattle.
The fee increase is set by a formula based on market conditions and cannot exceed 25 perc­ent of the previous year's level.
Taxpayers subsidize ranching interests with more than $100 million annually for "range improvements" like fencing and water infrastructure, according to Spivak.
She said the lease rate for grazing on private lands in western states now averages $16.80 per month for a pair. She said the Congressional Research Service reports that less than 10 percent of public expenditures for grazing programs are now being returned to the U.S. Treasury.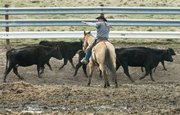 Dufur rancher Mike Filbin contends the overhead of the Bureau of Land Management and U.S. Forest Service would be much lower if they weren't continually defending themselves from the legal challenges of environmental groups. He said thousands of lawsuits filed by these organizations and their continual push for new regulations is creating a huge workload for agencies.
"I'm not opposed to an increase of the grazing permit fee but, if that happens, they need to open prime grazing lands back up," he said.
He said if ranchers are asked to pay more, they should also receive more help with the work of protecting species and improving rangelands, which has increasingly become their responsibility.
"So many of the people in these agencies are well-paid botanists and biologists now and they don't want to get their hands dirty," he said.
Spivak said grazing disputes would end if a fund was set up to buy out a willing rancher's permit and retire that allotment for cattle on federal lands. She said the program would eventually get cows off arid western properties that recover slowly from resource damage.
"Cows are tremendously damaging to federal lands," she said. "And the forage a cow eats is forage not available for wildlife."
She said bills have been introduced in Congress to establish the fund and will be supported by the center as long as they don't water down resource protections in other ways.
Filbin said it is not uncommon to ride on public lands and see trash and debris left by some of the five million visitors to Mount Hood each year. He said this garbage can be found not only along trails, but littering protected areas.
"We take care of the land because that's how we make our livelihood," he said. "People who come from Portland to play out here don't have the same sense of stewardship."
When managed right, Filbin said grazing can stimulate plant and root growth by removing taller foliage. In addition, hoof movements aerate soil and allow seeds to germinate and water to penetrate. Manure from livestock serves as a fertilizer to make soil richer and more productive.
With 11 western states having 50 percent of their land mass in public ownership, Spivak said the buyout would move beef production to the eastern side of the country. She said those areas are already largely developed and vegetation is more plentiful.
The other option, she said, is that Americans could follow a United Nation's initiative to lower beef consumption which, in turn, will lessen the contribution of methane gas from cows to global warming.
"The buyout idea is a win-win for everyone," she said.
Filbin said if the federal government owned less land, there might be enough private grazing ground available for livestock. He said the buyout program might help ranchers who are struggling financially, but would not yield enough money to purchase other rangeland.
"All you would be doing is quitting and giving not only your rights away, but those of the younger generation," he said.
As ranchers go out of business, Filbin said consumers can expect to pay higher prices for beef in the grocery stores.
He said cows are on this earth for a purpose, just like the wild species protected by environmentalists.
He encourages people like Spivak to think long and hard before they eliminate a food source because it is a basic need of all human beings for survival.
A Rancher's Life is a year-long series by reporter RaeLynn Ricarte and photographer Mark B. Gibson of The Dalles Chronicle. Here are the stories so far:
A Rancher's Life and A 'big picture' outlook started the series January 25, 2014.
All in a Day's Work and Moving cows is just the beginning were published February 12, with Weathering the storms. An audio slideshow, Working cows, was also published in February.
March started with a look at wolves in two parts, Wolf trouble and Wolves on the move. It continues with Springs promise, a look at calves and spring on the ranch.
An editorial, "More defenses needed," wrapped up coverage on this issue.
May started with the story exploring the trouble faced by one ranch, whose story is told in new feature-length movie screened locally in Hood River. One family member currently lives in The Dalles, and in "A Place to call Home" she tells her story.
May also featured multiple stories addressing the issue of public grazing, an issue researched by reporter RaeLynn Ricarte for over four months. The issue is first explored in"Battle rages over grazing rights." Much of this battle has been fought in court, and "Taxpayers foot the bill of resource lawsuits" explores one aspect of this battle. Additional stories followed: Seeking balance on our public lands, A place for cattle, Activist disputes accusation of fee gouging, An embattled system,and Walden: Scrutiny need on species regulation.
The May presentation ended with an editorial expressing the need for public grazing in the western states, Resources to Thrive.
A special section, Farm and Ranch, further broadened and expanded the series in June. it is available as a .pdf document: Farm and Ranch.
As July brings hot dry weather, it's a great time to explore the impact water, and a lack of water, has on the ranch community. Water is a precious commodity in Eastern Oregon. Ditch walker Sam Cobb is in charge of how the water in water stored in Rock Creek Reservoir is distributed in the article "Ditch Walker: Water is gold, here"
In August, the second edition of Farm and Ranch explored the stories and people behind some of the brands in the region.
Water issues were further explored in August, with three-part presentation:
State and federal rules water rules impact ranchers throughout the region. Water dispute boils explores state regulations and how they impact ranch operations. A related story looks at a study launched by ranchers working with OSU to study water issues in arid and semi-arid lands.
Federal proposals to change or clarify what waters are under federal jurisdiction has many agriculturalists worried, and represents yet another clash over water.
Locally, efforts are being made to work collaboratively to improve water quality on 15-mile creek for both fish and farmers. The creek is used for irrigation.