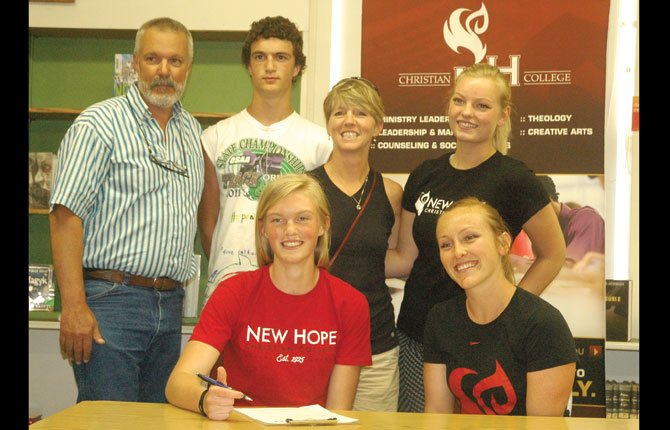 In the good book, there is a poignant scripture that describes wh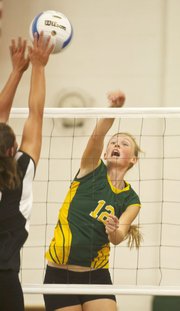 at South Wasco County senior Zoe Morelli was going through when deciding the future – "Trust in the Lord with all your heart, and do not lean on your own understanding. In all your ways acknowledge him, and he will make straight your paths." Prov. 3:5 & 6.
She trusted her faith and a new road emerged to help with the journey called life.
Morelli accepted a scholarship to play volleyball this fall at New Hope Christian College in Eugene, where she will line up at middle blocker for the Deacons and head coach Anna Barton.
"This last junior and senior year, I had no idea what I was going to do. So I was like, "God, you know,'" Morelli said. "God knew that I wanted to play volleyball in college. So, one day, I was doing research on the school, going through their website, looking at everything, and all of a sudden, it hit me. I just knew. That is what He wanted too."
She shared this sudden affirmation with her father, Tim, and the two discussed all the pros and cons, and everything else involved with this life-changing choice, in what was an emotional exchange.
NHCC offered her areas of study – Christian counseling and Christian education – so not only was this a surefire decision, she would still have a chance to continue her athletic career.
"It was one of those things where you just know it was meant to be," Zoe said. "I owe it all to God. He brought this to me and I am so thankful."
Zoe Morelli joins a volleyball program that has enjoyed success in the past and is coming off a solid 2013 campaign.
New Hope Christian is part of the National Christian College Athletic Association, and last year played against teams from George Fox University, Corban University, Linfield and Oregon Institute of Technology, among others.
The Deacons have six players returning to action, so coach Barton needed some defense-minded and fundamentally sound athletes to replenish the roster.
Through summer camps and clinics, Barton connected with a lot of high school coaches across the state. She made a phone call to Dufur High School volleyball coach Kelly Darden for any leads, and she volunteered Morelli's name.
Barton had absolute trust in what Darden said, so the ball started rolling from there.
"Zoe is a hard worker and an outstanding athlete in many ways," Barton said. "She is not afraid of hard work, so we appreciate that. We just feel that she is the kind of player that has a level of maturity and the understanding of keeping God first in all that she does that will allow her to seamlessly step into a large role on this team."
In addition to her all-league awards, Most Valuable Player plaques and other athletic accomplishments in volleyball, basketball and track, Zoe Morelli is a National Honor Society member and in her sophomore year, was an ASB officer. She joined the International Culture Club and Library Club, and balanced everything with a grade point average of 3.80.
What assistant volleyball coach Terry Starks is going to miss most is Morelli's leadership and dedication.
Her shoes will be hard to fill.
"It is such a neat dynamic for us as coaches when you have someone of Zoe's quality from freshman, to sophomore, to junior and then senior year, where you see this emotional, mental and physical growth going on the whole time," Stark said. "She was a joy to coach and such a wonderful person to have in this program. I know she will be missed by many."
It is funny to think how Morelli's game has progressed to such a level.
The senior admitted that she did not play middle school volleyball, so it set her behind once she signed on to play at South Wasco County.
Initially, her quality of play was rough around the edges.
"As a freshman, I was a terrible volleyball player. It was like I never played the sport before," Morelli said with a smile. "I want to thank my coach, Coach (Ron) Townsend for everything because I don't think I would have been able to be where I am today without him. I give credit to my teammates too. They were always pushing me to get better. It all worked out to today, so I am just real thankful for everyone in my life."
The people most influential in Zoe's life have been her parents, Tim and Sara, along with brothers Loreto and Grayson.
Tim and Sara were Zoe's basketball coaches early in her athletic career. They aided in developing a love for the game, while instituting maximum effort persona and a relentless pursuit of excellence, no matter what jersey she had on.
"My parents have meant everything to me. Both of them have always been so supportive," Zoe said. "They have always taught me to push myself. They never let us quit any sport, from grade school, junior high and high school. I think that is the biggest thing, because you cannot gain anything by quitting. That has definitely been a major part of my belief factor and I have carried that through school and in life."
As he soaked in the moment and what it truly meant to the family, school and community, Tim Morelli could barely come to grips with the fact that his little baby is all grown up.
Like a snap of the fingers, she is a month from walking across the stage for graduation and on the cusp of adulthood.
It was an overwhelming moment to say the least.
His eyes welled up in tears, just thinking about the notion.
He composed himself enough to offer words of wisdom.
"I would tell her to truly remember where she has come from and this little town," Tim said. "I want her to understand what this opportunity really means and to embrace it and enjoy it now like she is doing. I want her to pursue this part of her dream and this part of her journey right now and give it the utmost."