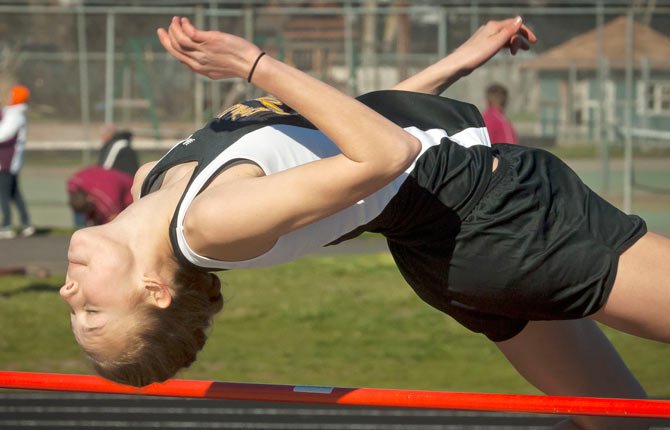 Veterans Lio Tunai, Katie Conklin and Yasmin Hill have made reservations for the 5A state track and field meet, with Tunai scoring top honors in the shotput and Hill posting first place in the long jump in the opening day of action Friday afternoon on a windy day at Kennison Stadium in Hermiston.
This will be the third consecutive year Tunai has earned his state slot, as he has back-to-back district crowns in the shotput.
Friday, the Tribe senior had a toss of 52-feet-7 inches to defeat Hood River Valley's Sebastian Barajas (47-11) by nearly five feet overall.
Hill surged past her opponents in the long jump with a personal-record distance of 17-4.75 and a cushion of more than a foot better than Pendleton's Kiara Glover (16-3.5).
Conklin stayed in contention for a district title in her dual with Hermiston's McKenzie Byrd.
The senior scored a height of 5-4, to nip Conklin, who had her highest mark of 5-2, a personal record.
Saturday, Conklin and Hill had a chance to qualify in multiple events, but just to shine bright against Hermiston, Hood River Valley and Pendleton showed head coach Garth Miller that his athletes can rise to challenge when asked.
"I am really excited for them," the Tribe coach said. "An opportunity to compete at the state meet level is exciting for them and it is great to see all three of these kids excel in their events this year at that level. It is tough to qualify for a spot at the state meet and they came in and put out their best."
Hill advanced to the 200-meter finals with a time of 28.65 seconds and secured a spot in the finals.
Conklin tallied second place in her marquee event, the 110-meter high hurdles, and slugged out a solid time of 16.36 to punch her finals ticket.
Molly Nelson was the only other girl to make a finals run in the 400, where she placed seventh in a time of one minute and 10.17 seconds.
Zach Nerdin is hoping for a return trip to Eugene next weekend and he had two opportunities to do so with final bids in the 110-meter hurdles and 300-meter intermediate hurdles.
In the 110, Nerdin clocked in at 15.75, a personal record, and he crossed the wire in 47.15 for sixth in the 300-meter hurdles.
Also in the 300-meter hurdle finals is junior Sant Strassheim. He had a time of 44.14, which gave him a No. 1 seed in Saturday's final round.
He qualified for final in the 100-meters as well, with a marker of 11.53, which placed him fifth in the standings.
Peter Jubitz makes his mark in the 110-meter hurdles and he did so with a time of 18.73.
"I think we competed very well," Miller said. "All of our kids did a really good job today."
On the team, the Eagle Indians had 17 athletes competing in their last track meet.
For several years, Miller has had a chance to form a relationship with these athletes.
Mark Johnson had a height of 12-0 for fourth place in the pole vault, just outside the state mix.
Erin Nelson had a time of 12:59.65 for seventh place.
"These 17 seniors provided some strong leadership for us with their hard work," Miller said. "They are a fun group of kids. They're a fine group of kids to work with and they will be missed."
The Hood River boys were in the lead after one day with 70 points. Hermiston (62), The Dalles (36) and Pendleton (27) rounded out the standings.
For the girls, Hermiston inched ahead of this group and had a few state qualifiers of their own for 52 points and slim lead over Pendleton (43).
The Dalles (32) and Hood River Valley (29) were right behind with multiple events still to go.
State action kicks off at 9 a.m. from May 22-24 at Hayward Field in Eugene.