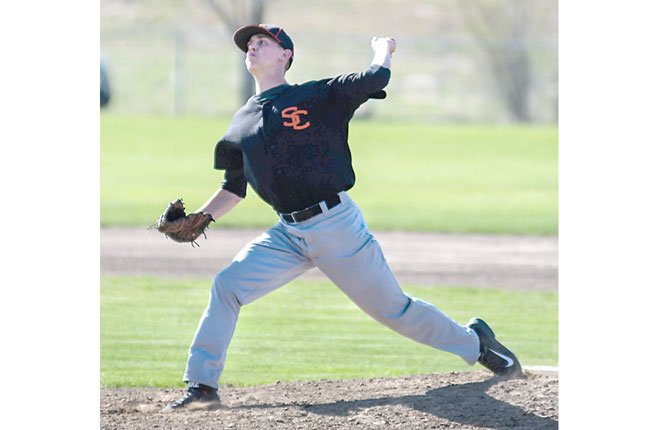 Needing a sweep to secure an outright No. 3 seed and a place at the district baseball tournament for the first time since 2009, Sherman skipper Joe Justesen sent out freshman hurler Kyle Fields against a potent-hitting Pilot Rock squad.
Not even severely sprained ankle could stop the young southpaw from a dominating performance, as he capped a successful day with 4 2/3 innings of two-hit ball to cap a two-game road sweep over the Rockets in Blue Mountain Conference hardball action in Pilot Rock.
In his four-plus frames of work, Fields allowed three runs, but only one was earned. He struck out four and walked six in Sherman's 4-3 win.
"I was very pleased with Kyle," Justesen said. "He stepped up to the plate and did an outstanding job to help this team. He battled through the first inning, but considering the pressure he was facing, I was very impressed that he held it together and did what he had to do to get the outs. For a freshman, in that kind of situation, it is very exciting to have that for the next three years."
Fields also had a huge assist from his defense in the fourth inning to stop a would-be rally by the Rockets.
Pilot Rock loaded the bases on two hits and a walk with one out and the No. 9 hitter at the dish.
He hit a short blooper to centerfield and Ben Holliday came charging in for the diving stab for the out. The senior propped back up and fired the ball to Maverick Winslow at second base for the double play to end the threat.
The Rockets were able to score twice in the top of the fifth off Fields, but he left the game with a 4-3 lead, and Austin Kaseberg on the mound in a relief role.
Kaseberg finished out the final 2 1/3 innings and allowed just one base runner.
The junior struck out the side in the top of the seventh inning to hammer down the win for a save.
With the game knotted at 1-apiece through two innings, Sherman got all of the offense it needed in the third frame with three runs on four hits.
Holliday and Wyatt Stutzman started the rally with back-to-back bunt singles.
After a fielder's choice, Nick Coleman had an RBI single to chase home Stutzman to give the Huskies a 2-1 lead.
Kaseberg then smacked a two-run double to bring in Winslow and Coleman to swell the advantage to 4-1.
Stutzman went 3 for 3 with a double and a run scored, and Coleman had two hits, a double, a run scored and an RBI.
Kaseberg had the double, two RBIs and scored a run to pace the Huskies' nine-hit attack.
To set the stage for the nightcap heroics of Fields, Kaseberg and Stutzman, Holliday, the senior left-hander tossed a complete-game gem with six strikeouts to preserve a 5-4 triumph in the opening tilt.
He scattered two hits and surrendered four runs, one earned in grabbing his fifth win of the season.
Kaseberg notched three hits and two RBIs, Winslow went 2 for 3 with a double, a run and an RBI, and Alex Fields had a hit, scored a run and drove in another run.
Now that the Huskies have punched their district ticket, Justesen and his troops are not just satisfied with joining the party, they have visions of picking up a state berth.
Friday's win was mentally and physically draining, but well worth the two-hour drive.
"To go on the road and get two victories is amazing. I couldn't be more proud of each and every kid that was out there today," the Sherman coach said. "They did everything that they could and left everything on the field. It is such a great feeling right now."
These were the two best played baseball games I have seen these kids play this year and probably two of the best baseball games played by Sherman baseball in the last four years. Great day."
As of early Saturday, Heppner, Pilot Rock and Irrigon are battling it out for the final two district play-in slots. The two teams who qualify, play Tuesday for a berth into Saturday's action.
No. 13-ranked Sherman (16-6 overall, 9-5 league) plays the early game at Bob White Field in Pendleton.