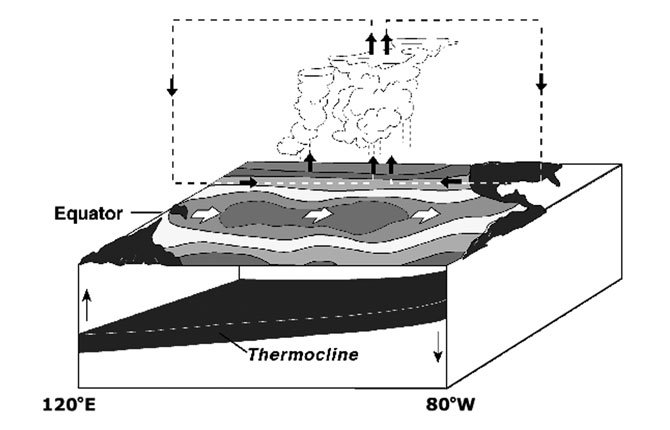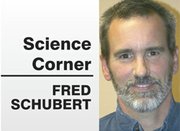 Oregon on average offers a mild climate, but we have plenty of regional variation. Traveling from the coast to Eastern Oregon can present a range of temperatures and weather conditions that can be striking at certain times.
Two major local geographic features help determine these differences. The Pacific Ocean creates milder temperatures and wetter conditions to the west, and the Cascades keep the eastern part of the state drier and prone to greater extremes of temperature.
The Pacific Ocean can affect us well beyond its local influence though. A periodic shift in ocean surface temperatures along the equator known as El Niño typically occurs every three to seven years. These distant changes of wind, currents and surface temperature in the tropical Pacific can alter not only our weather and climate, but those of the rest of the planet.
El Niño, one of the world's best understood climate patterns, has been recognized scientifically since the 1920's and is closely monitored and tracked by numerous international agencies.
The US Climate Prediction Center now foresees an increasing likelihood that we are about to enter a new El Niño cycle as early as this summer.
Normally, in the equatorial Pacific, strong steady winds blow toward the west. These trade winds push the warmer surface water toward Indonesia and Asia. As a result, ocean temperatures in the West Pacific are 10-15 degrees warmer and the sea level nearly 18 inches higher than to the east. This surface flow in turn creates upwelling of colder nutrient-rich waters along South America, supporting huge fisheries and regular weather patterns.
Changes in the normal balance of trade winds, currents, ocean and air temperatures indicate the appearance of El Niño. The trade winds drop off, warm surface water moves back to the east, upwelling shuts down and rainfall follows the warmer water. Ultimately, the upper atmosphere jet stream shifts and with it storm tracks and global weather patterns.
Typically, El Niño results in more moisture reaching the Southern US and parts of South America, and drier conditions in Australia and Indonesia. Oregon and the Northwest see warmer, often drier winters. But with a strong El Niño, more moisture becomes torrential rains causing landslides and flooding, and drier conditions become droughts.
Impacts can spread even further, affecting weather conditions as far as Africa and India. The last severe El Niño of 1997-98 is estimated to have caused thousands of deaths and $33 billion dollars in damages and losses.
The National Oceanic and Atmospheric Administration (NOAA), in cooperation with NASA, has been monitoring ocean and weather conditions in the tropical Pacific for decades. Nearly 70 fixed buoys report data regularly via satellite, as do a fleet of drifting buoys that monitor current, ocean temperatures, atmospheric pressure and wind.
This spring, a large subsurface body of water nearly 10 degrees above average is moving into the central and eastern Pacific and wind patterns have become less regular. These changes and other signs have led to the prediction of a nearly 80 percent chance of El Niño developing by this winter. And although some uncertainty remains, early indications are it could be a particularly strong one.
What we do know for certain about El Niño is that this regional shift in wind patterns and a few degrees of ocean temperature can dramatically influence climate and weather both here in Oregon and around the world. I see that as an important lesson, particularly for those skeptics of human-caused climate change who scoff at the idea of a few degrees of warming or other small changes having any possible serious global consequences.
Lifelong Oregonian Fred Schubert, a The Dalles biologist, has a lifelong interest in general science and science writing. Feel free to submit comments on this article or suggestions for new topics to
fcscience@qnect.net.