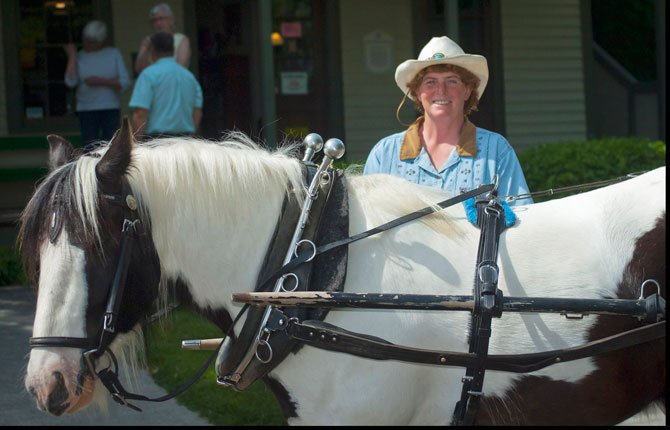 Most horses are a drain on the family finances, but Carrie Swearingen knew if she had horses, they'd have to earn their keep.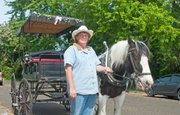 And so, eight years ago, she conceived of Classic Carriages, and since then, her horse-drawn buggies and carriages have become a familiar sight in The Dalles.
Her idea was sparked when she got a chance to buy some horses she'd been riding. She can't pinpoint why she likes the notion of driving a horse-drawn carriage, something she's done since she was a teen.
"Just being out in the open, and I think the slower pace of life is what attracts me most."
She also figured it would be a good fit in a historic-themed town like The Dalles.
Nowadays, she parks herself at the city dock when cruise ships come in, and on average nets three rides each time for her efforts.
Her busy times run from Cherry Festival through the fair season, which sees her travelling from Olympia to Pendleton, plus a busy bump around Christmastime. She probably gives 1,000 rides a year. She also does events like weddings and quinceaneras.
Her fleet of horse-drawn equipment includes a two-wheeled training cart, a fancy, enclosed carriage called a vis-à-vis (French for face to face), a fringe-topped five-passenger surrey or buggy, and a wheeled sleigh for wintertime.
She is planning to build a gypsy wagon, which is a covered wagon used to live in, complete with bed, sink, and stove. She also wants to build a handicapped accessible carriage.
Before going ahead with her plans, she first checked to make sure it was all legal in terms of road laws, then she set about training her mustang to pull.
The first step is walking behind a horse and controlling it with a long set of reins.
"People go out and walk their dogs, I walk my horses through town, to get them de-sensitive to city life. Get them used to dogs and shopping carts and flags and garbage cans, whatever."
They also need to learn that she's going to be behind them and not beside them or on them.
"When they're comfortable with that, I start having them drag stuff behind them."
She starts with something small, like a four by four. Then she puts a pallet behind them, then piles of stuff on the pallet — hay, tires, her grandkids — for added weight.
Once that's comfortable for them, she puts them in a cart, meaning they have to get used to the side rails connecting them to the cart. They have to learn to turn differently, moving sideways, since they can't bend sharply.
Then comes the big carriage, the vis-à-vis, which weighs 1,350 pounds empty, and can comfortably sit four adults plus the driver. It took her a year to find that carriage, a 70-year-old ride from a Seattle company that was updating to bigger carriages.
She has nine horses now, including four gypsy vanners, which are called Irish tinker or Irish cob in Ireland, where gypsies still use them to pull their wagons.
The gypsy vanner is a small, expensive ($8,000 to $10,000 apiece), versatile draft horse that can both pull and be ridden. "They're smaller in size so you can get on 'em. They're bred for temperament and stamina."
By now, she has trained a number of horses to pull. Most take a few months to learn; one took six months, one got it down in 10 days.
Training usually takes at least eight weeks, working two to three hours a day. She's only had one horse that just wasn't cut out for city life.
"He was just too leery of traffic commotion."
She gets the very occasional jerky driver — usually a teen — who likes to drive close to her horse. One or two others chide her for making horses work. They have lots of time off to be lazy, she promises. Plus, gypsies are bred to pull.
"It's like telling a border collie not to herd sheep."
She often gets asked if her horses like their job. For the most part, they do, she said. "They get a lot of goodies. Horses are no different than us. If we don't have something to do, we get bored.
"My horses eat just about everything. You really have to watch your hamburger because they'll eat it. They'll drink your beer. Watch out for your cotton candy.
"If it comes in a plastic wrapper, it's edible. You have to watch it because they'll eat the plastic wrap too."
They also check pockets for cookies, since Swearingen keeps a stash there.
She can also tell some tales on the rides she has given. Some are sweet, like the guy who proposed in the carriage. Then there are the drunk cowboys she takes bar-hopping at the Pendleton Round-up. "They get a little wild once in awhile and we just have to get a little stern with some of these drunk cowboys." They're good tippers, though.
And once she stuffed 11 people into her carriage, though it was mostly kids.
She's only had one scary runaway situation, when she was pulling a carriage-load of kids at the Gilliam County Fair.
Her horse, a Belgian draft horse named Willow, got spooked by a deer and took off running "next to a very deep ditch," bouncing across an open field and then racing a half block of paved road before tripping and falling, sliding about 10 feet.
Willow scraped a knee, but had no lasting damage. As for Swearingen, who, like the kids was uninjured, "the next day, I could not move because I was pulling with everything I had in me to slow her down.
"They say if you haven't drove a runaway, you haven't drove. Well, I've got that under my belt now."
She said "there's no such thing as a bomb-proof horse. They could go by something a million times, but that million and one, they decide there's something weird about it and you never know. Each horse is different."
Some of her horses don't like skateboards, but there was one — Willow, actually — who could care less about a skateboard, "but she was worried about a pot of silk flowers."
Last year, one horse didn't like leaves or papers blowing around him.
"If a leaf fell, he'd toss his head around it. If a paper was on the ground, he'd walk around it."
In Pendleton, a piece of paper left after the Round-up parade was blown by the wind right underneath that horse's belly.
"He jumped about five feet sideways and wanted to do a U-turn. Every time we walked by that spot he was looking for that piece of paper."
The Pendleton Round-up starts with cannon fire and fighter jets that do a fly-by.
"The screaming engines that barely skim the tree tops didn't bother him a bit. Didn't even pay any attention. He was worried about a Gatorade bottle blowing at him two blocks up," she said.
But that's not all.
"Oh, and he doesn't like pigs either."
Other horses have their own quirks. One flat out refuses to stand on a manhole cover. Another doesn't like wet pavement.
Swearingen started naming her horses after engines — she's using Hemi right now, others are named Triton and Duramax — because people kept saying to her, "Hey, you got a Hemi in that?"
She is also asked what the gas mileage is on her carriage. "About three days to a bale. What does a bale cost me? About five bucks."
Swearingen loves what she does and got what she wished for: horses who bring in some dough. It's not quite a living, she said, but, "They pay for their hay and mine."