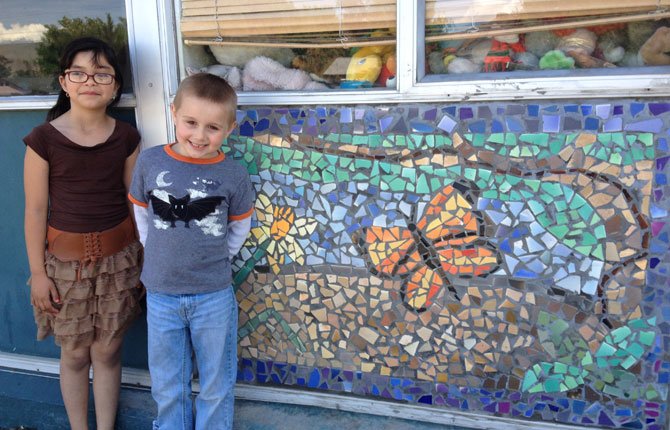 School-wide, Chenowith Elementary has been working on putting together the final versions of their class mosaics and May 16, the visions finally became realities.
Tina Cramer, teacher and organizer of the mosaic project conducted through Columbia Gorge Arts and Education, said students have been working in small groups over the past several weeks piecing together mosaics whose final forms were based on their own designs.
"Part of the goal was to beautify the school," she said. "I wanted it to be a community-based beautification project that every student could participate in."
Cynthia Caudill, the artist in residence who came out to distill students' ideas into six different designs (one for each class) was just helping students put the finishing touches on the mosaics in preparation for the grouting on May 12.
"Two weeks ago, I went over to the school with safety goggles and hammers on loan from Home Depot to help students break the tiles and get started on the project," she said.
Under Caudill's and Cramer's direction, students worked in small groups preparing the tiles before moving on to gluing the pieces into place.
Third grader Kian Ramsey said his favorite mosaic was the one they were working on May 12, which featured a long rattlesnake.
"Snakes are kind of tricky," he said. "And on this one, the owl is almost hidden, so it sort of looks like the snake is looking for the owl."
"The patterns of the rattlesnake are really interesting," Kyle Shropshire, another third grader, added. "Even though the snake looks like the scariest thing, the owl is the one that's on top of the food chain, so it could be hiding because it wants to eat the rattlesnake."
"The kids brainstormed all of the ideas," Caudill said. "All of them were based on what they liked best about the local community."
Other grades' mosaics featured scenic landscapes, leaping salmon, the Columbia River, a monarch butterfly and a playground full of toys.
These designs were grouted into six of Chenowith Elementary's front panels on May 16 with the help of parents, teachers and workers from Home Depot who all volunteered their time, energy and supplies toward bringing the project to completion.
"It's all in celebration of our unique community and school," Cramer said.