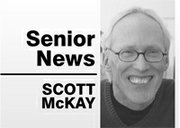 It is said that if you are over 65 and need a conversation starter, bring up the subject of medications.
It is a safe bet because five out of six persons that age are taking at least one medication and almost half take three or more.
With the advancement in pharmaceutical research, the lives of older adults have been improved and many have been saved. But there are also significant risks, so it is important you manage them safely.

These steps you can take are common sense:
• Keep an up-to-date list of your medications and supplements with your health care team.
• Follow your doctor's instructions.
• Take only your own medications and keep them in their original containers.
It is also important to know your medications, which means you need to ask questions and make sure you understand the answers. (I try to bring my wife with me so I have another set of ears, and a better memory.)
Know the name of your medications and how they look so you will recognize if the pharmacist gives you something different.
Know how to use the medications correctly. Read the directions on the label and any other information you receive.
Ask if there are other medicines, foods or activities that you should avoid while using the medications? Also ask what to do if you forget a dose, when you should take the medication and long between doses, and what the potential side effects are.
Older adults are more medically complex. About one-third of adults over age 65 who take five or more medications experience a serious adverse effect each year.
Since some side effects may bother you initially, but improve over time, ask when you should contact your doctor or pharmacist if you have certain side effects?
By knowing your medications, you will know what to expect, what to avoid and how to use them correctly.
If you would like to learn more about ensuring safe and appropriate use of medications an excellent website is Medication Use Safety Training (MUST) for Seniors™ at http://www.mustforseniors.org/
Nehemiah Brown is performing once more at the Mid-Columbia Senior Center on Friday, May 23, from 7 to 9 p.m.
Everyone has enjoyed his previous performances, and for $3 per person, you can't beat the price.
The speaker for the next 11 a.m. Tuesday Lecture on May 27 will be Andy Roo, who will be discussing "Living with Persistent Pain."
This is another MCMC presentation you won't want to miss.
Truman will be performing his Country Gold at the center on Tuesday, May 27, starting at 7 p.m.
There will be pie and ice cream for sale for those with a sweet tooth. Bring your dancing shoes and enjoy an evening of fine country music.
It is not Caster Oil or Geritol, two of the answers I received for last week's "Remember When" question. But it was Hadacol: the 1950's product marketed as a vitamin supplement although in the dry counties in the South if was known to be served in a shot glass because of its 12 percent alcohol content. (And the winner is Karl Vercouteren who remembers the jump rope rhyme from the 50's "HADACOL the doctor/ HADACOL the nurse, HADACOL the undertaker/ driving the hearse".)
But this week it is clothing styles. What is the name of the style of the shoe, most common in black and white, popular in the 50's, worn by both men and women, and with a distinctively shaped decorative panel placed mid foot — which gives the style of shoe its name?
E-mail your answer to mcseniorcenter
@gmail.com, call 541-296-4788 or drop a pair off with your favorite poodle skirt. (I wear a size 10 — and that's the shoe not the poodle skirt!)

Well, it has been another week trying to light a fire on another windy day. Until we meet again, no matter whether the sun shines or not, life goes on.
"Dream as if you'll live forever. Live as if you'll die today." James Dean
MENU
Wednesday (21) Cheese Burger Pie
Thursday (22) Pork Medallions with Gravy
Friday (23) Taco Casserole
Monday (26) Closed
Tuesday (27) Swedish Meatballs over Noodles