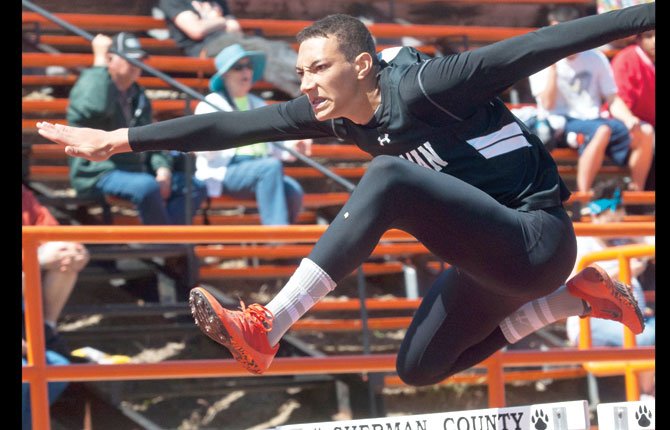 Maverick Winslow, Isaiah Coles, Brett Evans and the 4x100-meter relay team are ready to take their top marks to Hayward Field this week after combining for 256 points to take home 1A Big Sky boys' team title Saturday in Moro.
Brett Evans had the winning feel in the 800-meters where he stopped the watch in two minutes and 7.80 seconds for a district crown.
Coles added two more wins to his record, scoring first in the 110-meter hurdles in a career-best 16.91 seconds. The freshman added another personal record in the long jump, taking first place with a distance of 20-feet-7 inches.
The 4x100-meter relay team of Brett Evans, Nick Coleman, Winslow and Blake Evans hit the ground running in perfect stride for first place and a season-best marker of 46.46.
In his first try at track this season, Winslow had to manage his time between baseball and track to get himself in contention.
Now that he is making his mark, he has set the bar even higher for himself, next year and beyond.
"I feel that I can improve a lot more from here," Winslow said. "I am just happy that I get this opportunity to go, so there are no expectations really. It is still not going to stop me from trying to beat everybody."
Coles did punch his state ticket in two events and came within inches of making it in the triple jump and 300-meter hurdles, grabbing third in both tries.
"I am really excited to go to state to see how I compare with the other top athletes in all of Oregon," Coles said. "It puts a lot of pressure on me to get better at every meet and do the best that I can do."
The South Wasco county boys' team ended action in fifth place with 134, as Loreto Morelli stole the show by picking up wins in the 200-meters, 400-meters and 300-meter hurdles.
He was also the final leg in the 4x400-meter relay team along with Colton Nannini, Travis Hayes and Brody Myers that had a final tally of 3:47.74 for a district crown.
In the 200, Morelli had a time of 23.66, and he set a Redside school record in the 400 with a personal best of 50.92.
Morelli went up against Mitchell's Brett Domenighini for bragging rights in the 300-meter hurdles, and the SWC junior swept through in the final stretches for a 43.37 for first place.
Given the weather conditions, Morelli had to overcome stiff winds to find the energy to pull ahead.
"I was kind of nervous about the wind," he said. "I thought that it would stand me up, but I had enough in the tank to pull through it. I got down to the home stretch and had a lot of energy left to win."
He and his mates have a bigger task this week.
"It means a lot to make it this far and represent my school at state," Morelli said. "It is a lot of fun being out there with some of the best athletes in the state."
While they are small in terms of numbers, the Dufur Rangers had senior Austin Olson earning a state bid in two events and Jake Little notched second place in the javelin toss with a distance of 152-6.
Olson led the way in the discus where a toss of 118-6 was more than enough to stand atop the podium in first place. The senior posted a second place output in the shotput with a measurement of 44-6.
Keith Blake, a sophomore, was right in contention in both the shotput and discus, but wound up on the outside looking in.
He had a toss of 117-01 for third in the discus.
Blake placed fourth in the shotput with a top throw of 39-2, five feet from second place.
Olson credits his rise to success on the hours logged in practice with throw coach Kenzie Henderson.
This will be the third straight season he will have extended his season by another week.
"I wasn't very happy with how I threw today, but it got the job done," Olson said. "I know I can throw a lot better, so I have one more shot at it. I have nothing to hold back now. I cannot have any regrets and I cannot hold anything back when it comes to state."
---
The Sherman Huskies nearly pulled off a district sweep Saturday in Moro, as the girl's team had two wins and two seconds to amass 177 points for second place behind repeat champion Condon (281) at the Big Sky District Meet.
Meagan McKinney hoisted a top prize for her efforts in the 100-meters in a time of 13.79 seconds.
McKinney also joined forces with Andie Harrison, Sabrina Green-Hite and Brittney Orendorff for a personal best time of 54.08 to snag first place.
Harrison made the right moves in the javelin by chalking up second place in the standings with a toss of 125-feet-11 inches.
Added to that, McKinney had her name called for the state bus in the long jump where her distance of 15-0.50 was good enough for second place.
For Harrison, this is her final bus trip to Eugene with her mates.
"It is bittersweet. It is hard to know that this is probably the last time I get to compete," she said. "All four of us girls have spent so much time with each other. We have played volleyball together, played basketball together and we spend even more time as a relay team. So, it creates a good chemistry. I want to do the best that we can do as a team. Wherever that puts us at state — that is good enough for me."
Right behind Sherman and Condon-Wheeler in the standings was South Wasco County with 158 points for a third-place tie (Griswold).
Zoe Morelli is going to state in the 200-and-400-meters and she is a major part of the district-winning 4x400-meter relay team.
At 200-meters, Zoe Morelli clocked in at 28.85 and she posted a 1:02.70 for first place in the 400.
Tatum Hahn, Ally Muhleman, Katherine Popchock and Zoe Morelli set a season-best record in the 400 by crossing the finish line in 4:30.45.
Hahn claimed district gold in the 800-meters in 2:39.89, Joy Kelly ended up in second place and state bound with her 13:05.13 in the 3,000 and Popchock rattled off a height of 8-6 in the pole vault matching her personal record and a state bid.
"Honestly, I feel very lucky to be able to go to state because there were a lot of good girls out there," Popchock said. "The whole time, it is nerve-racking. In a lot of ways, I just feel relieved and super excited that I get to compete one more time in pole vault."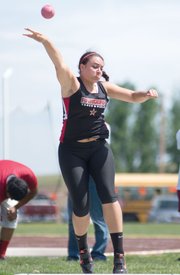 For the Dufur Rangers, Taylor Darden is making her way to state in two events and she nearly had a travel mate in Louis Smith in the 1,500, but the Ranger junior had a time of 6:18.89 for third place, 35 seconds behind Griswold's Macey Tullis (5:43.13).
In her shotput attempt, Darden had a throw of 35-7.5 for first place and a district crown, besting Condon's Matney Jamieson (33-4.25).
In the discus, Darden got the better end over MaKenzie Mize, taking top honors with a distance of 117-1, more than 13 feet better than Mize (104-9).
It has been a long road to recovery for Darden, who underwent knee surgery in November.
Slowly and steadily she has rounded into form, so the state hierarchy is where she aims her next go-around.
"There are going to be some good girls at state, so I am just going to go in there and think about my marks and improving on them," said Darden. "I cannot worry about anyone else and how well they are doing. This is the biggest meet of the year, so going in there focused and prepared is the most important thing. The rest will take of itself."
Day one kicks off at 9 a.m. Thursday at Hayward Field in Eugene.