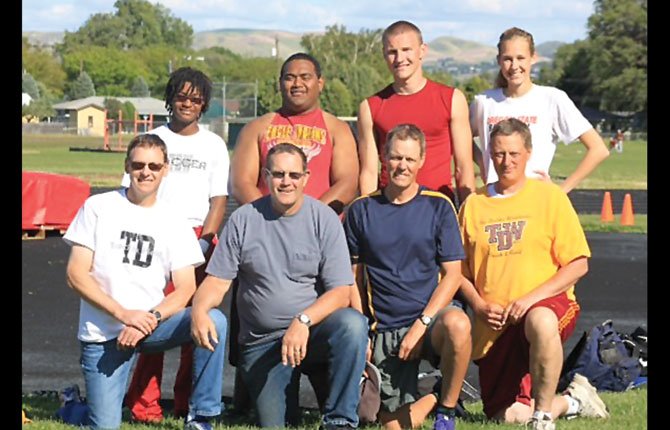 A day after Lio Tunai, Yasmin Hill and Katie Conklin put up their top marks to earn state meet recognition, The Dalles senior Zach Nerdin punched his ticket, Hill added a district crown in pole vault and Conklin added to her event list with a first-place title in triple jump and a second place output in the 100-meter hurdles on day two of the Columbia River Conference district meet at Kennison Stadium in Hermiston.
"I thought our kids fought hard in their events and competed well," said Tribe head coach Garth Miller. "The four representing us at state, I am excited for them. Their event coaches are excited as well. Just to get a spot at the state meet is huge. These kids have a shot at placing well there."
Conklin tacked on top honors in the triple jump with a distance of 35-feet, and the junior added a time of 15.99 seconds, a personal record, to take hold of second place and a state berth.
Hill matched her personal best in the pole vault with a height of 9-6, beating her next opponent by a foot to hoist the gold.
There were several close calls on the girls' side, where a few inches or a couple of seconds could have made the difference in extending a season.
Liz Tunai probably had the biggest heart-wrenching outcome in the discus. The senior had a small lead, with Pendleton sophomore Keagan Utter down to her last toss.
Utter measured out at 95-6 to slip past Tunai, whose best mark was 91-3 to take hold of third place.
Suffering the same fate in the pole vault was Tribe junior Kellina Coy, as she had her best height at 8-0, but Hood river Valley sophomore Kim Boquist leapfrogged the Eagle Indian with a final height of 8-6 for second place and the state slot.
Senior Emily Bailey tallied a mark of two minutes and 39.28 seconds to end up fourth in the 800-meters.
Maddie Wood was right in contention as well in the 3,000-meters, but she wound up 38 seconds behind second place with her 11:44.52.
The Hermiston girls' track team scored a district crown with 200.5 points and HRV (171) netted second place in the standings. Pendleton (163) and The Dalles (95.5) rounded out the order of finish.
Hermiston completed the clean sweep on boy's side with multiple state titles and personal records for 220.5 points and first in the standings.
Hood River Valley (178), Pendleton (154) and The Dalles (90.5) made up the rest of the field.
Joining shotput champion Lio Tunai on the bus ride this weekend to Eugene is the senior Nerdin.
Nerdin reeled off a personal record time of 42.05 seconds for first place in the 300-meter hurdles, an event that had two one hundredths of a second make the difference between first and fourth place.
Sant Strassheim wound up being edged out in fourth place with a time of 42.07.
"It was very good race," coach Miller said of the 300-meter hurdle race. "One of the hurdles slowed him down just enough. He got a PR, which was good to see, but I am bummed for him that he didn't quite make it. Two one hundredths of a second off was very competitive though."
Nerdin will also represent The Dalles in the 110-meter hurdles where he coasted home in 15.73, another personal best.
Nerdin nearly completed the trifecta over the weekend, as he came close to earning a spot in the high jump. He had a personal-record leap of 6-2 to finish third, just behind Pendleton's Donte Robinson (6-2).
TD senior David Esquivias also caught a bad break in his try at javelin, where he had a 143-8, but he fell just shy of state contention to HRV's Bryson Gudiel, who notched second place with his 147-7.
Riley Bardes picked up fourth place in the discus with a 121-8 and shotput (46-0.5),
Strassheim just missed in the long jump by placing fourth at 19-10 and he missed the 100-meters with an 11.86.
In the next three days until leaving for Eugene on Thursday, Lio Tunai, Hill, Conklin and Nerdin will fine-tune some technique issues to get on their game for the biggest stage.
"We will be fine-tuning some things in their event specialties," Miller said. "We want them to focus on staying sharp, staying focused and having fun. We just talk to them about the opportunity that they have to compete at Hayward Field. This will be a special time for them. For them to experience this is priceless."