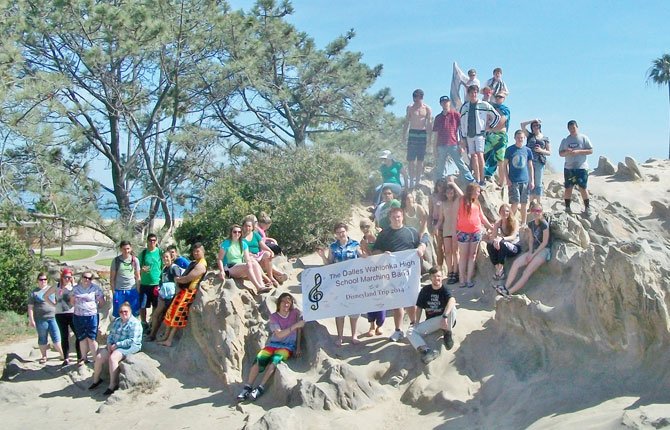 The Dalles High School band traveled to Disneyland on April 28 for a five-day stay, courtesy of the band's recently reinvigorated booster organization, made up of parents and interested community members alike.
Molly Rogers, one of the trip's adult chaperones and member of the booster club, said she felt "lucky" to be included and that she thought the students were "wonderful ambassadors for The Dalles High School and our community."
"We adults received many compliments on how respectful the students were and how much fun they seemed to be having," she said.
Rogers said that for many of the students, the plane ride to California was the first they had ever experienced.
Forty-six students and eight adults made the trip, and the itinerary included a three-night stay that featured performing a concert at Medieval Times dinner theatre, an educational soundstage at California Adventure Park.

Total fundraising for the trip, Rogers said, was over $50,000. The cost per each student was $1,000, which included the trip and some extra meals. According to Rogers, all of the money was raised in less than 12 months.
Last fall, the band played at all The Dalles High home football games while the marching band placed first in their division in the Cherry Festival parade the weekend before taking off for Disneyland.

Many businesses and individuals supported the band through fundraisers, donations, and sponsorships. Some of the key sponsors were Griffith Motors, Von Borstel & Associates, Airco Heating & Cooling, Leeland Property Management, Mike's Bakitchen and Baldwin Saloon.
The School Board and administration of North Wasco County School District, Rogers said, were instrumental in assisting the band in making the trip.

At the last band concert of the year, students and parents were able to celebrate with slide shows and a DVD of the arrangement they practiced during the soundstage experience at California Adventure. Nine seniors were also honored during the concert.

Next year, the booster group intends to focus their fundraising efforts a little closer to home. An application to play in the Starlight parade for the Rose Festival is currently underway.