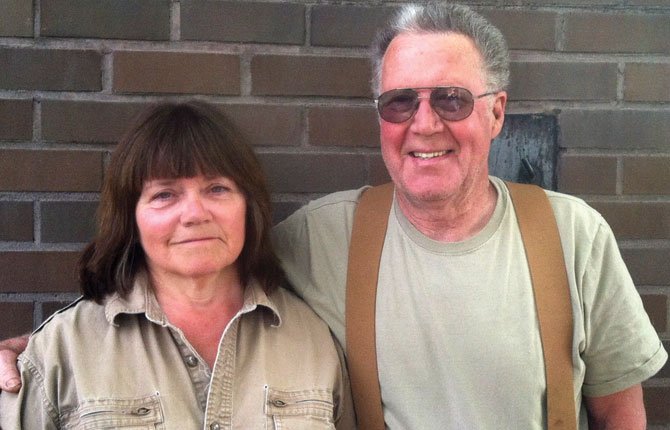 Charles "Al" Vaughn, 68, of Maupin is waging a war against cancer and a host of other health problems related to combat duty in Vietnam. He is also battling to get the cost of a 2013 ambulance ride covered by the federal agency that is supposed to take care of those who have served.
"What our VA (U.S. Veterans Administration) is doing to veterans is atrocious and I want them held accountable," he said.
Vaughn's latest round with the VA involves a bill of about $1,000 for his transport by Southern Wasco County Ambulance of Maupin in the summer of 2013.
Despite getting numerous assurances from federal officials that payment would be made, Vaughn continues to receive notices from the billing service and now has U.S. Sen. Ron Wyden, D-Ore., working on his behalf.
"We've requested that Mr. Vaughn send us a privacy release form and as soon as we get that back, we can get to work on this," said Tom Towslee, state communications director for the senator.
Speaking on the condition of anonymity, an employee for the billing service that represents Southern County and Mid-Columbia Fire and Rescue said there are 20 outstanding debts for local veterans and one dates back to 2012.
She said the service for 25 different emergency response agencies has 200 delinquent bills for veterans throughout the state, the oldest of which is from 2010.
"It isn't fair to these ambulance companies to have these bills not getting paid, they depend on this money for their operations," said Vaughn.
Sherry Holliday, secretary/treasurer for Southern Wasco, said the billing agency has been told to stop collection action on unpaid bills involving veterans until the issue is resolved.
"Certainly, we realize this is a problem and we are more than willing to work with veterans to collect these payments," she said.
On behalf of Vaughn, she contacted the billing service and received an email that included this outline of the situation: "This is part of a very big problem with the VA. They require us to file a claim within 90 days from the date of service and yet they delay payment for years, do not return phone calls and lose paperwork we've sent… Our VA specialist is explaining to each patient it is their responsibility to follow-up with the VA to make sure they pay. She is referring callers to their local VA office as well as senators hoping the attention will force a change."
Other Claims
Wasco County Veteran Service Officer Russell Jones is dealing with two other local veterans experiencing the same delay as Vaughn with their ambulance bills. He asked Wyden to look into the matter after finding out the extent of the problem from the billing service.
In one situation, he said a local disabled veteran, after a long wait, was denied payment of his ambulance bill altogether. He was told that because it was a new fiscal year, there was no longer money available to take care of the matter.

Jones said it stands to reason that the payment crisis is more widespread.
"I think this is symptomatic of the problems going on across the nation," he said in reference to the current scandal involving "secret wait lists" for VA hospitalization and lengthy delays in getting benefit and compensation claims processed.
He said the VA is quick to deny claims but is still taking about a year to process many requests, although that is about half the time it took before reforms were instituted last year. Vaughn is 100 percent disabled due to several major illnesses that are linked to Agent Orange, a chemical herbicide used in Vietnam from 1962 to 1971. The goal of the U.S. Department of Defense was to defoliate rural and forested land, depriving guerillas of food and cover and clearing lands around the perimeters of bases.
In-Country
Drafted in 1967, Vaughn arrived at the age of 21 in Vietnam in February 1968 during the Tet Offensive, a major attack by Vietcong and North Vietnamese. In a surprise move, rebels had stormed countrywide in a coordinated attack on Jan. 30, the first day of the Lunar New Year, Vietnam's most important holiday.
The U.S. and South Vietnamese armies were stunned by the size of the operation and it took weeks for them to retake all of the captured cities. Smaller offensives were mounted in spring and summer 1968.
"You were just living, wondering if you were going to live," said Vaughn of being in-country during that time.
He was one of 331,098 Army personnel in the theater of operations in 1968. The job of his artillery battery was to transport six M105 Howitzers into "hot spots" via CH-47 Chinooks and man the weapons to protect infantry units that were in danger of being overrun.
The gun had a mid-axle firing base that could pivot in any direction. The barrel of the weapon was 11-feet 8-inches long and fired 105 mm projectiles of many different types.
"We were losing 4,000 men a month at that time in the war and the fear wasn't there so much in the firefights, because that's when your adrenalin kicked in, it was the pre and the post," said Vaughn. "At the end of the day, it wasn't about politics, it wasn't about the war, it was about your comrade."
In 1969, Specialist Vaughn returned to the states and his wife, Kathy, who insisted that he stop drinking so much and find proactive ways to work out his combat-related issues.
Early VA problems
Because he had so many problems getting the VA to acknowledge his PTSD (Post Traumatic Stress Disorder), Vaughn picked up the bill for counseling services.
He learned to channel his energy into a career as an electrician and raising his daughter. Later, he and Kathy had two grandchildren to spoil.
Then the health problems started. Vaughn, like many Vietnam veterans, became diabetic, even though that disease did not run in his family. He also became a survivor of two different types of cancer and scores of other medical problems, including heart disease, caused by his exposure to an herbicide at levels that were 100 times higher than considered safe by the U.S. Environmental Protection Agency.
"My cancer is incurable, but I am not going to give up and let it get me," he said.
His brother, a Navy veteran, is also fighting the VA for help with severe respiratory problems caused by exposure to asbestos during service aboard an aircraft carrier. In addition, he suffers from severe PTSD after being assigned to the boiler room despite his lifelong problem with claustrophobia.
"The VA does a good job of losing your records and every time you talk to someone, they assure you that everything will be fine, but they have this way of prolonging things so they don't have to pay," said Vaughn.
Ambulance call
On June 27, 2013, he lost consciousness and Kathy, who was taking no chances with his fragile health, called for an ambulance.
Vaughn was taken to Mid-Columbia Medical Center in The Dalles for treatment of a possible heart attack, which turned out not to be the case.
Dan Herrigstad, spokesperson for the Portland VA Medical Center, which most claims from Wasco County are routed through, had no personal knowledge of the issue involving veterans' unpaid ambulance bills. He said claims are processed in several different places, depending upon their nature. He said if a veteran submits a complaint in writing about an unresolved issue via the website, www.portland.va.gov, he or she is assigned a patient advocate to address the problem. His personal contact information is also on the site.
"If it's one of our veterans, we'll get to the bottom of it," he said. "We can help facilitate getting the information to the right place."
The only problem with that assurance, said Vaughn, is that he did contact the Portland office numerous times, and received an equal number of pledges to get the problem resolved. But then letters continued to roll in seeking payment of the delinquent bill.
"You never talk with the same person and the left hand doesn't know what the right hand is doing," he said of the VA system. "Many of our veterans have given their lives and limbs for this country and this is not the way to honor their service."
To prevent a repeat of his latest problem, Vaughn has taken out private insurance at his own expense to cover the cost of ambulance rides.
"I think the VA has this figured out so that, if they keep messing around with you enough, you will give up on a claim and they can save money," he said.