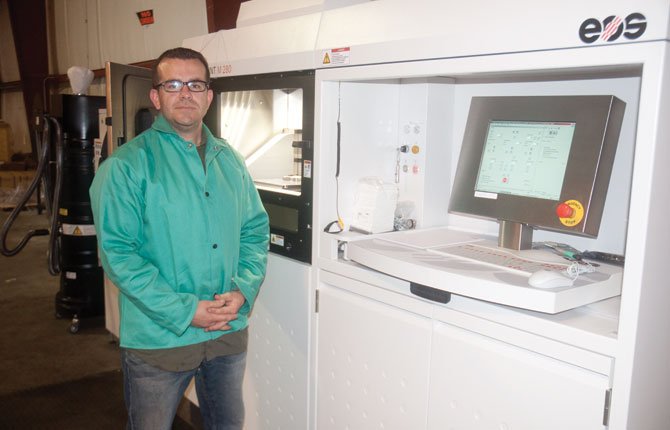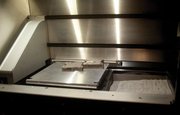 A pioneering company is manufacturing metal products for industrial uses through three-dimensional printing technology at its new headquarters in The Dalles.
Integrated 3D™ Manufacturing is a year-old start-up operating as a service bureau for metal parts and products.
"We've spent a good portion of the year business planning and getting the financing," said CEO Erin Stone, a Sherman County resident. "My business partner really wanted to avoid angel investment funding. We wanted to maintain control of our business, especially in terms of growth."
Stone and her partner, Matt Garrett, worked with Mary Merrill of the Small Business Development Center (SBDC) at Columbia Gorge Community College. She connected the partners with the state SBDC Capital Access Team in Portland.
"They specialize in helping small businesses and start-ups find money when they can't get it from banks," Stone said.
The company is now headquartered at 3525 "C" Crates Way in The Dalles, part of the Port of The Dalles Industrial Park.
She said the firm has found terrific support from its landlord, The Dalles Leasing.
"They're great landlords, really business-friendly, perfect for a small business," Stone said. "And they liked the idea of a new industrial revolution, being part of The Dalles and its rich history in manufacturing in the gorge area, all those things aligned. When the financing was in place in February, we started doing some improvements to the building and our first machines landed in March. Now we're up and running."
Three-dimensional printing of metal isn't particularly new, either in the nation or in the region, Stone noted. But most of the equipment is owned by large manufacturers like Boeing. This is the first service bureau in the Pacific Northwest, and one of only a handful across the nation.
Stone expects the company to serve the entire Pacific Northwest and beyond.
"Really, because of the nature of what we do, we take 3D CAD (computer-aided design models), files that can be emailed," she said. "We can really be worldwide. Our business plan calls for expansion to Canada."
Stone and Garrett both have experience in the field of 3D print manufacturing. Stone, who previously worked in the field of marketing, was recruited to help a similar business launch. Her Garrett worked operations for the same company. But the company used the technology in a different aspect of production. Metal manufacture is a new technology able to create finished parts.
"It takes a powder [powdered metal] and lays it across a bed in microthin layers," Stone explained. "A laser melts the layers of powdered metal together where the model tells it to over and over and over again. Because of the laser melting the metal together, there is no binding agent, like in other 3D printing. The porosity and density are as good or greater than if it were a cast part. It's something you could put in a car engine.
For a finer finish, the company uses a wire EDM precision cutting machine, which uses electrified wire for fine cuts.
"Our expertise comes in market applications," Stone said. "The industry is really new." Boeing and Lockheed have been using the finish-grade parts for the past three to five years. … What Matt and I are able to do is take a look at the marketplace and find practical applications."
Metal 3D printing offers some manufacturing efficiencies, too. In pieces using costly titanium, for example, the process reduces waste by 70 percent.
The process can also use lattice construction techniques to trim the amount of material needed to make an object, retaining strength while decreasing weight, Garrett said.
"It's like building a bridge," he said, explaining how lattice construction creates a strong end product. "With all the cross supports, you actually end up eventually with a lot less material and the same structural integrity."
"It's just a perfect fit with the aerospace industry growing and the unmanned aerial vehicle industry growing in the gorge region," Stone said. They also have bicycle companies coming to them seeking titanium parts and the electric car industry seeking lighter weight parts.
"When you start talking about the Northwest research and innovation going on, and when you marry that with technology that allows this kind of design freedom and process freedom, the synergies are amazing," Stone added.
In addition, manufacture in a shorter time frame and at a lower cost than what the market has had to bear is helping to bring manufacturing jobs back on shore, she noted, and at a good living wage.
The process works most efficiently in smaller lots of high-value components, Garrett said. "It the hundreds, versus the tens of thousands. Traditional manufacturing is hard to beat in the tens of thousands."
It also has applications in manufacturing a multi-piece assembly in one piece, Garrett said. GE, for example, took a multi-piece assembly injector port for its jet engines and printed it as one piece.
The technology also makes it a good avenue for reverse engineering, for example when specialty parts are no longer carried in stock, Garrett noted.
Integrated 3D Manufacturing currently has five employees and hopes to make that seven in its first year.
"I think by the end of year five, we should have 30 or 40 jobs," Stone said.
The jobs will largely be high-paying technical and technical sales jobs, around the $50,000 per year range.
"We really expect people to know their stuff," she said. "Often they will hold engineering degrees to operate on the sales side of things. It requires sophisticated marketing, management of orders and materials."
The jobs also come with a comprehensive benefits package, she said.
"Matt and I feel very strongly about that," Stone said. "That's one of the things we laid out in our business plan."
She said being able to offer such perks is another advantage of not taking money from a venture capital firm.
"This is a real passion for Matt and I and the team," Stone said. "We have a fabulous team. We have a passion about the industry and also a passion about what we're creating in the community."