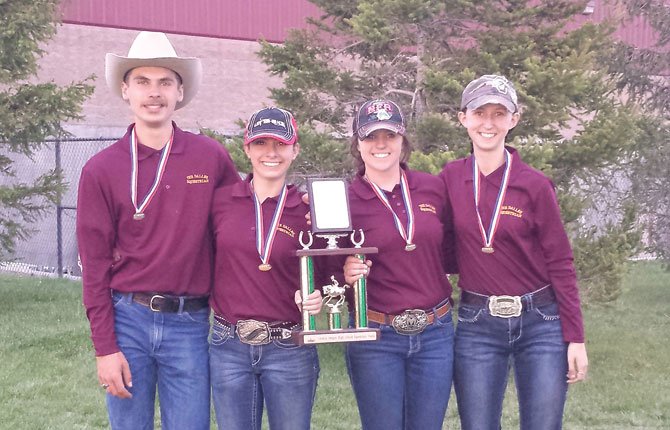 With the sudden news that his horse would not be able to make the Oregon High School Equestrian Teams championship meet, Jacob Richman had to scramble to break in a new horse for the Freestyle Fours Drill and still managed to help will the squad to 19th place at the Deschutes County Fair and Expo Center in Redmond.
Team advisor, Marie Cordell, credited Judy Urness for the save.
She lent the services of her horse, Tobi, for drill, an activity this equine had never previously experienced.
"Jacob did a great job and so did the other kids, trying to get the horse used to all the maneuvers," said coach Cordell. "You have a lot of close fast contact in drill, and they brought the horse along great. They all worked as a team to make adjustments for the new horse."
Richman teamed up with Mackenzie Urness, Carsen Cordell and Hannah Simmons to reel off the top-20 finish in the field.
"The team added three new elements to their pattern to make a safe time," The Tribe coach said of the drill team. "Glenn Harding and the drill team figured it out and practiced before they went in. During the competition we had a few hiccups, but they pulled it together and had an amazing performance."
With the sudden change of course, Richman initially thought that he would have to scratch from his Keyhole event, but Carsen Cordell offered the services of her horse, Angel.
Although Angel, who previously served as the queen horse, is not a huge fan of the chalk, Richman went to work in the Keyhole event and scored a personal-record best time of 8.75 to grab 18th place in the standings.
"The best thing about Jacob is his natural balance and he listens," said coach Cordell. "There is no can't with this kid, he is awesome."
Also on the local front, Dufur's Zachary Christiansen scored a 10.9 for eighth place in Individual Flags, and Sherman's Shayne Holmes picked up 15th place at Working Rancher.
In addition, Carsen Cordell, the team's senior captain, was awarded with the OHSET State $500 scholarship.