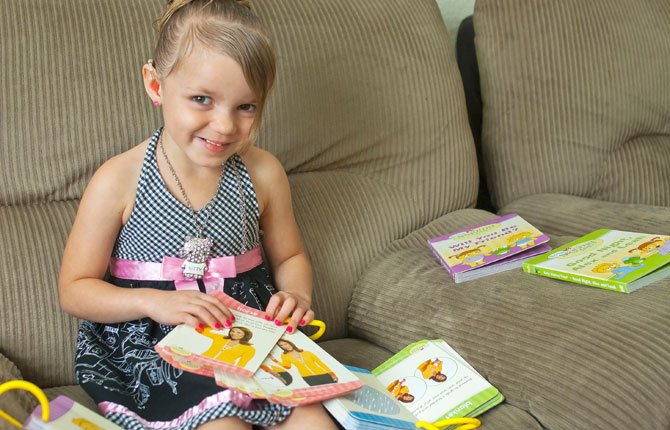 With bouncing blonde pigtails, a bright pink dress and a wide, all-encompassing grin on her face, 4-year-old Aleah Edmondson is every inch the energetic preschooler.
"She's pretty self-explanatory," her mother, Felicia, said when asked to describe her daughter. "Happy go-lucky all the time and always ready for an adventure," she laughed. "Of course, she also loves dressing up and having her picture taken."
After being diagnosed with a hearing impairment several years ago, Aleah became part of Columbia Gorge ESD's Early Intervention program, and is now a student in one of the four preschool classes at the Early Childhood Special Education Center in The Dalles.
The annual Rainy Day Fund Run, taking place May 31 at 9 a.m. at Kiwanis Park just off of Klindt Drive in The Dalles, is a walk/run along the Riverfront Trail whose proceeds go toward benefiting children like Aleah, who struggle with disabilities and require additional support to succeed in both their daily lives and their education.
Cindy Johnson, administrative assistant at the Early Intervention and Childhood Special Education Center, characterizes Edmondson as "her own little welcome wagon" and "the most enthusiastic student in her class."
Johnson, who not only has worked for the program for 22 years, but also has a child of her own enrolled, said the run is "designed to benefit children with disabilities and their families by raising money to help fund the purchase of treatment, equipment or materials that can aid in the health, growth, development, or education of the child."
As last year's Rainy Day Fund recipient, Edmondson received educational materials specifically tailored to her own needs, which allowed her to learn sign language and went a long way toward facilitating enhanced communication between herself and her family members, teachers and friends.
Jenna Bartley, a Columbia Gorge ESD speech therapist who has been working with Edmondson for years, said the materials "really helped her develop her expressive language."
"I think it played a big part in improving her ability to communicate with others through sign and definitely helped her grow more and more confident as she got older," Bartley said.

"Families who dream about purchasing something they believe could really help — no matter what it is — they are the ones the Rainy Day Fund supports," she added, "and it's why we do our best to raise funds every year to help pay for things most of the families we serve simply could not afford otherwise."
The Rainy Day Fund benefits children ages birth to 21 years old in Hood River and Wasco Counties, and interested families are asked to apply using the form provided on the Early Childhood Special Education website at http://www.cgesd.k12.or.us//site/default.aspx?PageID=73.
"Over the years, we've funded applications for things like glasses, wheel chair ramps and special therapy for a child who really needed the extra support," Johnson said. "The families know what they need most and are so appreciative of any help they can receive."
Early Intervention and Early Childhood Special Education will continue to accept donations until the day of the run, so for more information on how to donate to the program, call the center at 541-296-1478 or visit http://www.cgesd.k12.or.us/.
The Rainy Day Fund is also a Fred Meyer Community Rewards non-profit organization, which means interested community members can choose to link their rewards cards to help the fund earn more donations. Fred Meyer customers who choose to do so will still earn their rebates, rewards and fuel points as normal, with the added benefit of aiding a local organization as it provides for area children in need.
Fred Meyer donates upwards of about $2.5 million a year to non-profits in Alaska, Idaho, Oregon and Washington, based on where customers choose to send their rewards.
A family event, registration fees start at $8, while children under 5 years old can sign up for free. The run offers 3k, 5k and 10k walk/run options and begins and ends at Kiwanis Park, located at Klints Cove in The Dalles.
Registration starts at 8:30 a.m. on May 31, but interested participants can also mail their registration forms in ahead of time to Cindy Johnson, care of EI/ECSE Programs at 1721 West 10th Street, The Dalles.