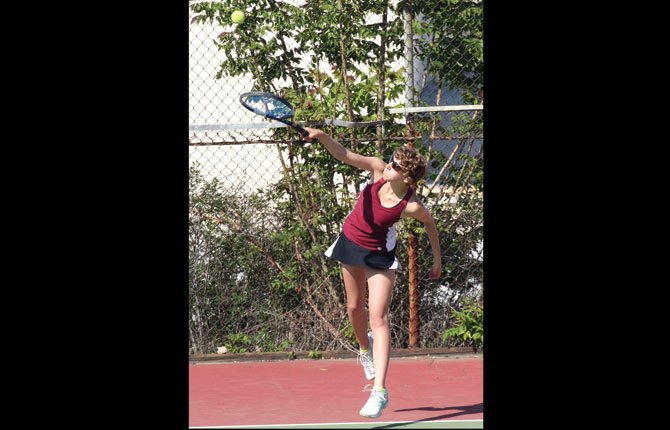 Thinking back to the 2014 season, The Dalles girl's tennis coach Debby Jones could only express pride when discussing the accomplishment of her varsity squad.
TD managed a few league wins, had some breakthrough performances and finished the season with six team victories at the 5A Special District I Tournament ending Saturday at Sun River near Bend.
The prevailing thoughts of the players on the ride home was not about the what ifs or what could have been, but on the when, like when can they hit the court again for workouts.
"Plans were being discussed by the players on summer camps to attend, stroke development and overall conditioning," Jones said. "We will take a couple weeks off, but they promised me that my phone would be ringing off the hook with the girls eager to continue their progression. They are hungry for more – a coach's best program to have."
At the district tournament, the Eagle Indians did not have a player qualify for state, but this young group amassed opening round wins for the first time in more than three campaigns.
Robin Pashek, TD's No. 1 singles player, had a buzzsaw of a draw to kick off action with a match versus 2013 state qualifier and No. 2 seed, Pendleton's Jessica Clark.
A week earlier, Clark dominated this matchup winning by scores of 6-0, 6-0, but coach Jones had a pep talk with her standout and she responded positively.
Pashek broke through in a major way, even nearly pushing Clark to a third set tiebreaker.
The Lady Buckaroo athlete won this match by marks of 6-1 and 7-5.
Pashek went on to win two more matches in the consolation rounds, before losing in the consolation semifinals.
"I could not have been more pleased with Robin's effort," Jones said. "She played her heart out and earned the respect from the senior player. I believe Robin discovered that she could definitely hit with the top players, but is just shy of the needed match experience to help her move to the next level."
Freshman singles player Kiana Pielli, who entered play nursing a shoulder injury, made her big district splash in her first match with a dominant 6-0, 6-2 win over Hermiston's Debra Johnson to move up in the winner's bracket.
However, her district run came to a close in the next round with a loss to No. 4-seeded Cassie Hampton, of Pendleton.
"To pick up a solid win at the district tournament is a great bonus for the freshman," Jones said of Pielli.
On the doubles circuit, Johanna Wilson and Anna Miller were not the least bit intimidated in facing the No. 1-ranked team from Mountain View, Johnson and Cole.
The Tribe tandem inched away in the first set with a 7-6 tally putting them ahead by a slim margin. Wilson and Miller left nothing to chance to put the finishing touches on this match with a 6-2 winner to advance.
Now a spot closer to the semifinals in the winner's bracket, Wilson and Miller faced a solid duo from Hermiston, Wolf and Peterson.
The Lady Bulldog duo rolled to a 6-1 romp in the opening set, but the Tribe team battled back to take a 6-1 score in the second set to send this showdown into a decisive tiebreaker.
In the tiebreaker, Hermiston staked control of matters and notched a 10-5 win to end the TD duo's season.
"I really believe that if we could have played the third set out, the girls would have been looking at a victory," Jones added. "Instead, it came down to just a few key points and the Hermiston duo advanced with a 10-5 win."
This Hermiston tandem wound up defeating the No. 4 team in the next round to punch a state ticket.
Nonetheless, Wilson and Miller came away feeling positive about their efforts under pressure conditions.
"I think it was a very tough loss for the girls, but I also believe they realized how close they are to advancing to cracking the top-4 and qualifying for the state tournament."
In other matches, M.J. Murillo lost a match against Mountain View's Charlotte Swaney, and Leslie Luna-Lopez suffered a loss from Redmond's Kassy Jackson in straight sets.
Cassie Vazquez and Ellie Trujillo lost in a three-set marathon opposite Bend's Farina and Benitez after losing 6-1 in the opener.
The Tribe team won the second set 6-3, but could not keep the momentum going in the tiebreaker, losing 10-3.
Rebekah Kohltfarber and senior teammate Brittany Watkins lost their doubles match to Summit's Nichols sisters, 6-2 and 6-3 in another tough doubles match.
TD's Abby Minnick and Emma Ell-Smith were defeated by Bend's Johnson and Beith in straight sets, 6-2, and 6-3 to cap the two days of play.
Jones was happy with the program turnaround her team displayed this spring. With the loss of Murillo and Watkins to graduation, the coach will re-load a talented roster and a few extra pieces to add depth.
She is excited about the possibilities for this team down the road.
"We sent two seniors, one junior, three sophomores and five freshmen to the district tournament and we came home with six team wins," Jones said. "We are right where we need to be at this time in our overall goal of completely revamping the overall program."
To inquire about tennis news, email debbyj @co.wasco.or.us.