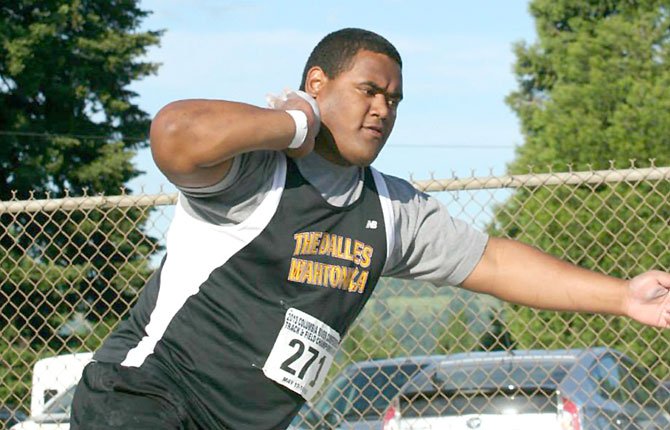 Four athletes with dreams of prosperity have been waiting for this moment since the opening of track and field camp in March.
As the crisp weather early in the season has made its way to blue skies and warmer temperatures, the track season is about to hit its crescendo Friday at historic Hayward field in Eugene.
All four athletes, Lio Tunai, Zach Nerdin, Yasmin Hill and Katie Conklin, are the district champion running, jumping and throwing quartet representing The Dalles High School in its final season under the Eagle Indian mascot.
All of the practices and tough meets have given way to this point.
Making his third consecutive trip to the OSAA state championships, Lio Tunai has shown steady improvement at the highest level, going from third place as a sophomore to second place last season.
At the Columbia River Conference District Meet in Hermiston, Tunai secured his second straight district crown with a top toss of 52-feet-7 inches making the difference.
On the year, he has eight first-place finishes to his credit, including a personal record of 56-2.5 on May 2 at the Dean Nice Invitational, which netted second place.
From April 1, Tunai went from 49-3 to 56-2.5, steadily increasing his outputs over a span of seven events.
Working with a renowned coach in Dave Cornell, Tunai has aspirations of following in the footsteps of all the athletes who came before.
Just being in contention for the ultimate prize is an accomplishment all in itself.
"It has been a blast being here for all four years," Tunai said. "I credit coach Cornell for spending all his time with me to get me better. He helps me with school work and he helps here in practice. He has helped a lot. He is a good guy. I thank God for bringing Mr. Cornell into my life."
With thoughts of representing his school and its nickname one final time, Tunai has a little extra motivation behind his final road trip to Eugene.
He wants badly to add his name to those life-sized ones in Kurtz Gymnasium.
"I am going to miss it. I loved representing this school," Tunai said. "This is the last year, 2014, that we have the name Eagle Indians, so it is going to be fun. I know all of us want to bring in a state championship for this school. I want to make a mark like the other guys who have come before me. I just want to get out there and do my best."
---
The other graybeard of the Eagle Indian track squad is Nerdin, the reigning 300-meter hurdle district champion.
He was able to hoist that trophy after securing a personal record marker of 42.05 seconds to inch past the field in a highly contested race where the top-4 participants were separated by .02 seconds.
Nerdin also struck personal record gold in the 110-meter high hurdles with a solid time of 15.73 seconds.
The senior had a tough time breaking 16 seconds, getting as low as 16.13 twice this season until last Saturday.
On the year, Nerdin amassed five first-place finishes and added a pair of seconds in 11 events.
This will be his second journey to Eugene.
Last year, Nerdin placed 12th with a 16.92, so he is ready to make amends by earning a finals spot and hopefully a place on the podium.
With graduation coming on June 7, the senior wants to go out with a bang in his final trip.
"This is my last hurrah. My last high school track meet," Nerdin said. "I got my way through districts and I gave myself a chance to qualify for state, so I am going to give it my best shot. I am excited. I just got to go out and perform and do the best that I can."
---
Throughout the spring campaign, Hill has come to play with a combined 11 first-place outputs in the pole vault and long jump.
In Hermiston last weekend, the junior matched her personal record of 9-6, a height she had reached on three occasions, to take hold of her first district pole vault title.
In her long jump attempt, Hill tied her PR with a distance of 17-4.5 for her sixth top placing of the season to repeat her reign as back-to-back district winner.
From April 29 on, in her next three events, she hit at least 17-0 on her jumps.
Hill credits most of her improvement on the right coaching and words of encouragement from those around her.
One of her biggest cheerleaders is her younger sister, Amyrah, an eight-year old student-athlete at Dry Hollow Elementary School.
Every time she steps on the track, Yasmin can hear her voice, 'Good job sissy. It looks like you are jumping really far.'
"My little sister is my inspiration," Yasmin said. "I want her to be really good at track and anything that she does. I want to set a good example for her as she gets older by being a good student and good athlete. She really keeps me going with her smile and her personality."
Last year, the Tribe junior, admitted that there were a few butterflies once she entered Hayward Field.
This time around, she is more accustomed to the surroundings, so the numbers should be better across the board.
"I am just really trying to win this year," she said. "I really want to do great for my school, my teammates and my school. I am just not scared anymore and I am ready to jump very far."
---
Just like Nerdin, Conklin struggled to get her high hurdle numbers less than the 16-second mark.
At the right point, districts, the junior timed out in 15.99 to take hold of second place and a state berth.
In her 10 times trying the 100-meter hurdles, Conklin has hit paydirt five times.
In the high jump and triple jump, Conklin held strong for solid outcomes, hitting a personal record of 5-2 in the high jump for second place.
She hit 5-0 or better only twice before last weekend's event at Kennison Stadium.
Conklin re-claimed her district championship in her marquee event, the triple jump, scoring a high of 35-0 to win first place.
Last year, she averaged around the upper 33s, but in her last three events this season, she has an average jump of 35-feet, as she has claimed top-3 status six times.
Conklin is dead-set on earning her stripes in the 5A classification.

"It is always a blessing just to get a chance to go to state for sure," she said. "Last year, it was inconceivable that I actually went. This year, just at the preview meet, that kind of realization hit me and I realized that I can go to state because I had a focus and drive in me to get to the point of qualifying in all three of my events. It gave me confidence knowing that I could do this. That I belong."
All this week in practice, Conklin said she is focusing more on the mental aspect of her state approach as opposed to the physical side.
She has come full circle in the past two campaigns, last year learning under retired coach Bill Caddy, and now working steadily on her craft with her father, Tom.
"First of all, the credit goes to God. He has been blessing me all this season and in basketball too," Conklin said. "My dad, my coach has been a huge part of my success and coach Caddy last year, just getting me prepared for this moment. I know all the preparation and their knowledge helped me get through everything."