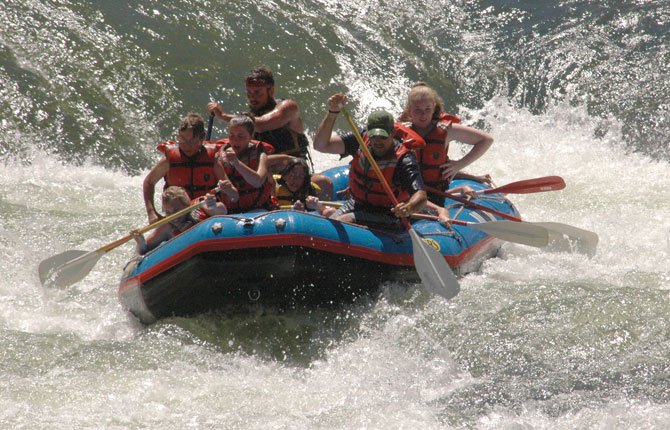 The long Memorial Day weekend brings not only solemn military salutes, but a broad range of fun activities throughout Wasco and Sherman counties.
Observances
Local veterans will honor their predecessors in The Dalles on Memorial Day, May 26:
• The VFW will provide a Memorial Day service at noon at the Sorosis Park Overlook (Kelly Viewpoint).
• A Vietnam Veterans Memorial Highway-Interstate 84 dedication ceremony is set for 1 p.m. at the Oregon Veterans Home. Approximately 118, 000 Vietnam era veterans live in Oregon. These vets represent about a third of all 333,000 veterans living in this state. For more information about the ceremony, call Dallas Swafford at 541-296-7152.
Wasco
The granddaddy of the local celebrations — and the biggest actual Memorial Day observance — is the two-day celebration in Wasco, Sunday and Monday, May 25 and May 26.
A country breakfast kicks activities off both days, starting at 7:30 a.m. at the fire hall. Saturday includes a library book sale, multiple yard sales and a karaoke night at the Goose Pit Saloon.
Sunday's events are so many they need a schedule, which can be picked up at the Railroad Depot, along with T-shirts, hats and raffle tickets.
Some of the fun includes mini go-karts, a classic vehicle show, petting farm, family games, bed races, a pastry auction, tractor and wagon rides.
The serious side of the event gets under way at 10:15 a.m. with a memorial service at the Railroad Depot, followed by the parade at 11, with Sherman County's World War II veterans serving as grand marshals.
Pick up a full schedule at the scene or go online to www.wascoore
gon.com/id12.html.
Maupin
Maupin celebrates life on the Deschutes River with its Riverfest celebration Saturday and Sunday, May 24 and 25, from 10 a.m. to 6 p.m.
The day begins with a 5k-10k walk-run along the Deschutes taking off at 9 a.m. Regional bands will play all day long and a variety of food and beverage vendors will help satisfy any hunger. Art vendors, short raft trips, and a casting pond are also part of the fun.
Youngsters can enjoy the inflatable bouncy house. A challenging climbing wall may attract all ages. Wildlife displays and environmental education are also planned.
Sunday events start with a half-marathon at 9 a.m. starting at Maupin City Park, Maupin Community Church will offer a church service from 9 to 11 a.m.
The SOLV river clean-up, an annual part of RiverFest begins at 9 a.m. with orientation at the Imperial River Company Lodge. Volunteers are rewarded with a free barbecue luncheon.
Find details online at www.maupinriverfest.com.
Wamic
Wamic hosts a variety of events throughout the weekend as a fundraiser for the Wamic Rural Fire Protection District including all-you-can-eat breakfast at the old Wamic School daily starting at 7:30 a.m. An annual plant sale with hundreds of plants, bushes, trees and shrubs, plus a bake sale are also part of the fun.
Wamic also hosts Memorial Day weekend lawnmower races Saturday and Sunday at the Sportsman's Pub and Grub. Saturday's heats start at 3 p.m., Sunday's at noon.
The Dalles
Zombies will be invading The Dalles this Saturday, May 24.
Northern Wasco County Parks and Recreation District hosts its first 5K Keep Calm and Zombie Run setting out from Sorosis Park.
Registration starts at 8:30 a.m., and the race at 9.
Participants may race to the finish or walk at their leisure in this family-friendly run — but stay alert for zombies!
All participants will receive a "survivor" ribbon, refreshments and snacks after the race.
A DJ will be on site.
Dress to kill, because prizes will be given for the best costume and makeup.