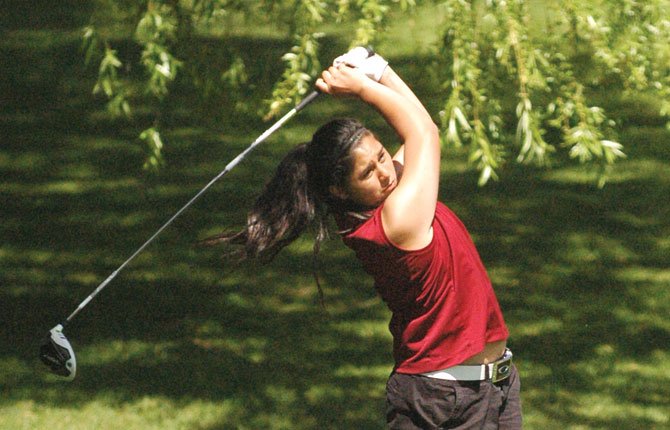 After stumbling out of the gates in the opening round of the OSAA U.S. Bank/Les Schwab state girl's golf tournament, The Dalles freshman Iliana Telles rebounded with a 41-43 for an 84, and a two-day total of 176, placing her eighth overall and giving her a medal and a tournament flag for her top-10 outcome at Emerald Valley Country Club in Creswell.
Although Telles had five double bogeys on the second day, she had more pars and a couple of birdies to get to her 84.
More impressive was how well she ended her tournament run.
She had just double bogeyed the previous two holes and needed a bogey to give herself a chance to be in the top-10.

It was a stark contrast from Day 1, where the Tribe freshman shot a 92 for 13th place in the standings.
Telles parred the difficult ninth to come away with a solid score for her try in state competition.
"The first day was pretty hard," Telles said. "I knew I had to just put it behind me and focus on the second day. I got better as I developed more confidence in myself. When I am confident, I feel better and I play more relaxed and I end up taking better shots."
All season long, Telles has been within striking distance of medalist honors, once earning that distinction and a few times winding up in the top-5.
At the district tournament on May 12-13 in The Dalles, Telles shaved nine strokes from her opening round with an 80 to tally a 169 for third place and a state berth.
"Every tournament is different. You have to be prepared mentally with how you approach your shots," Telles said. "It is not easy at all. But, I was happy with my first year. I still have a lot of things that I need to improve on, but I think with a little bit of work, I can get better by next year."
At the state tournament, Summit captured the 5A crown with a 676, 79 strokes better than Bend. Wilsonville (761) ended up third.
The Columbia River Conference was well represented, as Pendleton took fourth place at 770, and if not for a disqualified score on the first day, they would have taken second place. Hermiston placed sixth with an 820.
Pendleton freshman Haley Greb also placed in the top-10, placing fifth with her 166, and older sister Shelby secured 12th place with a scorecard of 181. Hermiston junior Madison Welch rounded out the top-20 individuals by taking home 20th place on the heels of her 191.
Looking forward to next season, Telles and her teammates will have to contend with the Greb sisters once again and Welch and her top teammates from Hermiston.
"There is good competition in our league. Next year, I think it is going to be a good year," Telles said. "All of the teams in our league will still be tough, but I think we will have a good group of girls coming back. It is going to be a challenge, but I think they will be more experienced and better."