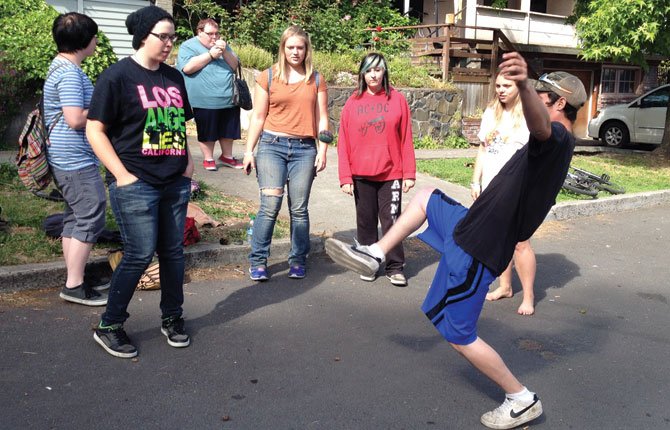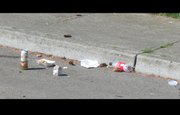 As neighbors report increasing problems with teens congregating all day in the street by 11th and Union, one woman even nudged two teens with her truck Wednesday because they wouldn't move, she said.
The teens, one 18, one 15, were ticketed for second-degree disorderly conduct by impeding traffic.
Holly Sandoz, who declined to have the teens arrested, has put up with a lot from the kids, she said, and feels it's getting worse every year.
"Our whole block is just at wit's end," she said. She has elderly neighbors who won't park on the street or even go out in their yard.
The kids congregate, sometimes as many as two dozen, beneath a tree in front of her house in the 100 block of West 11th Street all day long. "The same kids, all the time."
They sit on a low brick wall at the edge of her yard, squishing her flowers. They leave garbage and play loud music.
They smoke so the Sandozes have to keep their windows closed to keep the smell from coming in their house. The only problem on her street used to be finding a place to park. Now, nobody — not even students — parks there because they don't want to deal with the permanent crowd of kids, she said.
Another neighbor, who asked not to be named for fear of retribution, said, "We literally jump for joy when we know the last day of school is here because we know we have three months of peace and when it starts up it's worse than the year before."
Sandoz said her interactions with the kids are not purely confrontational.
"They say hi, I say hi back."
A few times she's left her truck running to dash inside her house, and she's asked them to look after it while she's gone. They always report to her when she comes back that nobody took anything.
But on Wednesday afternoon, the tension reached a new level.
Around 4 p.m., Sandoz pulled up to park in the street in front of her house. "Everybody gets up to move because they know the truck and they know I park there. But those two girls, they had that defiant stance, staring me down. They didn't move, so I kept slowly moving forward until I bumped them and I kept on moving 'til I parked."
The girls, who didn't say anything prior to her contacting them with the truck, both burst into foul tirades afterwards.
"Even the other kids that were there, they said, 'You guys, it's her house — she has a right to park in front of her house,'" Sandoz said.
The older of the two girls then threatened Sandoz. "She said, 'I don't care how old you are, I can kick your a—.'" At that point, Sandoz called police, who'd already been out there once earlier in the day.
The girl told The Chronicle she wasn't threatening Sandoz, but was talking to another kid who had stolen $5 from her wallet.
Sandoz said the girl was looking directly at her when she said it.
Sandoz said both girls took off after the confrontation — police found them on Union Street — and neither was limping as they walked away.
Sandoz said officers wanted to arrest the teens, but she declined. "Is that truly something you should be hauled off to jail for?"
Sandoz said she truly doesn't mind the kids congregating at her house before school, at lunch and after school. It's just that it's all day long. She accepts that the teens will be outside her house, tromping her flowerbed and littering. She doesn't worry about them hurting her young son or breaking into her house. But lately, she said, some of them have been making "snide remarks, like 'Oh, you better watch out for her.'"
The neighbor who didn't want to be named said, "It's absolutely ridiculous. You can't even drive down the street, they don't even move for you, they're horrible. It gets worse every single year."
She doesn't plant flowers in her front sidewalk area anymore because they get destroyed. Some days, police have had to respond up to three times to problems. She has pictures of some of the teens with drug pipes and wine bottles in full view.
She's seen them urinate behind a neighbor's shrubs. She has had the police out to the street at least six times in the last two months.
This neighbor thinks a closed campus is the solution. "Every year it's gotten worse. And they're more brazen. They play hacky-sack all day long in the street."
The Dalles High School Principal Nick Nelson said Thursday afternoon he couldn't comment because he wasn't familiar with the situation.
Police Chief Jay Waterbury confirmed that teen problems in that neighborhood have been ongoing for years.
"I wouldn't want to live there," he said. "It's a huge problem for the neighbors and most of the kids who hang out there are not students. They block traffic, leave huge amounts of garbage and are extremely rude to residents."
Recently, another neighbor asked the kids to pick up garbage and the kids wrote on her sidewalk that "'the lady who lives at this address is a b——.' It was horrible."
The older girl who got the disorderly conduct ticket said she picks up garbage too. She tells other kids to get out of the way of cars. She said getting the ticket "was really scary because I'm not one to get in trouble. I don't skip school, I don't have horrible grades. I'm a good citizen."
She said she wanted Sandoz to drop the ticket.
"I was already having a bad day. I'm sorry I yelled at her. I'm a very nice person."
She encouraged The Chronicle to do a story on the issue.
"Please do a story because, honestly, get out of the road; two, this is a bit of an injustice by the police."
The older girl said she went to the police department to complain about one officer's conduct and to complain about Sandoz contacting her with the truck. She said she was told there was nothing she could do because she didn't have a physical sign of injury.
Waterbury said had the girls been over 18, they could have been taken to jail for the disorderly conduct charge, not just cited.
"I suppose if it continues that could happen," he said.
Waterbury recommended that neighbors continue to call police, despite worries of retaliation.
"It will never get any better if they don't call," he said.