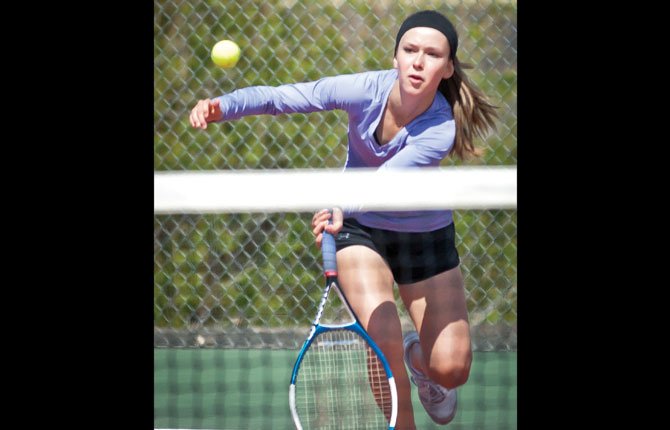 Just as her older sisters, Melanie and Maddie have done in recent history, Sherman freshman tennis standout Meghan Belshe kept true to the family trend by winning three matches.
They included a third-and-fourth place tussle to qualify for state play in the 4A/3A/2A/1A Special District 4 Tournament ending Saturday in Tri-Cities.
After a first-round bye, Belshe beat her Umatilla foe and then quickly dispatched Ione's Kira Rios to advance to the girl's singles quarterfinals.
She met up with Mac-Hi's Kaylee Davis, but wound up on the wrong side of the scoreboard in a loss that moved her into the third-and-fourth place showdown versus Mac-Hi's Tasha Marshall.
Belshe won that match and earned a first-round bye for the state tournament on the campus of Oregon State University in Corvallis.
As the No. 2 seed, Belshe will play the winner of Marshall's Katie Boesl or Kate Arp, of La Salle Prep at 9 a.m. Friday.
Also on the girl's side, Karolyn Kaseberg got off to winning start in her singles bracket over Riverside's Bethany Barajas.
Her tournament run was cut short, however, as she lost to Weston-McEwen player, Becca Bradley.
Addie Bates lost her only singles match, and the boy's doubles team of Garak Casper and Brett Lane lost in the opening rounds to Weston-McEwen's Schmidgall and Olson in a pro-set match.
In her first try at district action, Sherman head coach Kalie Rolfe saw her group finish with a .500 record in eight matches.
Not a bad way to start a coaching career.
"We learned a lot about the importance of mental toughness and areas we need to improve upon," Rolfe said of her team. "We had some great victories. I am very proud of my team. They played some long matches and showed growth and determination."