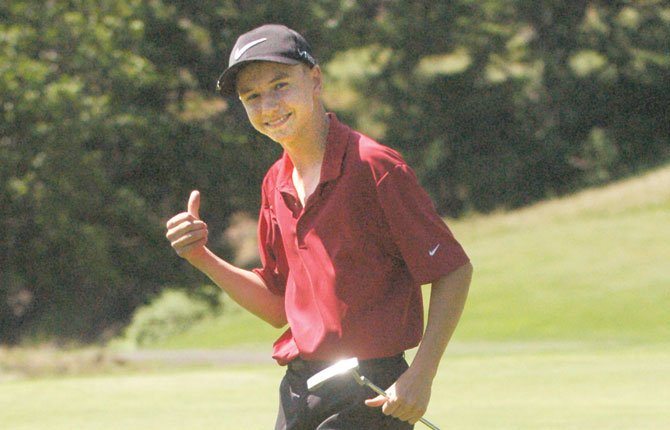 With every coach and athlete, once the season goes by the wayside, they like to decompress and take some time to recuperate.
After shooting a two-round score of 173, freshman golfer Chase Snodgrass and head coach Kent Smith went back to the driving range for nearly an hour to fine tune some areas of the game.
Snodgrass shot a career-best 78 on the opening day and finished up with a 95 to end up in a tie for 49th out of 70 golfers with a 29-over par score at the OSAA/U.S. Bank/Les Schwab Tires
2014 5A boys state golf championships ending May 20 at Quail Valley Golf Course in Banks.
"That is a good quality with the golfers on this team. They are always willing to put in the extra work," said TD coach Kent Smith. "I know Chase will work on things during the summer. He gained some good experience here. He made the best of it and I know he will be better for it in the future."
With his 78 in his back pocket, Snodgrass appeared to be aiming for the big guns at the top of the leaderboard in a tie for 17th place.
He had a double bogey on 11, he then bogeyed 13 and 17, but hit pars on the other holes and even added a birdie putt on 15 to finish the back-nine with a four-over par 40.
"After that double, he played basically even par," Smith said. "He didn't let it get to him. He turned in a fabulous round."
Smith warned that it is always a tough chore for any golfer, from collegiate, amateurs and professionals, to repeat a standout performance on the links.
Snodgrass had eight double bogeys, six bogeys and three pars for his 95.
It was a tough ordeal given that the course is fairly open, yet there are a lot of hazard areas, bunkers and water.
If the golfers do not play smart and think ahead, as far as where they want their shots to go, they are going to struggle.
"He had his good round and then had a round that was not so good," Smith said. "He didn't give up and I give him a lot of credit for that. He kept working at it, trying to get it done. There was no quit in him through the 18 holes."
Crescent Valley sophomore Kevin Geniza tallied an individual championship with his three-over par 147.
Bend's Ryan DeCastihos placed second at 149 and West Albany sophomore Jaxon Daskalos carded a 150 for third place.
Only Hermiston's Keegan Crafton could manage a spot in the top-25 individuals by filling out a scorecard reading 161 for a tie for 22nd place.
The Bend Lava Bears took home top prize with a 617, 10 strokes better than Sherwood and Summit, who wound up tied for second place with a 627.
On the Columbia River Conference side, Hermiston combined for a 662 to grab sixth place and Pendleton (663) picked up seventh place.
Smith admitted that he's counting down the days to get his troops back on the golf course.
With Snodgrass, Bailey Ortega, Coby Conlee, Darsh Patel and Mark Felderman as just some of the names returning for 2014, the program could be experiencing an upswing in the near future.
"I am looking forward to next season," the Tribe coach said. "Just about every one of the top-6 kids will be participating in the Junior Oregon program. That's what it takes to improve. It will be interesting to see what happens this time next year."
The four-team CRC is very competitive from top-to-bottom, just was the case at state when Hermiston had a one-stroke difference in the standings.
Hood River Valley could be a contender and The Dalles figures to be a year older and wiser.
"Both Hermiston and Pendleton have their kids coming back," Smith said. "We will make it a dogfight though. I think we can get our scores down to where we can be a pretty competitive group. We were 17-18 strokes behind Hermiston in those two days at districts, so it shows that we are very capable of shooting in the areas of 320 or 325."