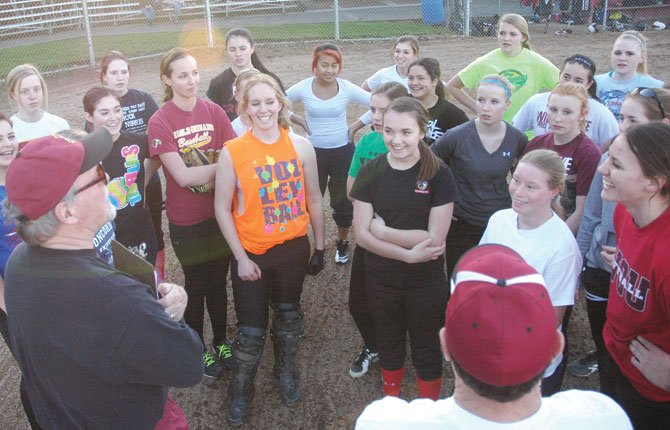 When it comes to individual awards and accolades, four members of The Dalles softball team would rather pay homage to the team than utter boastful words about themselves.
Morgan Triperinas was named as first-team all-Columbia River Conference member, and the trio of Morgan Goslin, Maddy Bradford and Ruthie Ford had their names called for second-team recognition in the end-of-the-year softball meeting.
"I feel so honored to win this, but I can't take all the credit," Triperinas said. "I owe it to my teammates, my defense behind me and everyone else who helped us win our games. I got this award, but this is more of a team thing."
The senior pitcher played a pronounced leadership role in the dugout and was a steady influence for six sophomores and five freshman on the roster.
Over the year, Triperinas had two home runs, 20 RBIs and 14 runs scored in 25 games.
In the circle, she posted the Tribe's only two league game wins in going 2-4. She was 5-8 overall.
"It has been a pleasure to have her on the squad," Tribe skipper Steve Garrett. "She is great. She has a warm smile and a very good attitude. We will certainly miss her leadership and calming influence on the team."
Another player who was one of the captains and had a vocal element to the dugout was second team catcher Morgan Goslin.
Due to various injuries spanning across the varsity roster, Goslin made a switch from her usual third base slot to catcher.
As a hitter in the middle of the batting order, Goslin posted a .295 batting average with eight RBIs, 14 runs scored.
The right-handed junior led the Eagle Indians with eight doubles.
"Morgan was pushed out of place most of the season and didn't complain," Garrett said. "She saw a job that needed done and went and did it. Morgan gave up her favorite spot at third base, but did it with a smile. She is a hard worker, a great spirit and fun to have around."
When she was not in the circle throwing changeups, fastballs and sliders, Bradford did solid work as an infielder, at second base and first base to the point of being honored with the highest praise by opposing coaches as a second-team selection in her sophomore season.
Although she started the season at the No. 5 spot in the order, Bradford showed she has the potent stick to morph into a prototypical slugger in the cleanup slot.
The sophomore had a .346 average with one home run, six doubles, four triples and 12 RBIs.
She scored 14 runs and had an impressive slugging percentage of .556, second on the team.
"It feels so good to get all-league. I have put in so much work to get here," Bradford said. "This shows me that the hard work is paying off. It shows me that I also need to work even harder if I ever want to get on the first team."
When she was a pitcher, Bradford led the staff with 26 strikeouts in 42.3 innings pitched.
She showed she can log long outings, as she pitched the second-most innings on the team.
"Maddy will figure big in next year's rotation," Garrett said.
Through the season, Ford has had a flair for the dramatics, but she has been a consistent force at the top of lineup.
With those injuries mounting, Ford, who had nagging injuries in her own right, was also moved around in the field, going from centerfield to third base without any hitch.
Ford, a second team utility, was the team's leading hitter with a healthy .389 average, the highest slugging percentage at .583 and the highest on-base average at .450.
"Whatever coach wanted me to do, I was going to do it for my team," Ford said. "Part of being a good teammate is showing that you are willing to sacrifice everything so the team can win some games. That is always what I wanted for us."
She finished tied for the team lead with 28 hits, and scored a team-high 20 runs, slugged a team-high three home runs, two of them game winners and drove in 18 runs.
"Ruthie came up with big plays at third to hold down opponents," Garrett said. "She is probably the most intense player on the team, never gets down on others, but harsh on herself. With another year of growth and experience, she is going to be first teamer no doubt."