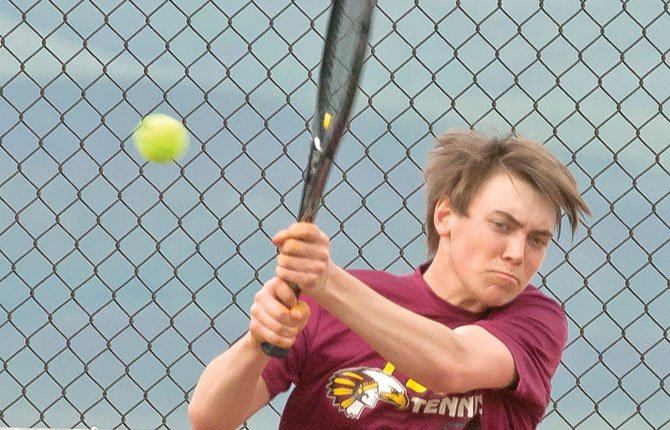 Christian Munoz advanced all the way to the singles consolation finals and Griffin Martin, Cole McDowell and Daniel Spurr added wins to the books in 5A Special District I varsity tennis action ending Tuesday in Hermiston.
"We had some very good performances from our top guys," said TD head coach Andrew Hughes. "I knew they were going to come into this with a good mentality. It showed in those wins."
After losing his opening match by scores of 6-0 and 6-2, Munoz caught fire while on the consolation side. He first beat his Pendleton opponent in a pro-set match, 8-2 and then he dispatched Omar Cornejo in dominant fashion with an 8-2 outcome to punch his ticket to the semifinals.
This semifinal match with Daniel Smith, of Mountain View, proved to be a neck-and-neck battle with each player not wanting to give an inch. The score ended up going to an 8-8 tiebreaker, with Munoz coming out ahead by a 7-5 score to move into the finals.
In the last match, Munoz went to work with Summit's Lindsay Valentine for bragging rights.
Unfortunately for Munoz, his three-match winning streak fell by the wayside in a straight-sets loss, 6-0 and 6-0.
"Christian showed a lot of improvement through the course of this tournament," Hughes said. "As he was getting wins, you could tell he was playing much more confidently and free. He definitely raised his level of play up."
Martin signed in for singles play and got off to a hot start in a match versus his Redmond opponent, winning, 6-0, and 6-1.
Up next in the winner's bracket was Mountain View player Philip Atkinson.
The Cougar single came ahead by markers of 6-4 and 6-0 to end Martin's season.
With some eligibility left, Martin is looking to avenge a 2014 season that was marred by injury and other issues.
Hughes liked that Martin was ready to continue playing during the summer.
"You could see it in his eyes that he wants to get better," Hughes said.
"He is a very good player and was deserving of No. 1 singles, so I know he will come back next year with something to prove."
McDowell has been on top of his game in the later parts of the regular season, so it was no surprise that he kept an edge in his first match against his Redmond opponent.
McDowell cruised to an easy two-set win by tallies 6-0 and 6-1.
Up next was Carter Quigley, of Summit, in the winner's bracket. McDowell played right with his foe and the score tied 3-3 midway through the opening frame.
Quigley jumped back in an ended up winning the first set by a 6-2 count, and then he lowered the boom with a 6-0 score to end McDowell's season.
"Cole had an outstanding season playing tennis. He was a hard worker and a solid player for many years," Hughes said.
"Of all the tennis players, he grew the most through his time here. He showed improvement and a will to win."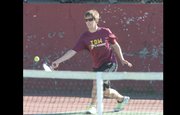 Daniel Spurr went the same route as Martin and McDowell with a first-round win over Ryan Skeen by lopsided marks of 6-2 and 6-2.
In the next round, Spurr went to work against Bend's Sean Hebert in what turned out to be a close match.
Spurr gave Hebert a run for his money, but ended up losing by scores of 6-4 and 6-3.
"It was a good showing by Daniel," Hughes said. "He is another player who showed steady improvement over the season. He was always ready to come out and battle his opponent."
On the doubles side, the No. 1 tandem of Ethan Semlor and William Coy played one of their best matches of the season against Billy Edwards and Vic Garibo.
This match went on for several hours with each taking a set by identical 6-4 scores.
In the tiebreaker, Semlor and Coy feel behind by as much as an 8-2 margin, but they scratched and clawed to a 10-8 win in the tiebreaker.
The duo had their season cut short in the next round in a 6-3, 6-1 loss to a Summit pair.
"A lot of these kids saw how good the top players in the district are. I hope it emboldens them to get better," Hughes said. "We scored some points and had some of our top players win tough matches. We didn't get anyone to state, but we had some very promising matches."
Now that the season is wrapped up, Hughes said the important aspect of improvement lies in the practice time.
It is up to the players to continue hitting, serving and staying in shape.
"I see a very good future for this tennis program," Hughes said. "As long as they stay with it and have that desire to work harder than anyone else, they will see the end results."