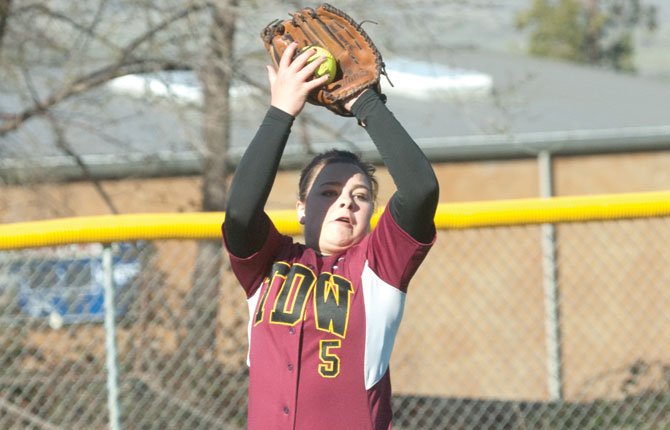 Just because The Dalles has lost nine out of its last 10 games by a margin of 87-21, does not mean they are ready to pack up the gear for the summer.
In preparation for an OSAA/U.S. Bank/Les Schwab Tires 5A state softball play-in contest on the road at 4:30 p.m. Friday versus No. 13 Silverton, the energy has been contagious and the players are looking forward to the next challenge.
Realistically, they are just six consecutive wins from a state championship.
"It just feels like there is something different this week," said senior Morgan Triperinas. "I don't think we are ready to end our season yet. We have played too hard to go down without a fight."
Led by the all-league pitcher and infielder, the Eagle Indians have gone 8-17 this season and 2-10 in league with Triperinas scoring both victories.

The Tribe will line up against a Silverton softball squad that is 17-9 on the year, and winners of eight of 10 games to end the year.
Alex Molloy is the ace of the staff, and she is flanked by Meagan Mannion and Dani Schaecher.
The tale of the tape is kind of a mixed bag of sorts, as the Foxes have gone 2-2 in their last four games, with wins over Woodburn and Lebanon by a combined 31-1 margin.
Those two teams have a record of 9-39 overall.
On the flip side, on May 9 and 13, Silverton lost to No. 14-ranked Corvallis 6-5 and No. 4 West Albany, 10-0.
Those two teams have a combined record of 36-13.
"Once the playoffs start, any team has a chance. It all just takes believing," said Maddy Bradford. "We have the talent here to get the job done. I think we can do it. As long as we stay together and keep fighting, we will give ourselves a chance."
After a string of five semifinal berths was cut short last season, the Eagle Indians are looking forward to this new task with a young roster to see if they can recreate that magic.
"We have the pitching and we have the defense that can do this," said Hannah Harris. "We need to get our offense going. We are capable of scoring a lot of runs. We did it early on and I think we can get it back."
While their record is 8-17, TD is 6-7 in non-league play with victories over Marist, Redmond, Bend, Century and Mountain View.
Just getting away from the likes of Hood River Valley, Hermiston and Pendleton is a welcomed sign.
"I think other teams will look at our record and how we did in league and not take us seriously," Ruthie Ford said. "We like when teams underestimate us. We will go out and show everyone that we are going to come out and play our best."