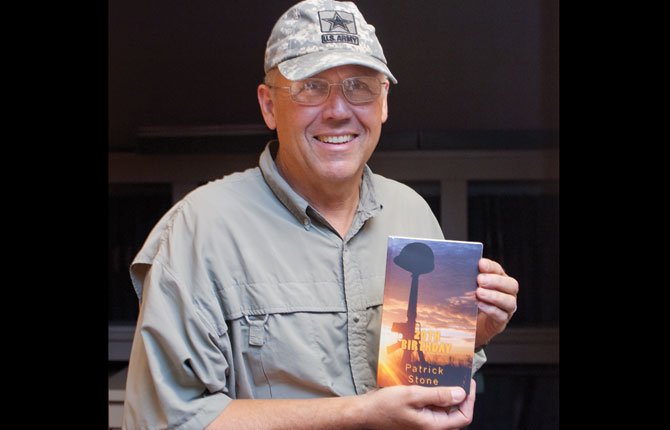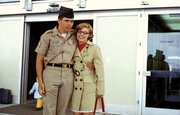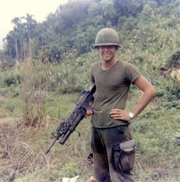 Every day is Memorial Day for a combat veteran who often struggles for years, if not a lifetime, to make sense of what happened in war, according to Dr. Pat Stone, a decorated Vietnam veteran.
"It's always there, we don't need a special day to remind us," he said. "The sadness, horror and memories are triggered throughout a normal day."
An entry in his book "20th Birthday" speaks to that issue:
"We are all afraid but we have a mission. This place provides no second chances. There is no time or security for grieving, tears or memorial services. Just everyone get up and do your job. You will have the remainder of your lives to remember and reflect but not here and not now."
The foot patrol Stone referenced involved tragedy, as did many missions during his 1970 deployment with an Army infantry unit. The soldiers worked out of forward firebase San Juan Hill, located on a mountain top about 10 to 15 miles west of Duc Pho.
"Just after lunch, BAAM!" he writes. "The sound of the explosion rips down the hillside towards our position. Lt. Nebal's radio man comes alive with pleas for help: 'We are hit with at least two down. Get us help now!"
The squad led by Stone, a sergeant nicknamed "Stoney," scrambled through thick jungle and steep terrain to reach dead and injured comrades a half-mile away.
"By the time we reach the blast site, the helicopter Medevac is winching the last casualty on board with its jungle penetrator," he wrote. "Cordite fills the air and fear is heavy. Fear can be felt more than seen. Dazed eyes plead with dismay for understanding, the scene quiet, surreal, no evidence of the once thundering bird hovering overhead.
"No one moves, even a step. No one knows where the next mine might lay. No one is looking outward, only inward as shock, disbelief, immobility sweep through the platoon. An unseen enemy could easily take advantage of their victory."
He continues with: "How can friends, fellow soldiers alive and in good heart be standing-commanding in one instance and be gone missing life and limb the next? There is never adequate preparation-training for a moment like this. The impulse is to stop, mourn, wait, recover, recoup — but only if we too wish to die."
Lost Friends
A field memorial bathed in the brilliant sunrise of Southeast Asia is shown on his book cover.
The picture is from Aug. 21, 1970, Stone's 20th birthday.
A mile from that memorial, an entire platoon had been wiped out on April 15 and Stone would later be tapped to become the new platoon sergeant and rebuild the unit.
Five days before, his squad walked into an ambush and a friend was shot through the chest but lived.
Four days before the photo, a sister company shot a mortar that landed on top of the company command post and killed two of his friends.
Two days earlier, two of his friends walked into a booby trap set by a sister company for the Viet Cong and were killed.
"Other than God's eternal purposes, I see no reason to this," wrote Stone in an explanation of the photo to his father. "What a lousy war. These are the memories I live with every day."
Friendly-fire
A little more than three months after the birthday picture, he was injured and his time in combat was over.
It was Nov. 22, 1970, and Stone had spotted movement about 10 yards to the left. Out of M-16 ammunition, he fired an M-79 grenade launcher to kill one of the enemy. A dead Viet Cong soldier was later found where he had aimed the weapon.
"I kneel to one knee to limit my profile and fire a grenade into the bush. BAAM!" Stone wrote about the incident. "The round explodes higher in the branches than I expect and I feel my left knee sway. No pain but a warm trickle of blood spreads down my pant leg into my boot and sock. Softly, I whisper to Bob and Bernie: I want you to stay where you are and keep alert, but I am hit."
When he did try to move, metal shrapnel ground into his knee joint and Stone knew that further injury would happen if he tried to continue on patrol.
A Medevac helicopter was called and he was airlifted to a military hospital in Chu Lai for open knee surgery. He was then flown to Japan for follow-up care before making the trip to Fort Leonard Wood in Missouri.
"As we rise over the green landscape, I wave to friends and comrades. I will not see Bob, Bernie, Jose and Ken for another 35 years, most of the others I will never see again," Stone documents.
There are a lot of ways to die in a combat zone, he said, and he lost six personal friends from friendly-fire episodes, meaning an accidental attack or discharge of a weapon by U.S. or allied forces.
Life in the field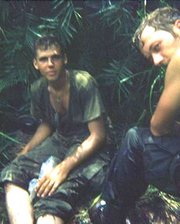 Forty-four years later, Stone has come to terms with what happened during a tour of duty that changed him forever.
His company of more than 120 men was down to 54 by mid-August 1970. He not only had to mentally and emotionally process the deaths of fellow soldiers, but those of the enemy and civilians he killed.
"I never tell war stories for entertainment," he said during a recent interview. "I wanted folks to understand in this book what life was like on a day-to-day basis for infantry units that spent 15-35 days in the jungle being wet, hungry, cold and afraid all the time."
On one patrol, an enemy soldier walked within inches of his hiding place and Stone prayed not to be seen.
"There were times when I was not able to continue until I could get myself together," he said. "I really wanted to communicate that extreme level of fear because it immobilized people and was an important part of our lives."
He once had to sleep in four inches of rain water and didn't have anything to eat for several days at a time when resupply helicopter drops could not take place due to enemy activity or bad weather.
In addition, he suffered from trench foot, body rashes and having his uniform rot off due to filth, which created some embarrassing moments.
During the summer months, some soldiers experienced heat stroke from a lack of water for hydration.
"The reality of being an Army soldier is different in a combat zone than what most people might expect," said Stone.
In addition to the ever-present threat of enemy attacks, he said infantrymen had to deal with leeches, crocodiles, snakes and other wildlife.
"A monkey jumped on my friend's face one night and that kind of set everyone off," he said.
Homecoming
Stone married Barbara Porter on March 20, 1971, as he had promised in his letters home. She had kept his hopes for a bright future alive during one of the darkest moments of life, although he was to later learn that battlefield romances don't translate well into reality.
"Barb, it's going to take a while to get back to normal," he wrote from Vietnam.
"I'm sure at first you won't notice any difference in me once I get home but after a while you'll see what I'm talking about. Please bear with me. It'll take a while but I'll get adjusted, just be patient."
He wrote to her of the simple joy of sipping a cup of hot cocoa during a moment of peace in the bush. And the couple has made it a tradition to enjoy cocoa and conversation together three times a week, as he once longed to do.
They have raised two children and now have four grandchildren.
Remembering
Upon his return to civilian life, Stone earned his doctorate from Biola University in 1978 and dedicated his career to helping veterans understand the emotional and mental changes they had undergone.
He worked as a mental health policy analyst for the U.S. Senate Veteran Affairs Committee at the start of the Gulf War. His credentials also include service as president of the Oregon Psychological Association and vice-chair of the Oregon Board of Psychologist Examiners.
"The effects of trauma redefine us because those memories become part of who we are as a human being and we can't escape them," said Stone, who is now retired and traveling extensively.
He said chronicling his memories in "20th Birthday" has freed up his mind from having to hold onto them.
"When you kill somebody, that person's memory gets interwoven into your thoughts and emotions and they become attached to you," he said. "Each life that ends starts a chain of events because an ancestry has been disrupted. You have to process pain and death; whether it's a civilian's or a soldier's — whether you pulled the trigger or were part of a system that pulled the trigger."
On June 9, 1987, Barbara suffered a traumatic brain injury in an airplane crash and dealing with that crisis "broke the dam" on the emotions that Stone had stuffed into his subconscious.
As a result of processing that pain over a five-year period, he created a memorial wall in his home where photos of his fallen brothers are shown, as is the picture of a Vietnamese family that he believes was killed by his unit in the midst of chaos.
In April 1995, Pat and Barbara journeyed to Vietnam so that he could spend two weeks remembering, mourning and paying respects to the fallen; those from the military, the men he once called an enemy and the civilians caught in the cross fire.
"There were a lot of tears always there at the surface," he said.
His book, in true psychologist style, ends with "10 Tough Facts about Combat" and a hope-filled message to veterans experiencing the aftermath of war.
The book is available on Amazon in both Kindle and print versions.