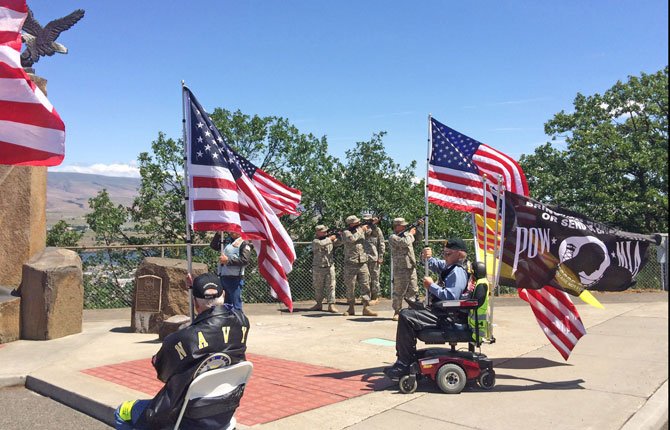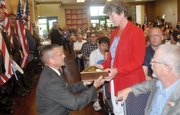 In a tearful moment, Marsha Morrison accepted a state flag flown over the capital in Salem to honor her husband, the late Al Morrison, during Monday's Memorial Day Ceremony at the Oregon Veterans' Home.
Ed Van Dyke, deputy director of the Oregon Department of Veterans Affairs, presented the flag to Marsha following comments by Dallas Swafford, emcee for the program.
He told the audience of about 250 people that Morrison, who died July 2, 2013, had lived his commitment to veterans.
He said the Vietnam veteran who suffered from Agent Orange-related health problems helped many through his job as veterans' representative for the Oregon Employment Department. But it was the extra efforts he made to keep blankets, clothes, food and occasionally money on hand to help out struggling veterans that showed the depth of his concern.
"His job description was about 5 percent of what he actually did for veterans," said Swafford, state liaison officer for the veterans' home and a former sergeant in the Oregon National Guard.
"Al had more of a personal effect on my life than anyone I have ever met."
The day was led by Vietnam veterans with USMC Capt. (retired) Dan Brophy, outpost leader for Pointman Ministries, giving the invocation and benediction.
For every veteran who goes to war, Brophy said 19 other family members, friends and associates are directly affected by his or her loss or reintegration problems.
He said the ripple effect of America losing more than 58,000 troops in Vietnam has been widespread. Compounding the losses, he said, was the treatment of returning soldiers that was often abusive and made it more difficult for them to cope with the aftermath of war.
"Never should a veteran be treated with anything less than respect, admiration and appreciation," said Brophy, reminding the audience that troops are still in harm's way in Afghanistan and should be in their thoughts and prayers.
He and other speakers said, because of the way Vietnam veterans had been treated, they were "standing in the gap" to make sure returning veterans from the wars in the Middle East were given compassion and care.
Monday's program was built around the dedication of one of 15 Oregon Department of Transportation signs designating Interstate 84 as Vietnam Veterans Memorial Highway.
Funds for the signs that are now being placed along the freeway from the junction of Interstate 205 to the Idaho border were raised by the Oregon Council of Vietnam Veterans of America.
Dick Tobiason, an Army veteran from Vietnam and co-chair of the Vietnam Veterans Memorial Highway Committee, said the signs pay respects to about 800 men and women from the state who lost their lives in the Vietnam War and the 38 soldiers and one civilian still missing in action. Also given tribute are the 125, 000 Vietnam veterans who call Oregon home and represent about one-third of the veteran population in the state.
The Dalles Mayor Steve Lawrence, who served as an Army officer in Vietnam, said it was nice to have recognition finally being given to veterans from his era.
"There's no chance these signs won't be noticed; they cannot be ignored like the Vietnam veterans who came home in the 1960s and 1970s," he said.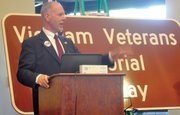 Oregon Rep. John Huffman, a disabled Army veteran, and Oregon Sen. Ted Ferrioli were both present for the ceremony.
They helped gain passage of legislation to rename the 370-mile stretch of freeway in honor of soldiers, sailors, airmen and Marines who served in Vietnam.
"I thank each and every one of you for serving and I thank you for coming today," said Huffman to the veterans in the audience from World War II, Korea, Vietnam, Iraq and Afghanistan.