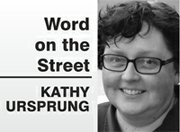 Age is an issue of mind over matter. If you don't mind, it doesn't matter.
— Mark Twain
New on the job: Nancy Steers-Crist has joined Flagstone Senior Living as its new director. Like so many people in the field, her journey began with her grandmother. Steers-Crist has served seniors for many years in memory care, assisted living, independent living and hospice.
When she is not in her community working with staff and residents, she enjoys time with her two children and three granddaughters, exploring and creating new adventures. She is also exploring family history here in The Dalles.
Steers-Crist shares what is most important wither her family, staff and residents, "Find some joy in every day and help those around you do the same."
Beyond the common themes: Talk about history of The Dalles and the Columbia River Gorge and some common themes emerge: 10,000 years of trade, the pioneering emigrants of the westward expansion, the military presence, to name just a few. Less common is talk about the tears shed along the way by the people who settled here, until now, that is.
True West magazine has added The Dalles to a list of 16 national sites compiled in "16 Historical Destinations That Will Make You Weep (bit.ly/1nueYgn) along with such notable destinations as the Cherokee Trail of Tears, the near-extinction of bison on the Great Plains, the Pueblo massacre of New Mexico, the Little Big Horn, the Alamo and the Battle of Wounded Knee.
"The tragedy of the gorge is twofold: the tragic loss of life of settlers and their children who drowned in the rapids of the Columbia so close to the promised land of the Willamette Valley; and, with the river dammed, the end of a way of life for local Indian tribes who have lived and fished along the river for hundreds of years. It is guaranteed to make even the stoic weep."