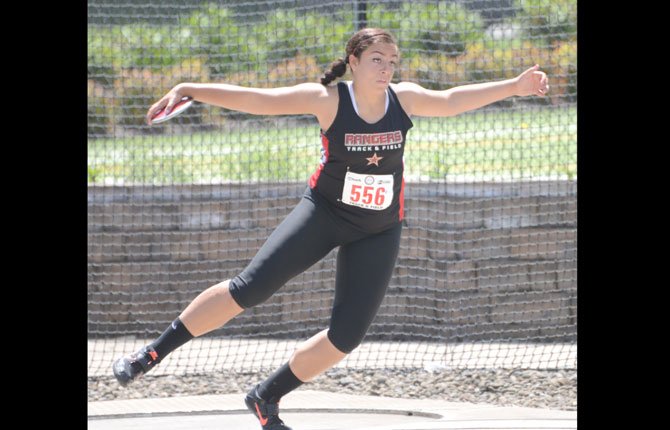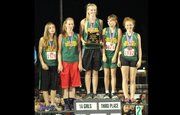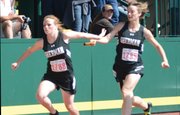 With two days to stake claim to track and field supremacy, a handful of members from Sherman, South Wasco County and Dufur were in action at Historic Hayward Field for the OSAA/U.S. Bank/Les Schwab Tires 1A state track and field meet ending Friday in Eugene.
On the girl's side, Sherman's Meagan McKinney, South Wasco County's Zoe Morelli and Dufur's Taylor Darden were the best of their contemporaries with each scoring state championship medals in their respective events.
For the boys, Dufur senior Austin Olson, Sherman's Isaiah Coles and Loreto Morelli were the bright stars on the 1A front, with Loreto Morelli, a junior, taking top honors in the 200-meters.
Darden captured first place in the shotput with a distance of 38-3.5 for her efforts. The junior then tacked on a Dufur High School record in the discus where she had a first-place toss of 121-0 to cruise away from the field.
"We are all so proud of Taylor," said Dufur coach Connie Harvey. "She overcame so much this season with her knee surgery, so for her to come back the way she did at the state tournament, is a testament to her hard work, will and dedication. She is a special athlete."
Olson qualified in the shotput and discus. Junior teammate Jake Little had his name called in the javelin.
Olson had his best outcome in the discus where he managed a distance of 126-7, a personal record, to pick up second place.
The decorated senior followed up that performance with third place in the shotput with a final throw of 43-10.5 garnering third place.
Little, who had three firsts this season in javelin, came through for seventh place in his set, as he finished with a 146-6, seven-feet from his previous personal record.
"I am glad I have Jake here for another year. He is a tremendous athlete and he will get better and better in this next year," Harvey said. "I am going to miss Austin. He is a tremendous competitor and an all-around great kid. This is an athlete that comes around every so often. I think he is one of the best people to come from this school."
The Sherman boys had three top-4 finishes in action to rack up 21 points to place 12th in the team standings.
Coles had a personal-record distance of 20-7.25 for second in the long jump, and the 4x100-meter relay team of Brett Evans, Maverick Winslow, Nick Coleman and Blake Evans combined for a season-best time of 45.76 seconds to net third place.
Brett Evans added fourth place in the 800-meters with a marker of 2:05.55, a personal record, Winslow was good enough for seventh in the 100-meter finals in 11.81 and Coles carded 10th in his preliminary run in the 110-meter hurdles with a time of 19.47.
With the performances of Loreto Morelli, the South Wasco County Redsides amassed 22 points to grab 11th place in the team rankings.
Morelli picked up top honors in the 200-meters in a brisk 22.84, and the junior nearly pulled off the exacta in the 400, but he claimed second place in 50.87.
In the 300-meter hurdles, Morelli clocked in at 44.56 for sixth place to round out his individual events.
The 4x400-meter relay team of Morelli, Colton Nannini, Travis Hayes and Brody Myers secured eighth place in 3:44.72.
While the Redside boys did solid work on the track for 11th place, the girl's team had a win and two thirds to hammer home 37 points to grab third place in the team standings.
Zoe Morelli picked up her victory in the 400-meters, where she had a time of 1:01.03.
Tatum Hahn crossed the wire in 2:36.10 to take home fourth place, and senior Joy Kelly tallied seventh place in the 3,000-meters in 12:35.18.
Another senior, Katherine Popchock, reeled off fourth place in the pole vault with a height of 9-0, and she had a distance of 32-4.25 to produce third place recognition.
Zoe Morelli added a third place output in the 200 with a marker of 27.11, and the 4x400-meter relay squad of Morelli, Popchock, Hahn and Ally Muhleman scored sixth place in 4:28.44.
With the help of McKinney's state title performance in the 100-meters, the Sherman girls racked up 24 points for 10th place in the final readout.
McKinney, a junior, motored home in 13.06, a personal record to take hold of first place.
She also netted a 15-3.5 for fourth place in the long jump, and senior teammate Andie Harrison made her marks at 121-1 in the javelin to click in third place.
The 4x100-meter relay team of Harrison, Brittney Orendorff, McKinney and Sabrina Green-Hite added a sixth place time of 53.44, a season-best, to figure in the top-10.