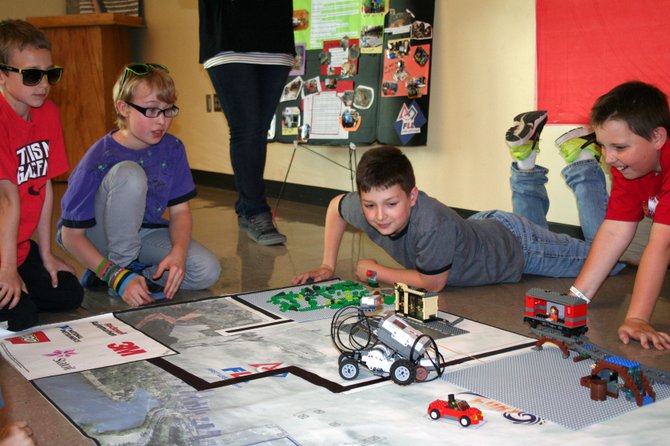 A group of students crouch on the floor as they lean over whirring gizmos that zip and turn, holding fists against their mouths or whispering, "C'mon, c'mon!" There's silence…
And then the crowd suddenly erupts in cheers; the machine they built and programmed together successfully overcame the obstacles set in its path, completing its mission and earning them points to get them just that much closer to emerging victorious.
This is Battle of the Bots, part of the First Lego League challenge for Dufur 4H Tech program participants who have been working long and hard every week to construct bots and program them to perform at optimum levels at the program's year-end competition and celebration held on May 19.
Holly Morris, 4-H program educational assistant out of the Wasco County OSU Extension Service, said the program emphasizes community-based learning and that success in competitions like this depends on how well students are able to work together in a team.
"There's no losers here," Morris said. "We just encourage them to do their absolute best— whatever that best is. As an individual and as a team, that's what we want to see them doing."
Dufur sixth grader Mitchell Alford said he's spent three years learning about robotics in the program and that he plans to continue on learning about technology for some time.
Acting as the senior captain of a group of competing third graders, Alford said he thoroughly enjoys the problem-solving aspect of building a successful machine.
"When I can't really figure out something or when something just isn't working right, I'm the person who likes running calculations and helping them figure it out before I jump in and start teaching them how to do it," he said.
Fourth graders Emily Crawford and Konner Donovan competed on the same team in this year's Battle of the Bots, and have participated in the program for two years and one year, respectively.
"What we try to do," Donovan said, "is add pieces onto [the robot's] original design and change it so it can perform better and better."
The process, he added, "can teach you a lot about science; it's really fun discovering new things as you learn how to build them."
Crawford, like Donovan, said she enjoys playing Minecraft outside of tech practice, and that she thinks games like it help program participants like themselves improve their skills.
"It's also just really fun," she said.
Dufur High School freshman Anjolina Horzyneck said she's been part of the Dufur 4-H Tech program for about two years, but Morris said she's a stand-out in how quickly she's managed to improve over such a short period of time.
"She's absolutely amazing and a great mentor for the kids," Morris said of Horzyneck.
In the weeks prior to this competition, Horzyneck acted as a mentor and moral-support provider for the younger students in the 4-H First Lego League consisting of third through eighth graders.
"Last year, I competed on a team with them, and now I'm on the high school team."
When asked how she became interested in tech, Horzyneck said when Morris visited the school to recruit students to become a part of the program, she was one of the few students who stuck with the program.
"I'm the only one out of my entire freshman class that does robotics," she said. "I really like math and the high school level is focused a lot on code and programming."
To help her younger peers prepare for the end-of-year Battle of the Bots, Horzyneck said she assisted them in the construction of their robots as well as gave them advice on how they might resolve potential issues.
Dufur Tech meetings are scheduled in 2-hour blocks once a week, and Horzyneck said she goes to all of them on top of the extra enrichment period she dedicates to working on her own high school-level robotics.
"It's definitely something I enjoy doing," she said.
"What's really cool about this event," Morris said, "is the students actually took what they learned from their First Lego League and made all the missions for today along with how many points each would be worth. They're a very enthusiastic, creative and self-directed group of kids, and I couldn't be more proud of them."