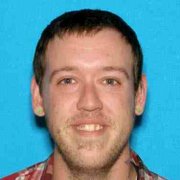 The Wasco County Sheriff's Office is looking for Kevin Anthony Jessie, 32, of Sevenmile Road.
Jessie is wanted on a warrant from Douglas County for failure to appear in a drug case and a suspect in a domestic violence incident that reportedly occurred at his home this morning.
People with information about his whereabouts are asked to call 9-1-1 and not confront him.