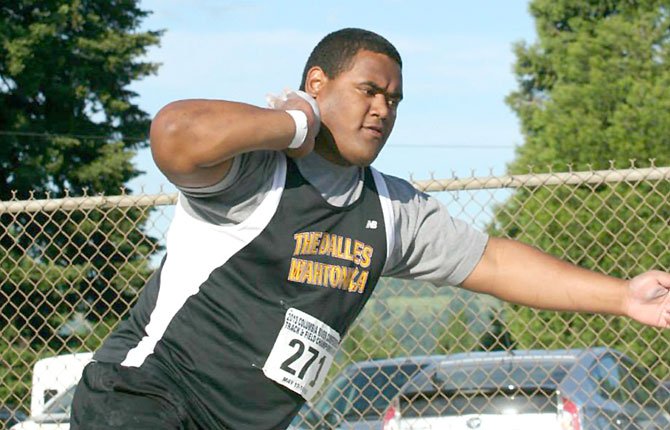 In his final state go-around, The Dalles senior Lio Tunai came less than two-feet from a state championship, but notched third place with a distance of 49-7 in 5A OSAA/U.S. Bank/Les Schwab Tires state track and field action at Hayward Field.
"You feel bad that he couldn't win a state championship, but we as coaches are very proud of his career accomplishments," said TD head coach Garth Miller. "He is an example of someone who always was willing to put in the extra work to be a better athlete. He did so many great things here and will be missed."
Along with Tunai, another senior, Zach Nerdin, had two tries in the hurdle events.
Nerdin had a time of 16.03 seconds to tally 10th place in the preliminaries, but that time could not vault him into the finals.
The Eagle Indian district champion added to his top line in the 300-meter hurdles where he rattled off a 41.84, a personal record, to take hold of 11th place.
Miller said it was going to be tough to replace what both Tunai and Nerdin brought to the varsity team.
"They were solid contributors and two guys who were leaders to the team," Miller said. "When you have two athletes who were energetic and reliable, it made coming to practice every day fun."
The Dalles boys placed 26th with six points, and the girls racked up 6.5 points to finish 25th in the standings.
Katie Conklin participated in the 100-meter hurdles, the high jump and triple jump and placed in the top-8 in each try.
Conklin advanced to the finals in the 100-meter hurdles in 16.48, and in the finals, the junior crossed the wire in 18.02 for eighth place.
Conklin added a 5-0 for eighth in the high jump, and she had a leap of 34-5.5 in the triple jump, less than a foot from her personal record, to claim seventh place.
Yasmin Hill hit her stride late in the season to make her jump into the state mix, putting her efforts in the pole vault and long jump.
Hill made it to podium in the pole vault with a height of 9-0 to reel off eighth place, and she added seventh to her records in the long jump where she hit the dirt at 16-6.5 and earned seventh place.
With Conklin and Hill coming back, Miller is looking forward to seeing what they can do in this upcoming campaign.
"I am very excited about the possibilities," Miller said. "Katie and Yasmin are terrific athletes that are driven to excel. I know they will come in ready to go next year. I hope that they can improve enough to make it back here to state."
With four standouts earning their state stripes this season, Miller knows there are several others who are capable enough to set the bar higher in order to compete well in the Columbia River Conference.
"If you look at the kids we have coming back and some of the others coming from middle school, there is some potential," Miller said. "The coaches here are ready to work with these kids to help them achieve their goals. If they want it bad enough and are willing to work their hardest, they can definitely put up their best numbers to get to where they want to get."