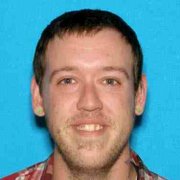 A domestic violence incident Wednesday morning prompted a SWAT response to a residence outside The Dalles and led the Wasco County Sheriff's office to seek, a fugitive, Kevin Anthony Jessie, 32, who is also the subject of a warrant in Douglas County.
The search for Jessie started the morning of May 28 and Chief Deputy Lane Magill believes he is somewhere in The Dalles.
"To our knowledge, Mr. Jessie doesn't have a gun but he was having a lot of highs and lows in his emotions yesterday and people with information should call 9-1-1 and not confront him," said Magill.
The warrant for Jessie's arrest involves his failure to appear in a Douglas County drug case.
The local matter involving Jessie began with his girlfriend's call for help shortly before 9 a.m. Wednesday. She told authorities that he had assaulted her and was potentially suicidal.
While enroute to the 6760 Sevenmile Road residence, Magill said another call came in saying that Jessie was standing outside with a weapon. By the time law enforcement officials arrived, he had fled the scene.
His live-in girlfriend was questioned and then contact was made with Jessie via his cell phone. During the course of the morning, Kendra Riser, a hostage negotiator for the Oregon State Police, talked with Jessie.
Things said in those conversations led police to believe that Jessie might have returned to the home, said Magill.
At that point, he said the OSP SWAT (Special Weapons And Tactics) team and The Dalles City Police CERT (Community Emergency Response Team) were asked to secure the dwelling.
Mid-Columbia Fire and Rescue also brought an ambulance to the location in case the operation "went sideways."
Former Hood River County Sheriff Joe Wampler flew a search plane over the area in an attempt to locate Jessie. Then authorities learned the suspect might have caught a ride from a friend into town and been dropped off somewhere around 12th and Kelly streets.
Jessie is employed at a restaurant in The Dalles and Magill said any help the public can give to find him will be appreciated.
He thanked all of the agencies involved in the incident for their coordinated and quick response to the evolving situation.