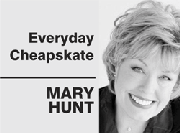 We get so many earthquakes in Southern California, we're on first-name basis with the world-renown seismologist at California Institute of Technology in Pasadena, California, Dr. Kate (Hutton). She's become a local icon, popping up on TV the minute we start to rock and roll, keeping us cool, calm and collected.
While we have hundreds of small quakes every day, now and then we can actually feel one. That's when my mind naturally moves to thoughts of disaster preparedness. Now I'm not talking weird or paranoid kind of "prepper" stuff — just the basic, commonsense quick list of things every family needs to have on hand. It's good to be prepared because it offers peace of mind and a sense of calm.
Below is a list of basic emergency items. Use it to review your family's level of preparedness. If you come up lacking, start right now to get things in order. I can tell you from experience that being prepared brings with it a level of calmness and assurance that will help you think more clearly when disaster pays a visit, and sleep better, too.
Water. One gallon of water per person per day for at least three days, for drinking and sanitation. This is your most important consideration on this list. You can live without a lot of things, but water is not one of them. It takes only one quart of water or other fluid to sustain life, but not happily.
Drinking water should be stored out of direct sunlight in clean, non-corrosive, tightly covered containers. Stored water should be rotated every 6 months; prepackaged bottled water should be rotated once a year.
Because disasters can result in contaminated water, you need a water purification product in your supply as well.
Food. At least a three-day supply of non-perishable food

Battery-powered or hand crank radio and a NOAA Weather Radio with tone alert and extra batteries for both

Flashlight and extra batteries

First aid kit

Whistle to signal for help

Moist towelettes, garbage bags and plastic ties for personal sanitation.

Wrench or pliers to turn off utilities

Manual can opener for food

Cell phone with chargers, inverter or solar charger
For more information about specific products mentioned, visit www.everydaycheapskate.com/prepared. There is no shortage of excellent disaster preparedness information available to you on the Internet. Do a search that is specific to your area, and then take what you learn seriously. It's never too soon to get prepared, but never too late, either, provided you start now.
Mary Hunt is founder of www.DebtProofLiving.com, a personal finance member website.
To find out more about Mary and read her past columns, please visit the Creators Syndicate Web page at www.creators.com.