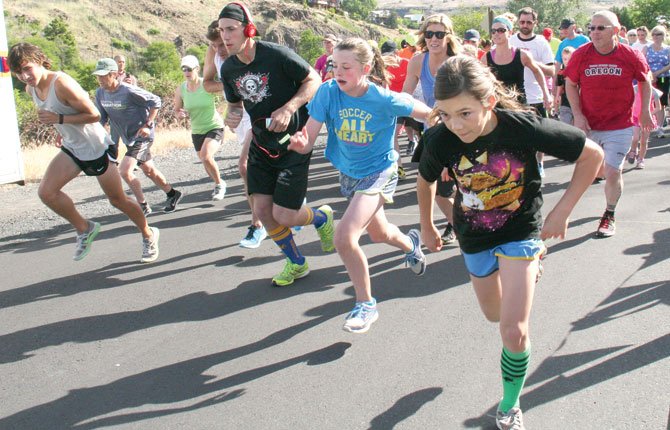 With a hovering sun warming the scene in Maupin, more than 80 running enthusiasts were signed, sealed and delivered Saturday afternoon for the annual fundraiser Riverfest walk/run.
In the 5k event, there were 26 harriers in action, and Aidan Paulk manhandled the field for a final marker of 17 minutes and 58 seconds.
Dave Catterson hustled home in 21:31 for second place, Sammuel Hout added a time of 22:54, Kerri Stewart placed fourth in 24:56 and Edie Ali rounded out the top-5 with her tally of 25:45.
Sheila Burchell (26:26), Tara Endries (27:15), Eric Oswald (29:04), Scott Oswald (29:06) and the duo of Charli Stewart and
Barrett Heyer wound up in a 10th place tie with a final reading of 34:29.
It takes a special brand of runner to get through 10 kilometers with heat conditions making a major difference in the outcome.
Kevin Paulk scored an easy win with a time of 40:50, beating Maggie Hanna, who secured second place at 46:21.
Aiden Strealy carded a 47:07, Leanne Neal followed through for a 48:42 and Niki Strealy finished her day in 48:57 for fifth place in the standings.
Cliff Knoll (49:42), Amanda Hoey (51:40), Stephen Bradly (52:26), Roger Gantz (53:36) and Tim Clever (54:11) added their marks to the top-10.
There was also a third event open for harriers, in a 5k walking race with 31 athletes ready to take on the challenge.
Top competitor, Barb Pierce, kept her distance from the res of the pack and crossed the tape in 41:24 for top honors.
Patt Blake added second-place recognition with 42:35, Debbie Sangas inched ahead in third place at 43:47, Gary Blake dropped fourth place with final time of 43:49 and Jan Oswald capped the top-5 placers in a standout marker of 44:06.
Dave Oswald (44:07), Iris Jane Robinson (44:32), Sandra Haynie (45:09), Sandra Wong (45:13) and Bev Froeming (45:14) were the next five who ran through the final wire in less than an hour.